Defining women power in technology, science, business and other niches are the women behind ambitious projects from NASA to ISRO, from Uber to Indian Railways, from International Monetary Fund to household savings, from United Nations to village council, from White House to Indian Parliament.
Forbes' inaugural list of Top 50 Women in Tech 2018 features four Indian American or Indian-origin women who have taken the bull by technology (not the horns) to reach dizzy heights of success and fame. They are Padmasree Warrior, former CTO of Cisco Systems; Komal Mangtani, business intelligence head at Uber; Kamakshi Sivaramakrishnan, Drawbridge CEO; and Neha Narkhede, Confluent CTO and cofounder sharing space with tech moguls like IBM CEO Ginni Rometty on Forbes' 'Top 50 Women in Tech 2018' list.   
We at Travel Beats, an overseas Indian community portal by Indian Eagle Travel, took a sneak peek into the achievements of the above-mentioned four Indian-origin or Indian American women in technology.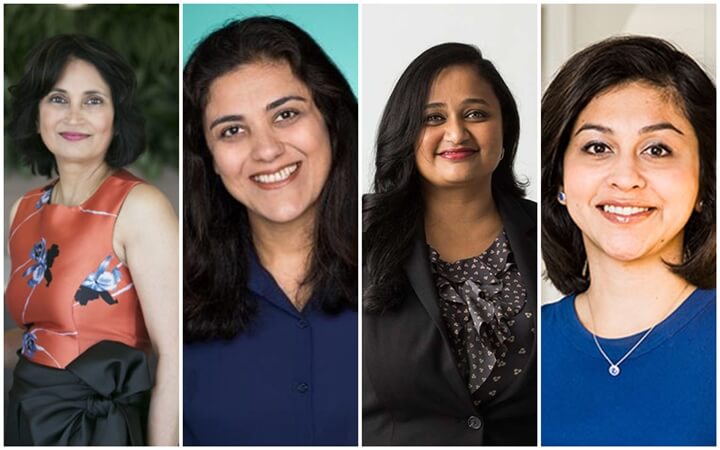 Padmasree Warrior
Born and raised as Yellepeddi Padmasree in the City of Vijayawada, Andhra Pradesh, Padmasree Warrior traveled to the United States after having graduated in chemical engineering from Delhi IIT in 1982. She joined Motorola in 1984, with a master's degree from Cornell University in her kit. She had an illustrious career of 23 years at Motorola where she designated several positions from Corporate Vice President to Chief Technology Officer. Motorola received the 2004 National Medal of Technology from the then US President, under her leadership as CTO. Indian American Padmasree Warrior switched to Cisco Systems as its CTO in 2007.
Padmasree Warrior was featured on Fortune Magazine's Most Powerful Women list in the "highest paid' category. The Economics Times featured her as the 11th most influential global Indian in its 2005 reports. She serves on the boards of Microsoft, Spotify, Chicago City Mayor's technology council, and Cornell University's engineering council. One of the mentors in the US State Department's International Women Leaders Mentoring Program, Padmasree Warrior is currently serving as CEO of NIO, a Chinese startup dealing in electric-autonomous-vehicles, at its US headquarters.
Komal Mangtani
One of America's Top 50 Women in Tech 2018, Komal Mangtani is the head of business intelligence at Uber in the San Francisco Bay Area. A staunch advocate for women's access to technological education and computer science, Komal Mangtani belongs to Gujarat. She studied MBA at the University of California, Berkeley after having earned a bachelor of technology degree in India. Not many customers of Uber services know that it is she who helms technical solutions for customer satisfaction by facilitating communication between Uber drivers and riders. She also supervises the financial systems at Uber ensuring fool-proof tracking of operational expenses and leaving no space for financial fraud.
Komal Mangtani is a member on the board of Women Who Code, an international nonprofit for women pursuing careers in science, engineering, or technology. She does also lead Uber's collaboration with Girls Who Code, whose founder Reshma Saujani from Chicago was featured on Forbes' list of '5 Fearless Female Founders to Follow in 2018'. Uber has pledged a donation of $1.2 billion to Girls Who Code, a nonprofit striving to alleviate gender gap in technology. Define yourself. Don't let the world define you is Komal Mangtani's message for girls the world over.
Unbeatable Deals for Cheap Business Flights to India
Kamakshi Sivaramakrishnan 
Among the four Indian American women on Forbes' list of Top 50 Women in Tech 2018, Kamakshi Sivaramakrishnan is the CEO of Drawbridge in San Mateo, California. Her company uses artificial intelligence, machine learning and other futuristic technologies to help businesses understand how their target groups interact with ads online. The story of Kamakshi Sivaramakrishnan's rise to dizzy heights of entrepreneurship is an inspiring story about one of the fastest growing, women-led enterprises in the United States. Interestingly, she hails from a family of no entrepreneurs in Mumbai, India. Driven by her leadership and business acumen, Drawbridge made whopping revenue of $66.1 million in 2015.
Drawbridge CEO, Kamakshi Sivaramakrishnan moved to the US for higher studies. She earned a PhD degree in information theory from Stanford University after studied MS in electrical engineering. A traditional career in academia was never her cup of tea. Before Founding Drawbridge in 2011, she worked for 6 months at Google after the tech giant acquired AdMob where she had worked as a lead research scientist for quite a long time. She hit upon a business idea when she found ample space to deal with bigger problems in the fast-growing online ad industry. Indian American Kamakshi Sivaramakrishnan describes herself as an accidental entrepreneur who does not believe in 'one written path for success.'
Neha Narkhede
Cofounder and CTO at Confluent in California, Indian American Neha Narkhede made it to Forbes' list of Top 50 American Women in Tech 2018. An alumnus of Pune University in India, 32-year-old Neha studied masters in computer science at Georgia Tech in the US. After a short stint at Oracle, she joined LinkedIn, which catapulted her career to entrepreneurship. She, along with a team developed Apache Kafka Technology, the foundation of Confluent that helps companies collect and leverage user data in real time. LinkedIn, Netflix, Verizon, Airbnb, Pinterest and Salesforce are among the clients of Neha Narkhede's Confluent which is headquartered in Palo Alto.