Fortune favors the brave and the bold. This maxim is true about five Indian American business women who Forbes' 2022 list features among America's self-made richest women. The collective fortunes of the USA's self-made richest women, including five Indian-origin entrepreneurs, rose to $118 billion by 31%. 26 of the richest self-made women in the US are now billionaires, including two Indian Americans.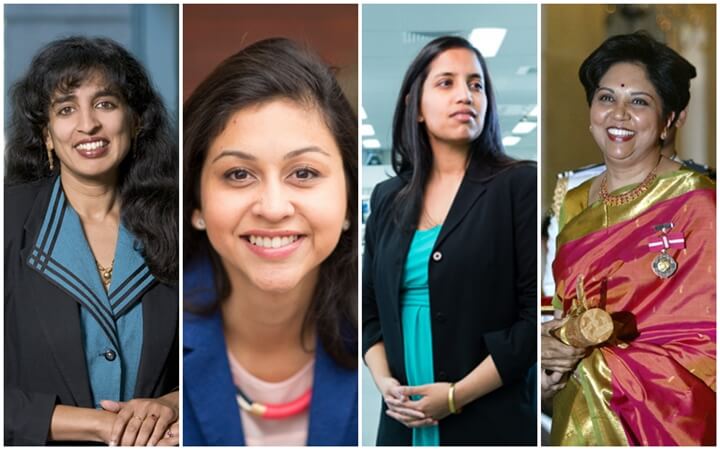 Jayshree Ullal, the President and CEO of cloud networking firm Arista Networks, is the richest of all Indian American business women. Her net worth soared from $1.3 billion in 2020 to $1.9 billion in 2022. One of the five Indian-origin women on Forbes' 2022 list of America's richest self-made women, Jayshree Ullal drove Arista Networks' revenues from $1.1 billion in 2016 to $2.2 billion in 2018, with her leadership. She featured among Barron's World's Best CEOs in 2018 and Fortune's Top 20 Business Persons in 2019.
The winner of the 'Ernst and Young US Entrepreneur of the Year' award in 2015, Jayshree was born in London and raised in New Delhi. She graduated in electrical engineering from San Francisco State University and studied masters in engineering management at Santa Clara University. Forbes Magazine previously named her 'one of the top five most influential people in the networking industry.'
Neerja Sethi with a net worth of $1 billion, is the second richest Indian American business woman based in Florida. She was Director and co-founder of Syntel Inc., a prestigious IT consulting and outsourcing company. Her journey from Troy, Michigan where she co-founded Syntel at her residence with an initial investment of $2000 in 1980, to Forbes' 2022 list of America's richest self-made women makes an incredible success story. Acquired by a French IT firm for $3.4 billion in 2018, Syntel currently employs about 23,000 people around the world, 80% of which is in India.
Neha Narkhede from Maharashtra is a self-made tech entrepreneur and leading startup advisor with a net worth of $925 million. One of America's richest business women on Forbes' 2022 list, Neha Narkhede is one of the few who quit high-paying jobs to venture out as entrepreneurs. In 2014, she quit her LinkedIn career as the Lead of Streams Infrastructure to co-found Confluent as a streaming data technology startup in the San Francisco Bay Area. In 2017, she created Apache Kafka to help conglomerates like Uber, Netflix, and Goldman Sachs to process huge influx of data.
Named one of the world's top 50 Women in Tech by Forbes, Neha Narkhede believes that being a little deaf to criticism and skepticism is a survival strategy in any male-dominated field. When she was growing up, her father laid the foundation of her future. Once she told CNBC, "When I was growing up, he selected books from different walks of life and told me stories of women who were trailblazers in very male-dominated fields. I read books about Indira Gandhi, Dr. Kiran Bedi, Indra Nooyi, and Kalpana Chawla. Reading their stories cultivated a sense of empowerment in me."
Dr. Reshma Shetty with a net worth of $750 million, is a co-founder of Gingko Bioworks, a synthetic biotechnology company in the Greater Boston Area. She started her journey as a graduate research assistant from MIT and went on to cofound Gingko Bioworks along with scientists from MIT under the supervision of Tom Knight, a former senior research scientist at the MIT School of Engineering. Gingko Bioworks specializes in using genetic engineering to produce bacteria with industrial applications and make new organisms. Dr. Reshma Shetty believes that answers to various challenges in health, food, energy and likes are lying hidden in the deep recesses of nature's biodiversity. Gingko Bioworks' value stands at $4.2 billion, as of 2019.
With a net worth of $290 million, Indra Nooyi needs no introduction. Though she retired as CEO of PepsiCo in 2018, she is still a powerful influencer. She featured on Time Magazine and Forbes' lists of the world's most powerful women in business several times. A native of India, she has been a hard-working professional since the days when she worked the graveyard shift as a dorm receptionist to make a living. "When you have a competence that nobody else has, you become more valuable" is her message to every budding professional. In 2021, she was inducted into the National Women's Hall of Fame in New York. Her treasure trove of achievements includes Honorary Doctorate of Humane Letters and Honorary Doctorate of Law from several prestigious US universities.
This story is part of Travel Beats' continued effort to promote achievements of the Indian-origin community in the US. Travel Beats, a leading community portal for Indians in America, is a subsidiary of the most trusted travel-booking portal, IndianEagle.com. Sign up to our newsletter for the latest air travel updates, community stories, US visa and immigration news.