Recently, Indian President Ram Nath Kovind felicitated the 112 First Ladies of India at a ceremonious event held at the Rashtrapati Bhavan in New Delhi. They are the ordinary women with extraordinary abilities to take the bull by horns in male-dominated professions including firefighting, taxi driving, commando training, bartending, cyber crime investigation, crematorium management, fighter pilot, weight lifting, bodybuilding, racing, wrestling, cricket, sports coaching and likes. They have not only carved a niche for themselves from stock exchange to Antarctica to Mount Everest to Indian Army to space mission to Olympics to Indian cinema to global aviation to commonwealth games to Supreme Court. They have also become role models for generations of women in India and the world at large. The 112 First Ladies of India not only include astronaut Kalpana Chawla and Kiran Majumdar Shaw but also the first Indian woman porter (coolie) and the first Indian woman sarpanch (village chief).
We at Indian Eagle are more than happy sharing a look at how some of these Indian women broke stereotypes and defied taboos to empower themselves in male-dominated fields. It's just a mirror to the colossal women power of India.
Urvashi Butalia: Founder of India's First Feminist Publishing House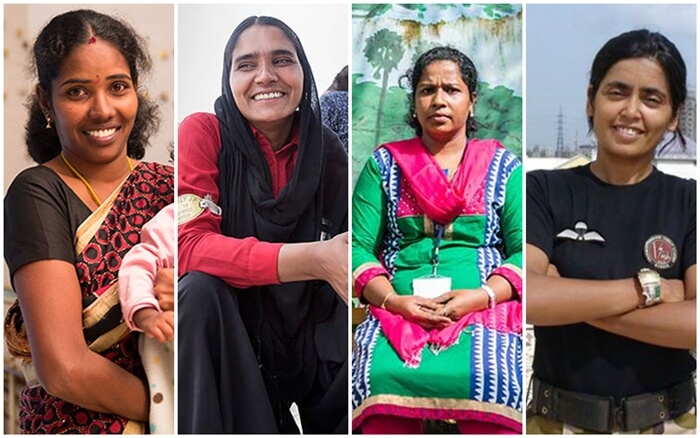 Urvashi Butalia is a staunch feminist, a celebrated author and a widely published columnist. Born in Haryana, she co-founded India's first feminist publishing house, Kali for Women in 1984 as an exclusive forum for women writers. An MA in literature from Delhi University, Urvashi Butalia has extensively written on gender, fundamentalism and communalism for leading newspapers and magazines including The Times of India, India Today, The Guardian and The Statesman. She has also authored and co-authored seven books, including The Other Side of Silence on violence against women during the Partition of India. She was bestowed on the Padma Shri in 2011.
Selvi Gowda: India's First Female Taxi Driver
Among the extraordinary 112 first ladies of India felicitated by Indian President, Selvi Gowda is known for her eventful journey from a child bride to India's first female taxi driver in Karnataka. She boarded a bus to Mysore one night though she contemplated suicide to escape abuse in the hands of her immoral husband. She transformed her life from driving a taxi to co-founding a women-only taxi company in Mysore. Driving with Selvi, an award-winning documentary was made on Selvi Gowda's inspiring journey.
Manju Yadav: Rajasthan's First Woman Porter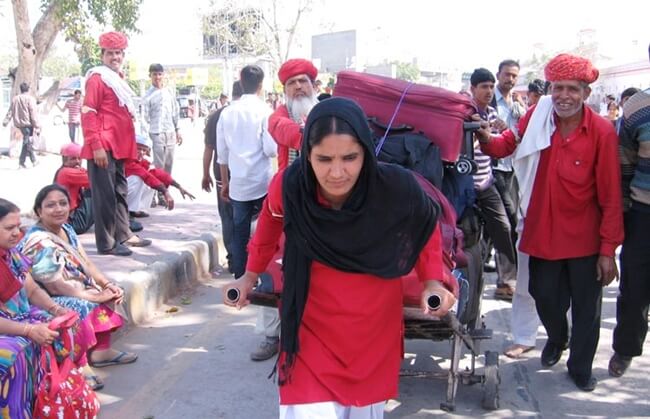 A woman of unflinching determination from a village near Jaipur in Rajasthan, Manju Yadav became a porter to provide for her three children after her husband, who was a porter (coolie), died leaving the family in troubled waters. She braved all odds of patriarchy to enter the male dominated field and became a role model of women in rural India. The lone female porter in the entire North Western Railway Region of India, 34-year-old Manju Yadav mastered lots of courage and will power to take the bull by horns from negotiating with passengers to carrying heavy loads on the head.
Aditi Pant: First Indian Woman to Reach Antarctica  
An oceanographer by profession, Aditi Pant is one of the first Indian women (the other is Sudipta Sengupta) to have embarked on an expedition to the icy terrains of the Antarctica in 1983. Alister Hardy's The Open Sea moved her to take up oceanography as a profession. On completion of her PhD studies at London University, Aditi Pant returned to India and joined the National Institute of Oceanography in Goa for research on oceanography and coastal geology. She is one of the few who have been honored with the Antarctica Award.
Praveena Solomon: First Indian Woman to Manage Crematorium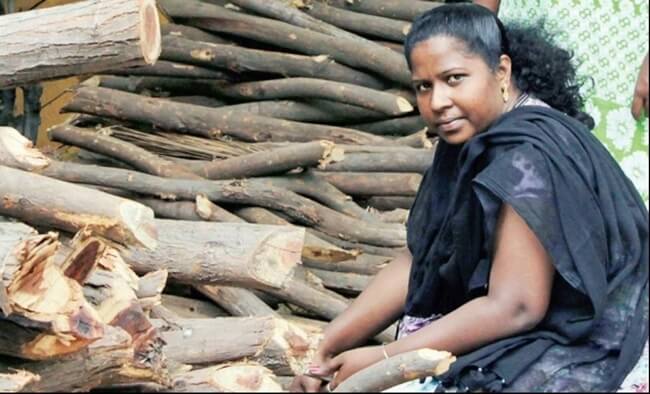 Among the first ladies of India honored by President Ram Nath Kovind, Praveena Solomon challenged age-old stereotypes in Indian society by taking up the job of a crematorium manager on the outskirts of Chennai City. An English literature graduate from Chennai University, Praveena stood her ground despite hateful comments on her choice of profession. She created a niche for herself in a male-dominated space, with the support of Indian Community Welfare Organization.
Durgabai Kamat: First Actress of Indian Cinema 
It was a taboo for the women of India to act in films or theaters in the pre-independence era until Durgabai Kamat joined Indian Cinema in 1913 and played the female lead in Dadasaheb Phalke's second film, Mohini Bhasmasur. The success of the film and positive response to her performance paved the way for aspiring actresses to work in cinema. Also known as the First Lady of the Silver Screen, Durgabai Kamat also encouraged her daughter, Kamlabai Kamat to act in films.
Harshini Kahnekar: India's First Female Firefighter 
The Kiran Bedi of the Fire Services, Harshini Kahnekar was the first Indian woman to seek admission to the National Fire Service College in Nagpur and walk out from there with a degree of graduation. She rewrote India's history of fire services by becoming the country's first woman fire engineer. The firefighting service was the only field without women until Harshini Kahnekar joined the Mehsana Fire Station in Gujarat in 2006 and became a trailblazer for women.
Seema Rao: India's First Woman Commando Trainer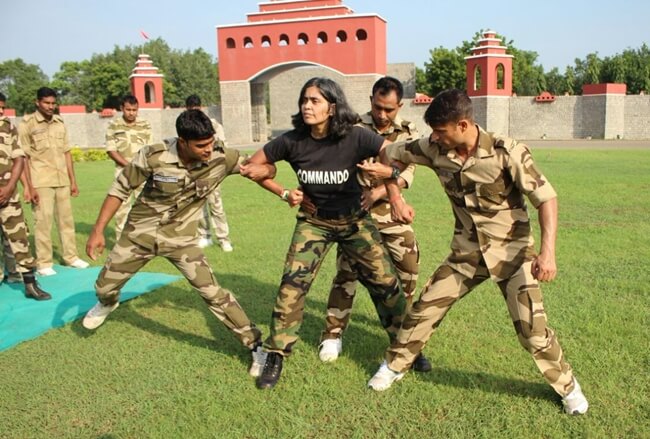 Rightfully on the list of India's first ladies felicitated by President Ram Nath Kovind, Seema Rao is a 7th degree black belt holder in military martial arts. Daughter of none other than Professor Ramakant Sinari, who Indian government in the liberation of Goa from the Portuguese, Seema Rao has been providing commando training to Indian armed forces for 20 years, without any compensation in return. In addition to having an MBA degree in crisis management, India's first woman commando trainer Seema Rao dons several hats simultaneously. She is equally proficient in firefighting, scuba diving, rock climbing and combat shooting. Seema Rao is also certified in Jeet Kune Do, a unique martial art form that Bruce Lee instituted in the 1960s.
Shila Dawre: India's First Woman Auto-rickshaw Driver    
President Rama Nath Kovind felicitated Shila Dawre being one of the 112 first ladies of India. The first Indian woman to drive auto-rickshaw, Shila Dawre of Pune defied stereotypes by taking up a male-dominated profession in the 1980s. She drove auto for 13 years from 1988 to 2001, wearing regular salwar kameez and keeping pace with khaki-clad male auto drivers. She had to quit driving owing to health problems. Now she runs a local travel company with her husband. Shila is looking to start a training academy for women aspiring to be drivers. Her journey from driving auto to having recognition in the Limca Book of Records is full of highs and lows.
Dhanya Menon: India's First Female Cybercrime Investigator
No one in her family, neighborhood and friend circle was sanguine about her future when Dhanya Menon enrolled in a cybercrime certification course in 2004. The only female student in the entire class, Dhanya Menon currently helps more than 400 schools across India deal with the cases of cybercrimes. It was only after she got to hear from the Kerala Police to be a trainer at their new Hi-tech Cell in 2008, hundreds of cybercrime cases including some of national importance poured in for her. The first woman cybercrime investigator in India, Dhanya Menon aims to educate the youth on the negative forces in the Internet and social networking world.
Travel Beats is a community portal for Indian Diaspora by Indian Eagle, an international travel organization. Travel Beats publishes latest news and inspiring stories of Indians worldwide. Subscribe to our free newsletter for updates on Indians at home and abroad.