The Mata Amritanandamayi Ashram inaugurated a center in Cumming when Atlanta Indians were gearing up to ring in 2017 and ring out 2016. In December, the Atlanta Indian community got a new haven of social service, philanthropy, communal gathering and spiritual practices. The Amma Ashram in Cumming is a hub of enlightenment for Indians in the Atlanta Metropolitan area.
The Mata Amritanandamayi Center in Cumming is up with a calendar of activities and events for the residents of Atlanta. The most important part of the Amma Ashram is Mother's Kitchen, where children from shelters for the homeless are served nutritious, delicious lunch on the third Saturday of every month. Those interested to offer volunteering service can join Mother's Kitchen to help out with preparation, cooking and food distribution.
Atlanta Indians can visit the Mata Amritanandamayi Ashram in Cumming for free meditation classes. Hundreds of thousands of people have benefited from meditation at the Amma Ashram centers across the globe. The Integrated Amrita Meditation Technique (The IAM) is taught and practiced at the new center of the Amma Ashram in Cumming. It is a short and simple approach towards mastering the art of meditation. Mata Amritanandamayi herself developed this unique meditation technique to bless people with greater calmness and better decision-making ability.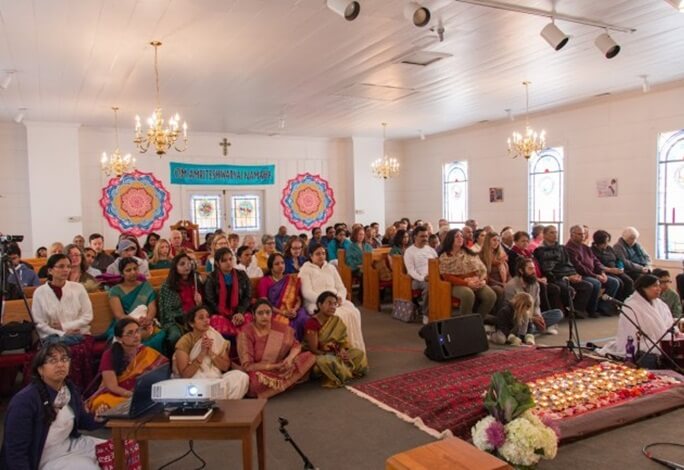 The monthly calendar of events and activities accommodates a weekly gathering for spiritual discourse at Mata Amritanandamayi Center in Cumming, Atlanta. Called 'Satsang,' the gathering for spiritual talk and holy chanting happens on Saturday evenings. The evening of meditation, chanting, spiritual discussion and devotional singing culminates in a delicious vegetarian dinner for attendees.
The residents of Atlanta can enroll their children in Amrita Bala Kendra at the Mata Amritanandamayi Ashram in Cumming. An integral part of the Amma Ashram centers worldwide, Amrita Bala Kendra trains children in noble acts and prepare them for a better tomorrow through a number of educational activities with focus on Amma's spiritual teachings. Classes are held for children in the 4-12 age group every Sunday morning. Enrollment to Amrita Bala Kendra is free. Nominal charges are billed for the materials and supplies that the ashram provides for fun, educational activities.
Besides, Atlanta Indians can attend daily evening prayers at the newly opened Mata Amritanandamayi Center in Cumming to feel calm in the heavenly air of serenity.
The inauguration of Mata Amritanandamayi Ashram in Cumming was marked with the ceremonious planting of a Gingko tree, which symbolizes the sowing of seeds of wisdom. The planting was followed by the ritual of lighting 100 lamps by the ashram members and the devotees. The inaugural event ended with devotional singing of hymns.
Also Check News and Stories of Indians in Atlanta