In October 2021, the US will crown the nation's best young scientist among the top 10 finalists, including seven Indian Americans, for the Discovery 3M Young Scientist Challenge. Among thousands of promising innovators and inventors with a problem-solving attitude, only the best ten budding scientists make it to the grand finale of America's premier middle school science competition. While vying for America's Top Young Scientist title, the finalists demonstrate the transformative power of STEM and their commitment to solving everyday issues.
The 10 finalists for the Discovery 3M Young Scientist Challenge 2021 include seven Indian American teens: Veda Murthy of Virginia, Snigtha Mohanraj of Connecticut, Samarth Mahapatra of Georgia, Abhinav Anne of Illinois, Moitri Santra of Florida, Aadrit Talukdar and Viraj Pandey of California. The winner of America's Top Young Scientist 2021 title will be awarded a scholarship of $25,000.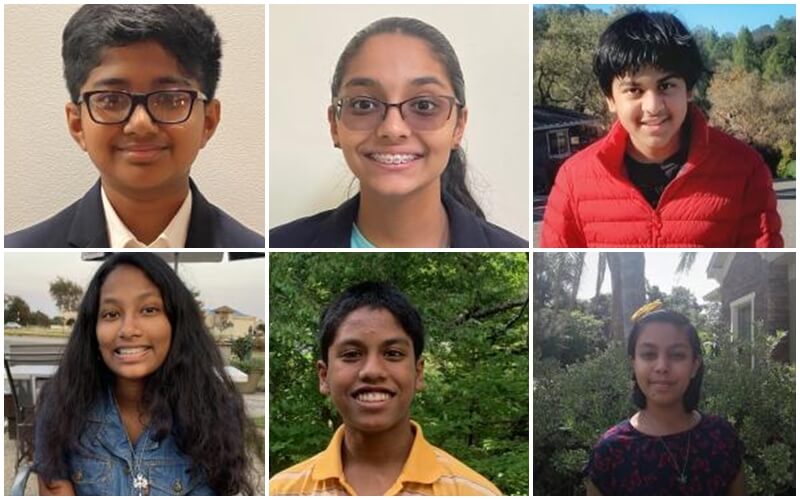 Veda Murthy, Virginia 
The Discovery 3M Young Scientist Challenge 2021 finalists of Indian origin include 13-year-old Veda Murthy from Fairfax, Virginia. Driven by her curiosity to find out how children with autism spectrum disorder cope with communication difficulties during online learning, Veda Murthy developed the Cognitive Emotion Interpretation Application (CEIA). The application helps teachers interpret the emotions of ASD children and teach them accordingly. She aspires to be an epidemiologist as epidemiologists are the first to predict the outbreak of major pandemics. Artificial Intelligence is her favorite invention of the past 100 years, because AI technology has a wide range of applications in the medical field.
Aadrit Talukdar, California
13-year-old Aadrit Talukdar of San Jose, California is one of the seven Indian-origin finalists in the race for America's 'Top Young Scientist of 2021' title. 7th grader Aadrit has developed a scalable and reusable shipping box to reduce or eliminate the use of oversized boxes and excess packing materials for e-commerce shipments. Since the outbreak of the pandemic early in 2020, the online retail shopping volume has grown manifold, thereby increasing the waste of packing materials. Aadrit Talukdar's scalable and reusable shipping box will help save environment by reducing the waste of materials. He aspires to be a good person and a responsible citizen over anything.
Snigtha Mohanraj, Connecticut
Indian American Snigtha Mohanraj of Connecticut is vying for a grand prize of $25,000 and the America's 'Top Young Scientist 2021' title. Her discovery of Ferro-Sponge, an innovative way to remove micro plastics and oil from contaminated water, got her on the list of the 3M Young Scientist Challenge 2021 finalists. She will develop her discovery into a concrete solution to the increasing micro-plastic contamination of drinking water in different parts of the world. Snigtha Mohanraj, an 8th grader, aspires to be an environmental scientist and hopes to make the planet a better place.
Samarth Mahapatra, Georgia 
Georgia's Samarth Mahapatra is one of the 3M Young Scientist Challenge 2021 finalists for her unique idea of using technology to make life easy for people with vision impairments. Her idea entails the use of edge computing and advance vision algorithms to help visually impaired people cook with ease. A resident of Marietta, Samarth Mahapatra aspires to be a computational biologist or data scientist and make the most of machine learning in the field of bioscience. Her favorite invention of the past 100 years is CRISPR, a technology that can alter genetic traits in humans, animals, and plants.
Abhinav Anne, Illinois
The Indian community of Illinois has pinned its hopes on 13-year-old Abhinav Anne for bringing the America's 'Top Young Scientist 2021' title home. A resident of Plainfield, he has developed a novel way to extend the safety and shelf-life of blood products with Nitric Oxide producing Polyurethane bag. In the next 15 years, Abhinav wants to become a biomedicine scientist and a climate change researcher. He intends to invent new cures for AIDS and Leukemia through extensive research on stem cell transplant, gene editing and immune modulation. Studying greenhouse effects to mitigate harmful implications of climate change is one of his goals.
Moitri Santra, Florida
11-year-old Moitri Santra from Florida is the youngest of all Indian American finalists for the 3M Young Scientist Challenge 2021. Her entry to the national science contest is a novel optimized gel composed of Chitosan and Citric acid to induce algae coagulation and settlement in Harmful Algal Bloom (HAB) effected bodies of water to reduce the suffocation and death of animal life. Modern telescope that helps to observe celestial objects in deep recesses of the universe is her favorite invention of the past 100 years. Moitri is a 7th grader at Jackson Heights Middle School.
Viraj Pandey, California
12-year-old Viraj Pandey from California is going to the finals of the Discovery 3M Young Scientist Challenge 2021. A resident of San Jose, Viraj developed the idea of applying non-toxic graphene quantum dots (GDQs) to help track the location of endangered species and prevent the poaching of animals. He is also investigating the Photoluminescence Signature of Graphene Quantum Dots in conservation of natural habitats. It is non-intrusive and scalable. He aspires to be a scientist and unravel the mysteries that exist in nature.
This story is part of Travel Beats' continued effort to promote achievements of young Indians in the US. Travel Beats, a leading community portal for Indians in America, is a subsidiary of the most trusted travel-booking portal, IndianEagle.com. Sign up to our newsletter for the latest air travel updates, community stories, US visa and immigration news.