The downfall of Jet Airways seems to give rise to the expansion of SpiceJet's network across India and beyond. Emirates Airlines is all set to cash in on the changing scenario of Indian aviation. Emirates and SpiceJet have inked a memorandum of understanding (MOU) to be each other's codeshare partner. The booking window for Emirates-SpiceJet codeshare flights is open from today for travel on and after December 15, 2019.
The codeshare agreement with SpiceJet will give Emirates Airlines' seamless access to SpiceJet's vast domestic network in India, and that in turn will boost Emirates' connectivity to India via or from Dubai. To be precise, those traveling on Emirates flights from the United States will get connected to several new Indian destinations other than 9 cities: Ahmadabad, Bengaluru, Chennai, Hyderabad, Mumbai, Kolkata, Delhi, Kochi and Thiruvananthapuram.
SpiceJet's new domestic routes from two of its hubs – Delhi IGI and Mumbai CSI airports – will add prominent destinations to Emirates Airlines' Indian network. With SpiceJet's new flights from Mumbai, Emirates will connect its passengers to Jaipur, Amritsar, Varanasi, Mangalore, Coimbatore and Calicut. It means that Indians from Emirates' destinations in the US will be able to seamlessly travel to Jaipur, Amritsar, Varanasi, Mangalore, Coimbatore and Calicut via Mumbai, without having a separate itinerary for a domestic leg.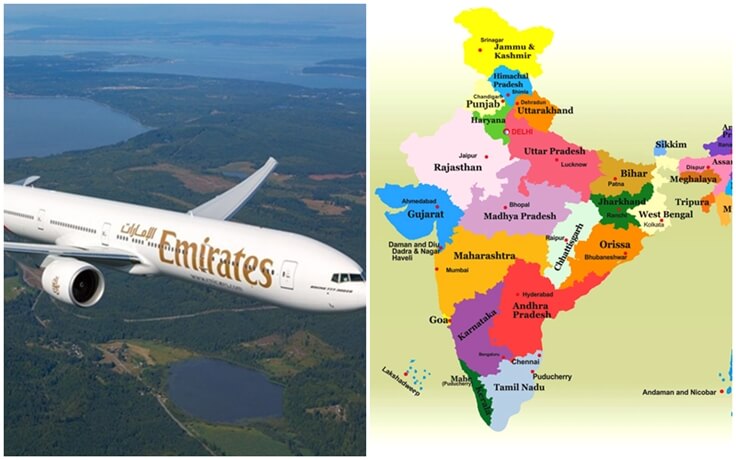 "In March 2019, SpiceJet announced to operate four daily direct flights from Chennai to Surat in Gujarat and Patna in Bihar. Emirates' passengers will be able to connect on SpiceJet's flights to Surat and Patna from Chennai," said the chief travel economist of IndianEagle.com, a leading air-ticketing agency in the United States.
As a codeshare partner, SpiceJet will connect Emirates' passengers to some of the most popular Indian tourist destinations, which include Jodhpur, Udaipur and Jaisalmer in Rajasthan; Tirupati and Visakhapatnam in Andhra Pradesh; Bhopal and Gwalior in Madhya Pradesh; Gangtok and Guwahati in the Northeast; Leh in Jammu and Kashmir; Chandigarh and Jalandhar in Punjab; Goa and Port Blair.
Founded in 2005, SpiceJet is the second largest Indian airline in terms of its share of the domestic market. Currently, it flies to 51 cities in India and serves nine international destinations. Those taking Emirates flights to India from USA or any other country will get access to 51 destinations in SpiceJet's domestic network. SpiceJet's passengers from all over India will also be able to leverage Emirates' global network including the US destinations.
Also Check: Etihad Airways' New Abu Dhabi Stopover Program
Those traveling to India from USA via Dubai can make the most of Emirates-SpiceJet's codeshare agreement. Since Emirates' passengers (including Indian passport holders from the US) are eligible for free 48-hour transit visa to Dubai, they can board SpiceJet flights from Dubai to India after a short transit stay in Dubai City.
One of the low-cost Indian carriers, SpiceJet operates daily nonstop flights between Dubai and Mumbai. The airline announced to up its daily service between Mumbai and Dubai with two additional flights.
SpiceJet's nonstop 68 weekly flights between Dubai and India will be within the purview of the SpiceJet-Emirates codeshare partnership. As a result, SpiceJet's domestic flights across India will feature Emirates Airlines' EK code. The Emirates-SpiceJet codeshare agreement is awaiting Indian government's approval.