The Ministry of Indian Railways is up with good news for wildlife lovers and wildlife photographers. A passage for train travel to the rich wildlife of Northeast India has been proposed. Rajen Gohain, the Minister of State for Railways from Assam, has proposed a train for wildlife enthusiasts to explore the Kaziranga National Park, a UNESCO World heritage site in Northeast India.
Named Kaziranga Express, the proposed tourist train would run from Delhi to the Kaziranga National Park in Assam, if it gets approval from Indian Railways. The new wildlife train would operate on the lines of the Tiger Express, a semi luxury tourist train. Launched in June this year to explore the wildlife of Central India, the Tiger Express runs from Delhi to Bandhavgarh and Kanha national parks in Madhya Pradesh.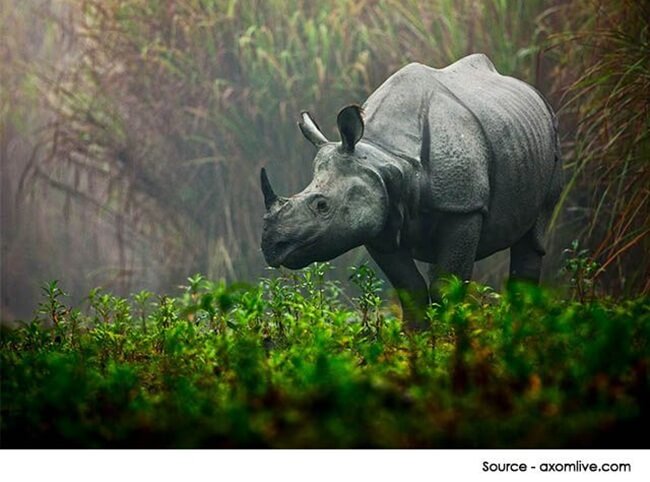 One of the best wildlife sanctuaries in India, the Kaziranga National Park is home to the world's largest numbers of single-horned rhinoceroses and wild water buffaloes. Located in the eastern Himalaya biodiversity belt, the sanctuary also houses wild boar, eastern swamp deer, elephants, gaur, leopard cat, Bengal fox, Golden jackal, Chinese pangolin, golden languor, flying squirrel, Ganges dolphin, Assamese macaque and other animals.
The Kaziranga Express may also connect to other popular tourist places in Assam like the Kamakhya Temple, the Manas National Park and tea gardens. A road trip to Shillong may be added to the itinerary, which is yet to be finalized. A journey by the Kaziranga Express from Delhi to Assam would be a complete package including onboard food, hotel accommodation, local transport, jungle safari and other facilities. Different packages for different budgets are being designed.
To be modeled on the Tiger Express, the upcoming wildlife tourist train will have an AC dining car and semi-luxury coaches. Both Indian Railways and the Assam Tourist Development Corporation (ATDC) are working on a sustainable model to keep the train running without making financial losses in times of poor occupancy.
The Kaziranga Express is part of the national agenda to connect the isolated hilly region of northeastern states with the mainland of India through a sustainable rail network which is supposed to be completed by 2020.
The proposed Kaziranga Express would cover more than 2,000km between Delhi and Assam's Kaziranga wildlife sanctuary. The final report on the proposal is expected by the end of October 2016.
Travel Beats is a digital news magazine for Indian Diaspora by IndianEagle, a US-based leading travel organization. Subscribe to Travel Beats' free newsletter for latest news, stories, features and interviews.