Young Indians are taking the world by storm with their culinary skills, which may give a tough competition to leading chefs. 7-year-old Nihal Raj from Kochi in India, who runs a popular YouTube channel 'Kichatube,' was the youngest chef to have appeared on the Ellen DeGeneres Show in 2016. Three Indian American school goers won Michelle Obama's White House Recipe Contest in 2016. The latest sensation in the culinary world is a 9-year-old Indian girl from Chicago.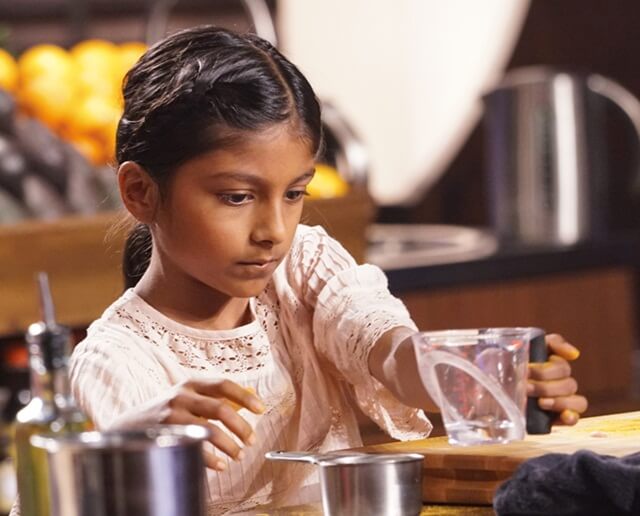 Avani Shah, a resident of River North in Chicago, is just one step away from grabbing the crown of Fox's MasterChef Junior and wining a cash prize of $100,000. This Indian American girl made it to the finals of Fox's MasterChef Junior, sweeping through a stiff competition with 19 other contestants in the first mystery-box challenge of the season 5 of the Gordon Ramsay-hosted show.
A 4th grader at the British International School of Chicago in Lincoln Park, Avani Shah did culinary wonders to win hearts with her signature Indian dish, coconut chicken curry over jasmine rice. She aspires to be a baker in life. While the other contestants tried to work on a recipe similar to one of the signature seafood recipes in Gordon Ramsay's repertoire, Avani Shah chose to showcase a traditional Indian dish which is very popular in Kerala.
Avani is waiting for comments on her dishes from the judges of Fox's MasterChef Junior Season 5. The judges' feedback on her recipe of coconut chicken curry is expected to be aired in today's episode (March 2). However, she has already moved on to the next level because of an immunity award that she received from a 13-year-old contestant from Jonesboro, Georgia.
MasterChef Junior is an American culinary competition full of challenges for youngsters in the age group of 8 to 13 years. It's aired as a TV series every Thursday.
Travel Beats is a portal for Indian Americans by Indian Eagle, a leading travel partner of Indians in USA. Travel Beats publishes the latest news and stories related o Indian Diaspora, air travel, young Indians, philanthropy, tourism and immigration.