Indian Government is up with the second edition of Bharat Ko Janiye Quiz (Know India Contest) for overseas Indians in the age group of 15 to 35 years. The Ministry of External Affairs organized the first edition of Know India Program for Indians abroad in 2015-16. Overseas Indians in two categories, NRIs and PIOs, are invited to participate in the 2018-19 edition of Bharat Ko Janiye Quiz contest and win free trips to India.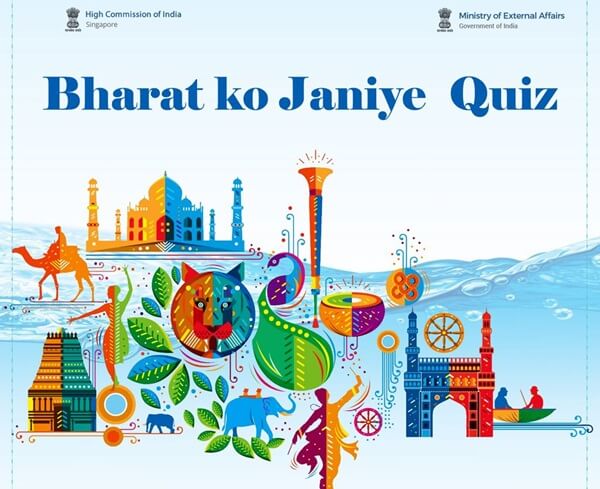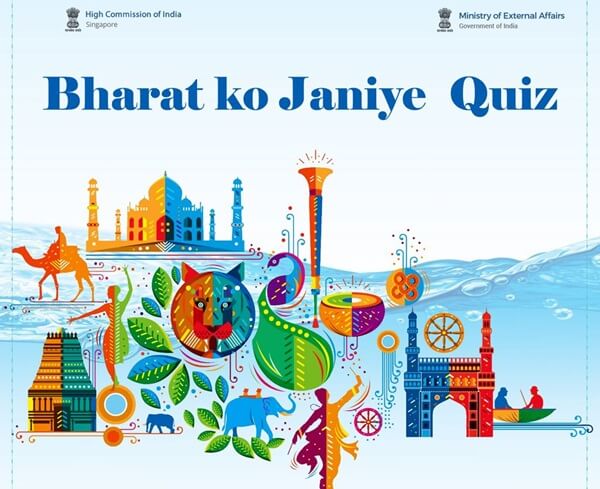 Indian Government's Bharat Ko Janiye Quiz contest is a good opportunity for Indian diaspora youth to test and exhibit their knowledge about India in an array of topics including Indian culture, Indian literature, Indian economy, Indian cinema, Indian democracy, Indian languages, Indian heritage, Indian education and Indian freedom movement. The quiz also includes questions on eminent leaders, celebrities and achievers of India.
The Bharat Ko Janiye Quiz contest 2018-19 will be conducted in four rounds. 20 finalists will be selected in the second round for a free trip to India and a free 15-day tour of the country. Out of the 20 finalists, three winners will be handpicked in the third and fourth rounds for gold. They will be awarded gold, silver and bronze medals at the Pravasi Bharatiya Divas Convention 2019.
Indian Missions and Embassies abroad will execute the first round of the Bharat Ko Janiye Quiz contest. The second round is an online test of the participating overseas Indians' knowledge about India, and it will be executed by the Ministry of External Affairs. The third and the fourth rounds (semifinal and final) will be conducted in New Delhi. Those selected on the basis of their performance in the second round (online) will be invited to India to attend an orientation workshop in New Delhi.
The orientation workshop for the finalists is meticulously designed as a walk through the progress of India in different fields, including science, communication, information technology and education. Another objective of the workshop is to make them aware of different faces of life in India and share their views as well as expectations about the contemporary India. The workshop will be followed by the Bharat Ko Janiye Yatra, a 15-day tour of the country. It will culminate in the final round, and three winners of the contest will be felicitated.
Registration for Indian Government's 'Bharat Ko Janiye' quiz contest is open until September 15, 2018. The first round will be held from September 16 to September 30. Non-Resident Indians (NRIs) and Persons of Indian Origin (PIOs or OCI card holders) can register on the Bharat Ko Janiye portal and check contest guidelines as well as eligibility criteria. There is no registration or participation fee.

A Sneak Peek into Bharat Ko Janiye Quiz 2018-19:
There is no participation or registration fee.
PIO or NRI status of the participants and the winners will be verified.
Participants will be disqualified upon unsuccessful verification of documents.
Those born after 01 January 1984 and before 01 January 2004 are eligible.
Even those, whose parents or grandparents (maternal or paternal) hold PIO/OCI cards are eligible.
The first and second rounds will be conducted online
The third and fourth rounds will be conducted onsite in India.
Government of India will pay for finalists'

flight tickets to India

and all expenses for airport transfer, food, lodging as well as domestic transport (during the 15-day tour).
Top three winners will be felicitated at the Pravasi Bharatiya Divas Convention 2019 in January.
Indian Government's Bharat Ko Janiye website provides guidelines regarding registration, participation and preparation for the quiz. The website gives free access to quiz topics and model test papers for practice upon successful registration with valid details.