A vast expanse of the United States, from the Midwest to the Northeast to the Southeast, is under the grip of Elliott, a fierce Arctic winter snowstorm. Temperature in some parts has plummeted to -40-degree F, whereas some parts are steeped into 2 to 4 feet of snow. The "dangerously" cold storm has brought life to a standstill, painting Christmas celebrations all white and causing disruption of flights, domestic and international. Nearly 5000 flights have been cancelled as of today.
We at Indian Eagle compiled details of the following airlines' travel waiver which is subject to the airlines' terms and conditions pertaining travel dates, origin cities, arrival cities and seat availability.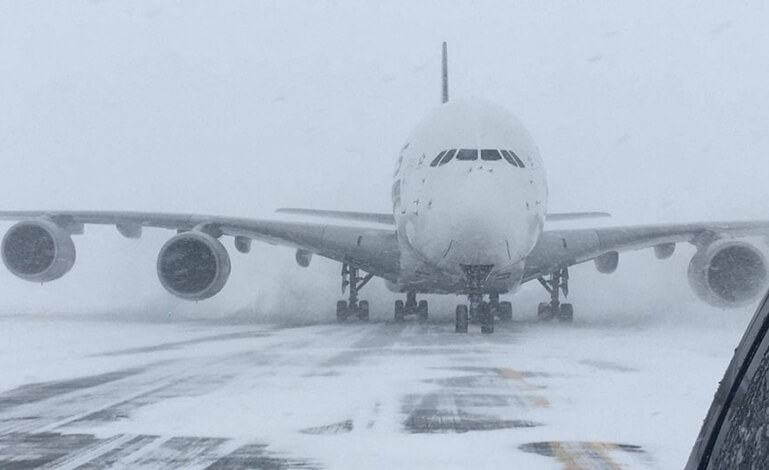 Delta Airlines' travel waivers in the wake of Elliott snowstorm 
Delta flights to/from/through the Pacific Northwest airports including Seattle, Portland and Vancouver can be rescheduled by December 26 without any change fee and fare difference. Rebooked travel must be completed by DEC 26; otherwise, a fare difference may apply. If you postpone your travel into 2023, you can keep the Delta Airlines tickets open so that the unused value of the ticket can be utilized to buy a new one within one year from the date of the original ticket issuance.
Delta flights to/from/through the Atlantic and Northeast region can be rescheduled by December 27. If the rebooked travel begins after December 27, you may have to pay a fare difference. The airports in the Atlantic and Northeast region are Pennsylvania, Baltimore, Boston, NY Buffalo, Hartford, NY JFK, Newark Liberty, Pittsburgh, Philadelphia, Rhode Island, Washington Dulles, and Portland.
United Airlines' waiver for passengers affected by Elliott Storm
United Airlines has also come up with travel waiver for flight cancellations and delays caused by Elliott. The waiver is additional flexibility for the affected travelers to rethink their travel plans. Your travel with United Airlines originally booked on or before December 18 can be rebooked until December 28, 2022 without any change fee and a difference in fare.  
American Airlines' waiver on rescheduling of affected flights 
Winter storm Elliott causing blizzard conditions resulted in the cancelation of American Airlines flights from, to, or through the Northeast US airports including New York JFK, LaGuardia, Newark EWR, Philadelphia, Pittsburgh, Portland, NY Buffalo, Boston, Hartford, Rhode Island, Baltimore, NY Albany, and Washington Reagan. You're eligible for American Airlines' one-time change fee waiver in the wake of Elliott snowstorm, irrespective of your travel and fare class. Those who bought tickets before or by DEC 19 to travel by DEC 25 are eligible for the waiver if the origin and the destination remain the same. Fare difference won't apply unless your originally booked travel cabin or travel sub-class is changed for rescheduled travel until DEC 30, 2022.
The same change fee waiver policy applies to American Airlines' codeshare flights by JetBlue, British Airways, Japan Airlines, Finnair, and Qantas Airways. You are eligible for the waiver if your travel is affected by the Elliott-led cancelation of American Airlines flights to India from the Midwest airports, including Chicago ORD, St. Louis, Omaha, Milwaukee, Madison MSN, Indianapolis, Grand Rapids, Kansas City, Minneapolis, Columbia, Des Moines, Springfield, and Champaign/Urbana.
All Nippon Airways' travel date change fee waiver
All Nippon Airways announced travel rescheduling fee waiver for flights cancelled in the wake of Elliott snowstorm. The waiver code – 7JC0M – applies to ANA flight tickets issued on or before DEC 18, 2022. Change fees and fare differences will be waived for rescheduled travel between 22 and 28 December 2022 if the travel class, origin and destination remain unchanged. ANA flights from the Texas airports, including Houston, Austin, Dallas/Fort Worth, McAllen, San Antonio, Victoria, Midland, Corpus Christi and El Paso, are affected by Elliott. ANA flights booked by travel agencies, to say IndianEagle.com, will be rescheduled only by the agencies.
The rescheduling of affected All Nippon Airways flights from the Midwest airports is also eligible for a one-time waiver on change fees. The Midwest airports are Chicago O'Hare, Cedar Rapids, Des Moines, Fort Wayne, Appleton, Indianapolis, St Louis, Omaha, Kansas City, Springfield, Mason, and Grand Rapids.
Impacted travel dates: December 21 – 25, 2022
Waiver code: 7JC04
Eligible tickets issued on or before: 17 DEC 2022
Travel to be rescheduled until 30 DEC 2022
Indian Eagle Travel
We are at work 24×7 to help our customers reschedule or cancel their travel to, from, or through the cities affected by Elliott winter snowstorm. We do appreciate your patience since we are experiencing high call volumes (1-800-615-3969). We are in contact with the airlines that we book flights with to and from the US. However, be advised to check your flight status (delayed or cancelled) on the operating airline's website.