Air India's 5-year transformation agenda, record aircraft order, and upcoming premium economy have already taken the aviation world by storm. The ongoing integration of Air Vistara into Air India will increase the mother airline's share of the domestic and the international market. In view of Air India becoming a formidable force, especially in the 'nonstop flights' category, major international airlines are eyeing a codeshare agreement with the Tata Group. Reportedly, Lufthansa and Emirates Airlines are among the few giants that have initiated a talk with Air India for codeshare partnership.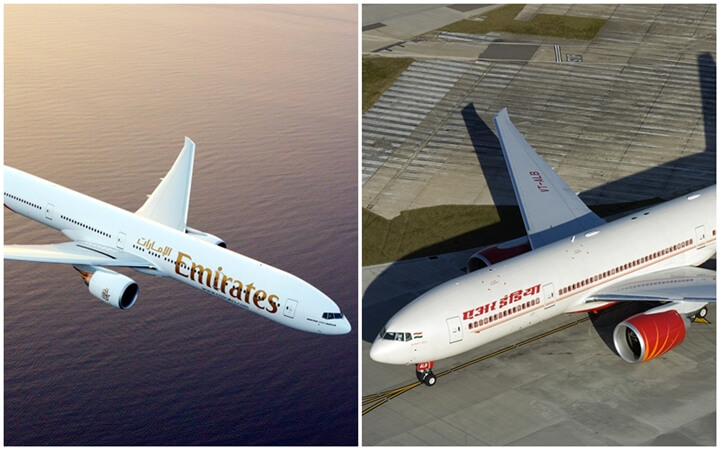 What got Emirates talking to Air India for codeshare partnership
Emirates, a favorite of family travelers with kids-friendly meals, has flying rights to India for maximum 66000 seats a week under the bilateral agreement between Dubai and India. The airline has long been seeking additional 50000 seats to and from India for expanding its weekly operations to tier 2 cities, such as Jaipur, Lucknow, Goa, Rajkot, Madurai, and Pune. But the government of India seems to restrict foreign carriers' direct access beyond their current destinations in the country.
That's why Turkish Airlines, Qatar Airways, American Airlines, Air France-KLM, and Qantas Airways are in codeshare partnership with IndiGo, India's biggest airline in terms of domestic market share. Likewise, the codeshare partners – Emirates and United Airlines – are looking to codeshare with a full-service premium airline like Air India for their service expansion in India. Emirates Airlines' first and only codeshare agreement with SpiceJet, a low-cost Indian carrier, did not work for several reasons.
Having an Indian codeshare partner is the leverage that Emirates needs to counter the competition from the codeshare partnership of Qatar Airways, American Airlines, Air France-KLM and IndiGo, as the influx of Indian Diaspora traffic from America and Europe feeds the demand for cheap flight tickets to India. Once the fleet is upgraded, the service is improved, and the network is expanded, Air India will be an unbeatable competitor on the routes that Emirates does also cater to.
Will two competitors become codeshare partners
"Not impossible. If Emirates and United Airlines that were once known for their infamous rivalry could become codeshare partners, why not Air India and Emirates? Air Canada was another rival of Emirates Airlines. they are now best friends in aviation," said Sourav Agarwal, the Editor of Travel Beats, a one-stop travel news portal for overseas Indians.
Air India is a market leader in operating nonstop flights from India to USA, Europe, Australia and New Zealand; whereas Emirates provides world-class inflight experience on one-stop flights to and from India via Dubai. "The demand is big. The pie is big for everyone. We are probably missing out on some traffic to and from India, whereas Indian airlines have growing aspirations to increase overseas flights," said Mohammad Sarhan, Emirates' Vice President for India and Nepal.
If not codeshare partners, their competition will heat up 
If the Emirates-Air India codeshare partnership, which is at an initial stage of discussion as per reports, does not take off, their competition may intensify. Premium Economy will be a common ground for competition between Air India and Emirates Airlines. Six A350-900s with 24 Premium Economy seats on each aircraft will be inducted into Air India's fleet any time this year. The airline will take delivery of 34 A350-1000s with Premium Economy by 2025.
On the other hand, 120 aircraft in Emirates' fleet, including widebody A380s, are being retrofitted with Premium Economy cabins – which Mumbai and New Delhi will be among the first few destinations to see early in 2024.