Air Canada scheduled launch of its new nonstop flights from Toronto to New Delhi on November 1, 2015. The upcoming Toronto to New Delhi service will recover Air Canada's connection with India, which was discontinued in 2005 due to lack of profitability. On seeing a growing market of travel between Canada and India, the airline is looking to cash in on the new route.
Air Canada has chosen to deploy the new Boeing 787-9 Dreamliner for operating flights from Toronto to New Delhi. It would be the first Dreamliner from North America to fly to India. Recently British Airways announced to operate Dreamliner from London Heathrow to India. According to aviation experts, Boeing Dreamliner has influenced the economics of flying to India.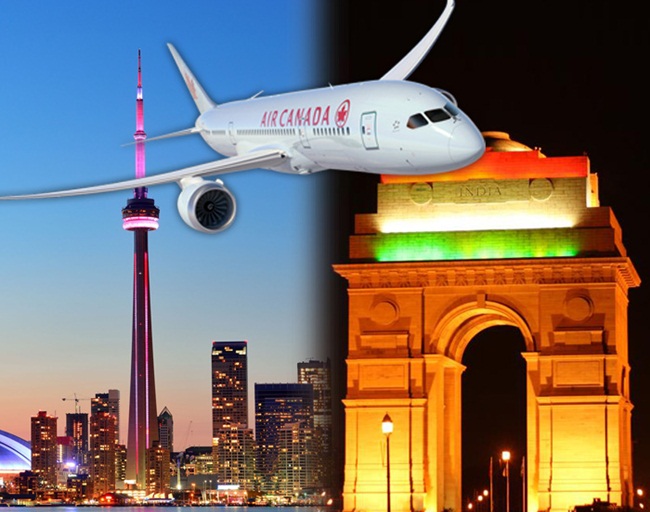 Cabin Features of Air Canada's B787 Dreamliner
Air Canada's B787-9 is an efficient, modern aircraft with three travel cabins: Business, Premium Economy and Economy. The Dreamliner has a total of 298 seats including 30 Business Class seats, 21 Premium Economy seats, and 247 seats in the Economy Class. The seats are cozy and spacious depending on their travel classes. The Business Class seats are 21-in wide, while 19.5-in is the width of the seats in the Premium Economy cabin. The 17.3-in Economy seats are spacious enough to sit comfortably.
The Business Class seats on Air Canada's flights to New Delhi can be reclined to a level of 180 degree like full-flat beds. The Premium Economy passengers can recline their seats by 7 inches. The Economy travelers can lean back by reclining their seats up to 5 inches. All seats on the B787-9 Dreamliner are sumptuously cushioned and come with adjustable headrests to make passengers sit with ease.
All three cabins of Air Canada's B787 Dreamliner are equipped with in-seat power plugs and other features including personal inflight entertainment systems. Passengers can choose to watch their favorite programs from the preloaded entertainment content on the HD screens while flying from Toronto to New Delhi. The cabins are equipped with advanced filtration systems to keep the air clean and healthy inside.
What more? Air Canada is supposed to offer Wi-Fi connectivity in all travel cabins so that today's tech-savvy passengers can check their emails, social media updates, news feeds, etc. to stay connected with the outer world during the journey.
Air Canada's Baggage Policy for Toronto to Delhi Flights
Air Canada's baggage allowance for flights to New Delhi from Toronto seems to be the same as that of other American airlines for flights to India. Air Canada's Business Class travelers can carry two pieces of check-in baggage with a maximum weight of 32 kg each from Toronto to Delhi. Two pieces of check-in baggage with 23 kg each will be permitted to each adult traveler in the Economy cabin. Besides, the Economy passengers can carry one cabin bag of 8 kg on flights to Delhi.
Toronto is the fourth largest city in North America with a huge concentration of Indian Americans. Air India stopped flying from Toronto in 2012 for financial crunches. Evidently, the Toronto to Delhi route between Canada and India remains untapped. Air Canada is going to hit the route at the right time and with the right aircraft. – Indian Eagle
Indian Eagle books the cheapest tickets for Air Canada flights to New Delhi. The best flight for the lowest fare is guaranteed!