With the promising government in power, the Indian travel and tourism industry is awaiting great reforms in the coming days. Reformation of security for tourists, development of tourism infrastructure and improvement of service quality are pressing needs of the hour to revolutionize Indian tourism which looks pale when the number of India's foreign tourist arrivals is compared to that of China's and Singapore's in 2013. The last year, India received 6.84 million foreign tourists, which is far outnumbered by China's 132 million and Singapore's 14 million visitors.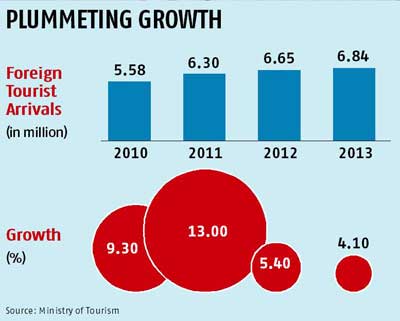 Shripad Yesso Naik, Union Minister for Culture & Tourism in the Government of India, has proposed to drive an international public relation campaign in order to boost the image of India as a safe, ideal travel destination for tourists from across the globe. The Union Ministry of Tourism has promised to develop and implement result-oriented PR strategies for rebuilding the image and position of India in four international markets – New York, London, Tokyo and Berlin.
Security of foreign tourists in India has been a concern for last few months. The Ministry of Tourism has come up with a two-pronged strategy to mitigate this concern among the visitors from outside of India. Mr. Naik is looking to hold a meeting and collaborate with the ministers of state tourism for the campaign. He urged the leading private travel organizations and tour operators to join the initiative and put their collective efforts towards accomplishing the mission.
Pranab Mukherjee, President of India, shared Shripad Yesso Naik's concern about safety of foreign tourists and echoed his sentiments for brand Indian tourism, in the first session of the 16th Lok Sabha. He presented the BJP's agenda for tourism which, according to him, would tap into the potential of India as a travel destination for the socio-economic growth. He added that the new government would create 50 specific theme-based tourist zones across the country. It is evident from incorporation of tourism among the 5 Ts including Talent, Tradition, Trade and Technology.
According to the agenda, the pilgrimage centers of all faiths across the country will be equipped with advanced infrastructure and modern amenities for enhanced convenience of pilgrims. A multidimensional infrastructure development program for modernization of railway stations will be implemented in the next 10 years. High-speed trains will be launched to connect the northeastern states with the rest of India. Moreover, development of low-cost airports in small towns is among the priorities on the agenda.
Tourism centering on the cultural and historic heritage of India will earn the government a huge foreign exchange if foreign tourists can have easy access to monuments and national museums through a precise electronic ticketing system. The Ministry of Culture and Tourism will launch a special mobile application to facilitate availability of information about major Indian festivals and events to tourists.
IndianEagle.com promotes the tourism of India by booking trips at the lowest airfare for NRIs and foreign tourists.