Young Indian American students are leaving no stone unturned to make the community proud of their achievements in different niches such as science, technology, performing arts, sports and beauty pageants. Recently, two Indian American high school seniors were named Foot Locker Scholar Athletes of the year 2017 for their academic excellence and strong leadership traits in sports.
Puneet Kaur of Round Hill, Virginia, and Malika Jain of California are among the 20 exceptional athletes selected for the 2016-2017 Foot Locker Scholar Athletes from across the United States. Each of the athletes, including Puneet Kaur and Malika Jain, has been awarded $20,000 as scholarship. The Foot Locker Scholar Athletes Program recognizes and honors extraordinary students like Malika and Puneet who exercise the skills acquired through sports to achieve academic excellence and become leaders within their chosen niches.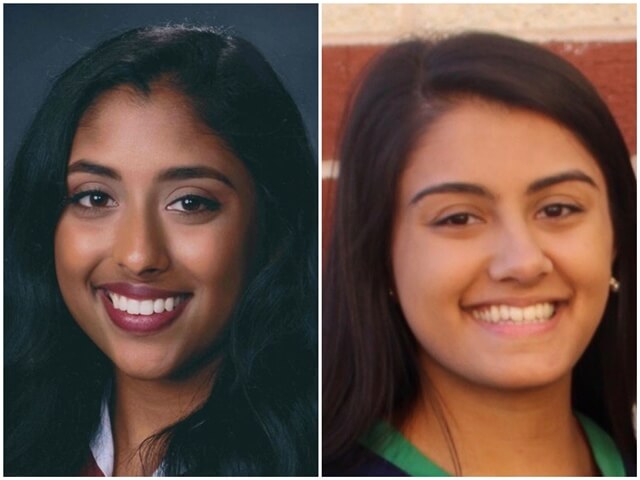 Among the winners of the 2017 Foot Locker Scholar Athletes Program, Puneet Kaur is the first in her family to be born in USA. A diligent basketball and track athlete, Puneet strives to demonstrate her academic excellence by earning good grades in examinations despite her personal struggle with a rare epileptic seizure disorder.
Moved by the suicidal death of several students at her high school, Indian American Puneet Kaur sought to gather support for suicide victims and raise awareness about consequences of mental health issues. She initiated a school-wide walk for the same noble purpose, which found space on various national media portals, such as The Washington Post and ABC 7.
Among the 2017 Foot Locker Scholar Athletes Program winners in USA, Puneet is the founder and president of 'We're All Human Club', which seeks to help kids deal with suicidal intentions and enables people to cope with mental health issues without any stigma attached to it. She is looking to attend George Mason University and join the Foot Locker Class of 2017.
Also Read Two Indian Students Win Grand NASA Prize 2017
Another promising Indian American among the 2017 Foot Locker Scholar Athletes Program winners in USA, Malika Jain is the captain of her school's golf, tennis and soccer teams. She recruits girls for the tennis team of her school and trains them in the basic knowhow of tennis. She is equally known for her community involvement as president of the Key Club, a student body in her neighborhood. Malika also serves as a strategy member to the Robotics Club at school.
Apart from exceling in academics and sports, California Indian Malika Jain is deep into community welfare services like raising a fund of $35,000 to provide schools with water purification systems, computer labs, playground equipment, medical camps, additional classrooms, bathrooms for girls, and basic school supplies in three poverty-ridden villages of Vadodara in the Indian state of Gujarat.
Also Read Young Indian Americans Win Junior Nobel Prizes
California Indian Malika Jain has several awards and titles under her belt. The President's Award for Education and Excellence, the Girl Scouts Gold Award, and the Duke of Edinburgh International Gold Award are some of the feathers in her cap. Malika will attend the University of Southern California in the fall.
The 20 winners of the 2017 Foot Locker Scholar Athletes Program, including Malika Jain and Puneet Kaur, are selected out of the 37,000 applicants from across the United States.
Indian Eagle, a trusted travel partner of Indians in America for booking their trips to India, celebrates achievements of young Indians worldwide by publishing their inspiring stories on Travel Beats, a leading Indian community portal.