Dr. A P J Abdul Kalam, the Missile Man of India, is no more among us. But his enlightening teachings, inspirational values and immortal achievements will be living with us forever. He donned several different hats – scientist, researcher, author, professor and leader – in one life. He was a man of knowledge, determination and self-confidence. He was a diehard believer in the power of science, technology, education, dream and spirituality. India's distinction of being a nuclear nation is one of the astounding contributions by him. He always dreamed and talked about a strong, powerful, self-sufficient, independent and educated India where the field would be leveled for everyone. He was only one to be known as "People's President" for his simplicity, humility and compassion. Let us continue to be encouraged and enlightened for a noble cause, a better society, a promising life and a competent nation by Dr. A P J Abdul Kalam's best inspirational quotes: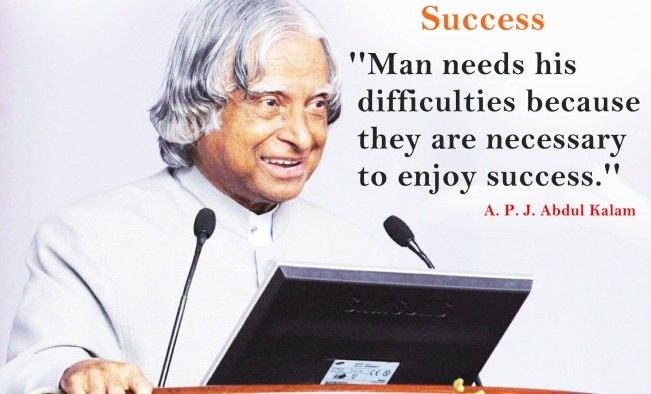 "Learning gives creativity,
Creativity leads to thinking,
Thinking provides knowledge,
Knowledge makes you great."
"The sides of the mountain sustain life, not the peak. This is where things grow, experience is gained, and technologies are mastered. The importance of the peak lies only in the fact that it defines the sides."
"This is my belief: that through difficulties and problems God gives us the opportunity to grow. So when your hopes and dreams and goals are dashed, search among the wreckage, you may find a golden opportunity hidden in the ruins".
"God, our Creator, has stored within our minds and personalities, great potential strength and ability. Prayer helps us to tap and develop these powers."
"I knew I was putting you under immense pressure when I rejected your work the other day. I set an impossible deadline – yet you have met it with work that I can only call outstanding. As your teacher, I had to push you to your limits so that you could recognize your own true potential."
"Within the mind are all the resources required for successful living. Ideas are present in the consciousness, which when released and given scope to grow and take shape, can lead to successful events."
"Educationists should build the capacities of the spirit of inquiry, creativity, entrepreneurial and moral leadership among students and become their role model."
"We will be remembered only if we give to our younger generation a prosperous and safe India, resulting out of economic prosperity coupled with civilizational heritage."
"If a country is to be corruption free and become a nation of beautiful minds, I strongly feel there are three key societal members who can make a difference. They are the father, the mother and the teacher."
"My message, especially to young people is to have courage to think differently, courage to invent, to travel the unexplored path, courage to discover the impossible and to conquer the problems and succeed. These are great qualities that they must work towards. This is my message to the young people."
We at Indian Eagle pay tribute to Dr. A P J Abdul Kalam, mourn his demise, share his teachings and celebrate his achievements as part of our social responsibility. May his soul rest in peace and his values be with us!