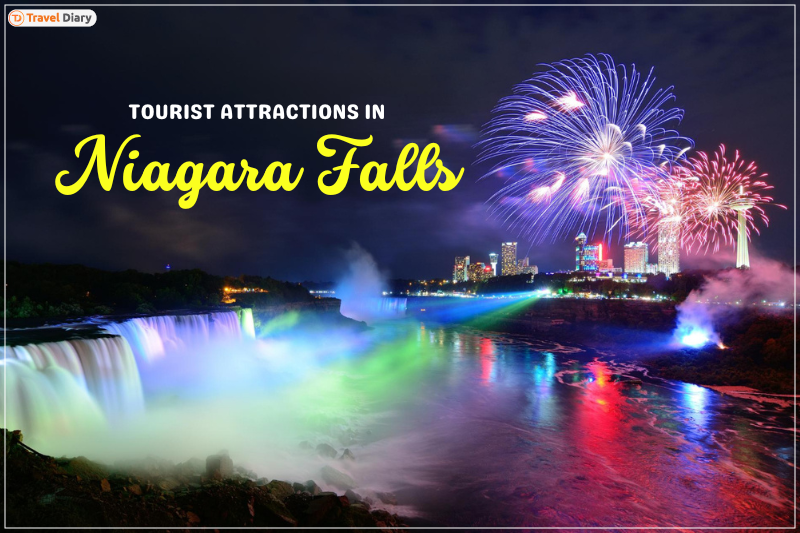 Niagara Falls is itself one of the most fascinating and mesmerizing sites in the world. This natural wonder is located along the border of the US and Canada. Open 365 days a year, this place is surrounded by many other thrilling and spectacular destinations. From fun spots to historical and natural wonders, there are several tourist attractions in Niagara Falls you would never want to miss. Check this list of places to visit and things to do in Niagara Falls to make the most of your trip. 
Niagara Falls State Park
Opened in the year 1885, Niagara Falls State Park is the oldest park in New York City. The park is spread over about 400 acres and is home to various astonishing sites including nature trails, picnic spots, bike trails, and more. Attracting millions of visitors in a year, this park offers numerous activities to do, interactive exhibits, delicious dining options, and a family-friendly environment. 
Journey Behind the Falls
The Journey Behind the Falls is another spectacular attraction at Niagara Falls that will leave you stunned with its beauty. It is the best place to see the close-up view and feel the true power of the falls. Multiple observation platforms offer a beautiful site of the falls from behind. You can pass into the caverns, get drenched by the curtain of water, and witness this awe-inspiring waterfall. 
Niagara Skywheel
Niagara Skywheel is Canada's largest observation wheel that offers a majestic view of the falls. Opened for tourists in 2006, this giant wheel is 175 feet tall and is a marvelous place near Niagara Falls that can leave you stunned. Along with the breathtaking view of the falls, this place is also popular for its amazing sight of Horseshoe Falls and American Falls from a great height. 
Also Read: Places to Visit in the USA
Aquarium of Niagara
The Aquarium of Niagara, also known as the Niagara Aquarium Foundation, is a not-for-profit aquarium in the city. Offering wildlife conservation, education, and research opportunities, this place is a fun diversion for families and friends. Located just a few blocks away from the Niagara Falls State Park, the Niagara Falls Aquarium is a must-visit tourist destination if you want to see species like seals, penguins, sea lions, and more. Here, you also get the chance to observe these animals closely and learn about their food habits, care routine, etc.
Maid of the Mist
Maid of the Mist is the best boat tour to explore the majestic waterfalls. Its 30-minute board ride brings you extremely close to the base. The boat departs from Niagara Reservation State Park and takes the passengers to American, Bridal Veil, and Horseshoe Falls. If you want to see the cloudy mist created by the forced water crash, you must opt for Maid of the Mist. 
Clifton Hills
Clifton Hill, popular as Niagara's Fun Street, is a concentrated cluster of family attractions and entertainment options. This street will take you to the Niagara Skywheel, the Niagara Speedway, Guinness World Records Museum, Louis Tussaud's Waxworks, and other attractions. 
Cave of the Winds
The Cave of the Winds is known for its wooden paths, observation decks, and the thrilling sight of the tumbling Niagara Falls from 20 feet. The tour of this place gives goosebumps when you feel the thundering power of water cascading down. Visitors are provided with ponchos and souvenir sandals to save them from the stormy mist zone.
Butterfly Conservatory
Another beautiful place in Niagara Falls is the butterfly conservatory. This climate-controlled greenhouse is home to 2,000 free-flying butterflies. It is the largest butterfly conservatory in North America containing exotic plants, waterways, and of course butterflies. Walk through the 180-meter self-guided pathways and witness beautiful butterflies fluttering around.
One of the most glorious butterfly species, the Blue Morphos can also be found here. These butterflies glow in the dark and their mesmerizing appearance is truly a delight to the eyes.
These are some popular attractions in Niagara Falls you should visit on your trip. For the cheapest flights to USA, go to Indianeagle.com, compare the airfare of different airlines, and book tickets as per your feasibility.
Frequently Asked Questions
Which of the following are popular attractions at Niagara Falls?
 There are numerous popular tourist attractions at Niagara Falls like
Niagara Falls State Park

Niagara Skywheel

Aquarium of Niagara

Maid of the Mist

Clifton Hill

Cave of the Winds Niagara Falls

Butterfly Conservatory
What other attractions are around Niagara Falls?
The other tourist attractions near and around Niagara Falls NY are:
Niagara Falls Bus Tour

Niagara Parks

Whitewater Walk

Niagara Falls water park

Botanical Gardens

Niagara City Cruises

Whirlpool Aero Car & Jet Boat Tours

Niagara Gorge Hiking Trails

Niagara Power Station

Bird Kingdom
And more!
What is the city of Niagara Falls known for?
Niagara Falls serves as a major source of electricity for Ontario and is famous for its tumbling waterfalls & fun, quirky, and carnival-like atmosphere.
How many attractions does Niagara Falls have?
There are hundreds of beautiful sites in Niagara Falls. Some names are Niagara Falls State Park, Skywheel, Aquarium of Niagara, Maid of the Mist, Botanical Gardens, Whirlpool Jet Boat Tours, and more.
What are the top things to do in Niagara Falls & around?
There are multiple things to do in Niagara Falls NY like biking, taking bus tours & boat rides, sightseeing, partying, shopping, and more.