When it comes to delicious street foods in India, Kolkata figures out as one of the top 3 cities in India for finding awesome street food with a local Indian flavor. Kolkata has a good reputation for serving delicious street foods and offers a stiff competition to other Indian cities like Delhi, Lucknow, and Mumbai. Our list of delish street foods in Kolkata will tickle your taste buds and will also aid in being a Kolkata food guide for you.
What is the famous food of Kolkata?
The local foods in Kolkata fall under the world-famous Bengali Cuisine which is characterized by a sweet flavor through the use of sweet tasting spices and this was an influence from the Mughals who ruled Kolkata. From the authentic Bengali Thalis to street foods like kathi rolls to delectable desserts like Rosogulla and Sondesh, the cosmopolitan city of Kolkata is a paradise for foodies who like to try out the best foods from all corners of the world.
Don't miss out on the Kolkata Food Walks and Heritage Walks which are organized by private day tour operators for exploring the best food-joints in the city guided by expert tour guides. Finding cheap flights to Kolkata is just a click away on Indian Eagle.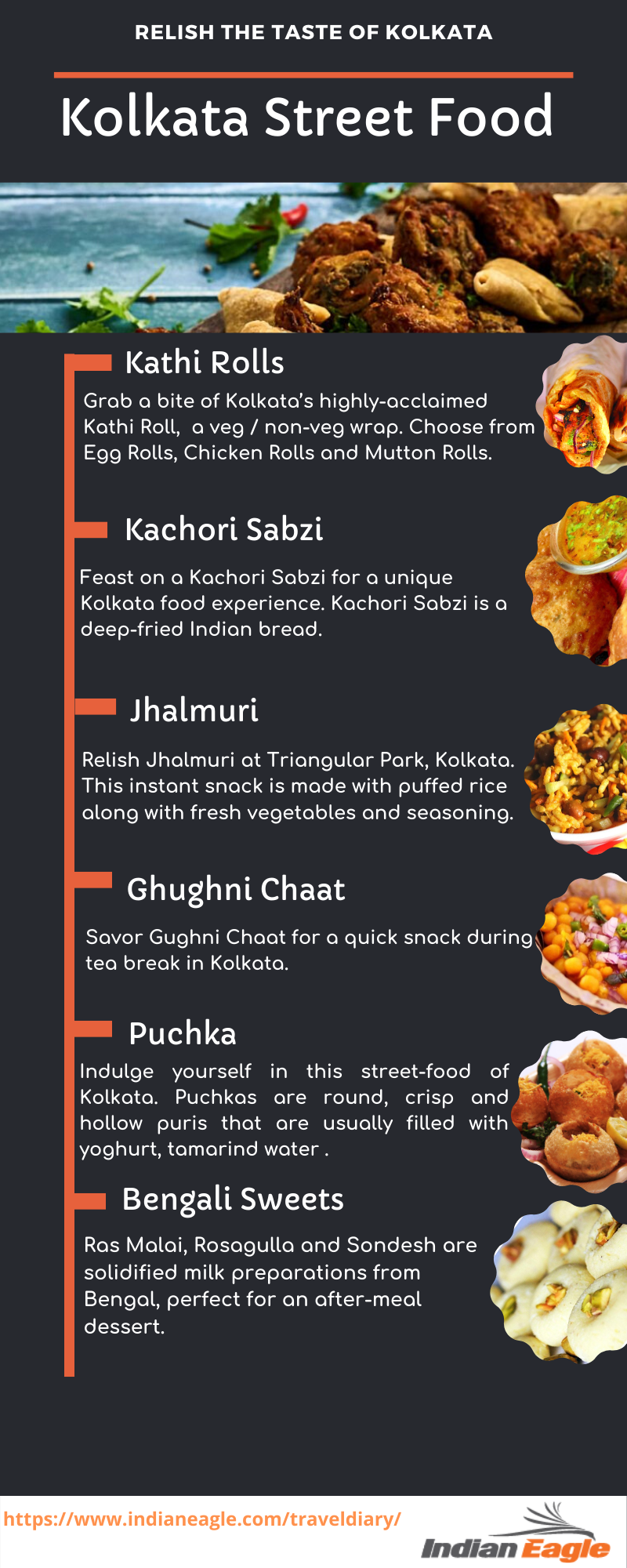 Kathi Rolls
Kathi rolls are signature style wraps of Kolkata that are a top favorite among most Kolkatans and is a must-try for experiencing the street foods of the City of Joy. Kathi rolls are flattened parathas (Indian breads) that are used as wraps for the stuffing of vegetarian or non-vegetarian rolls. The veg / non-veg Kathi rolls come in many variants including egg rolls, chicken rolls and mutton rolls and can be found at most hawker stalls of the streets of Kolkata.
Where to eat: The best Kathi Rolls can be found at Kusum Rolls, a popular food-joint Near Park Hotel
Kachori Sabzi
This delicious street food can serve as a great evening snack for recharging yourself with some fresh energy. Kachori Sabzi is essentially deep-fried bread that is served along with some freshly prepared potato curry. This popular street food of Kolkata is a popular menu item at most hawker restaurants and street food vendors.
Where to eat: The best Kachori Sabzi can be found at Sharma Tea House in Bhawanipur
Recommended Read: Best Time to Visit Kolkata: The Cultural Capital of India
Jhalmuri
This famous street delight has its origins from Bengal and is made up of puffed rice along with the use of ingredients like finely chopped tomatoes, onions, carrots, bhujia and spices along with some seasoning for bringing out a unique local spicy taste. Jhalmuri shouldn't be confused with Bhelpuri, although they both have a lot of commonalities in terms of the ingredients used. The main difference is Jhalmuri is almost a ready to be eaten dish and it doesn't require any chutney to accompany with it unlike Bhel.
Where to eat: The best Jhalmuri can be found at the street-side shop near Triangular Park, Opposite Jawaharlal Nehru Road
Ghugni Chaat
Ghugni Chaat can be found at most street-side stalls of Kolkata and is a top favorite for Bengalis and the tourists alike. The dish is prepared using white peas, yellow peas along with other essential ingredients like onion, mint, tamarind and coriander by hand tossing them on a hot pan. Ghugni Chaat is very similar to Ragda, a popular street food of Mumbai and this will surely interest Mumbaikars.
Where to eat: The best Ghugni Chaat can be found at the street-side shops at New Market in Kolkata
Also Read: A Simple Kolkata Travel Guide to experience the Treasures of Kolkata
Puchka
Puchka has so many parallels to Paani Puri. Puchka is a famous Indian snack served at most cities and is one of the most famous street foods of Kolkata. Puchkas are essentially round, crisp, thin and hollow puris that are filled with fillings of yoghurt, tamarind water and mint and sometimes even Vodka. Grab a plate of puchkas during a Kolkata tour to figure out the subtle difference between Paani Puri and Puchka. You will find that they both differ in the fillings used for the puris.
Where to eat: The best Puchkas can be found at the street shop, Ram Gupta's Puchkas near Victoria Memorial Palace
Ras Malai
This is a popular sweetmeat which has its origins from the kitchens of Bengal and is a must-try if you have a sweet tooth. Ras Malai is a yummy cheesy dessert that is immersed in milk.
Where to eat: The best Ras Malai can be found at Balaram Mullick and Radharam Mullick, a sweet shop in Bhawanipur
Rosogulla
Rosagolla is another signature style sweet meat coming from the Kitchens of Bengal.  Like most sweet delicacies from Bengal this is a solidified milk preparation that will simply melt in your mouth.
Where to eat: The best Rosogullas can be found at the popular sweet shop KC Das Grandson Pvt Limited
Sondesh
Sondesh is another Bengali sweet delicacy that cannot be missed. The dessert is perfect for a great after meal experience and usually has a coating of rich pistachios on top.
Where to eat: The best Sondesh can be found at Balaram Mullick and Radharam Mullick, a sweet shop in Bhawanipur