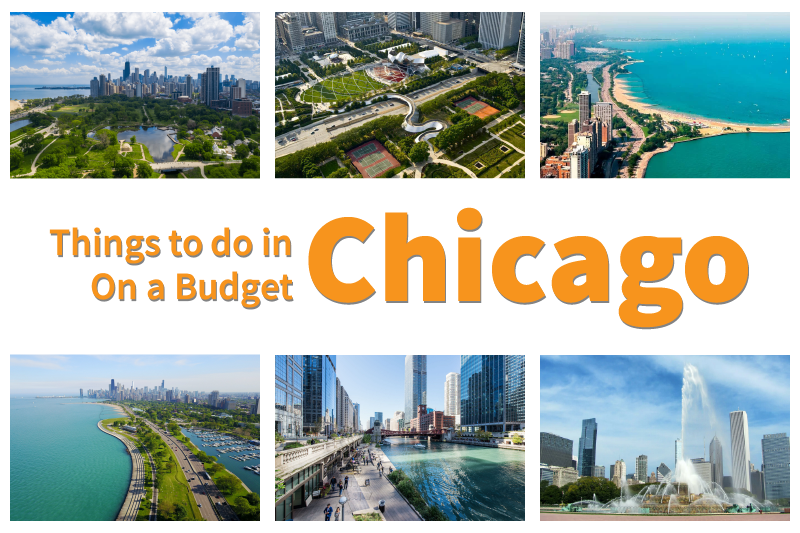 Chicago is a top-class city located in the Midwestern region of US. It is considered to be one of the best tourist attractions in the world. Popularly called the "Windy City", it attracts millions of visitors from around the globe annually. 
Even though it is one of the most expensive cities, you can visit many popular attractions in Chicago on a budget. Fortunately, entry to many places is free and so they can be visited without spending a single penny.
Budget Travel Tips to Chicago 
If you are on a budget but still want to explore this beautiful city, you can avoid going to expensive restaurants or theme parks. Here are some travel tips to explore Chicago on a budget.
1. Visit museums on 'Free Museum Days' as entry to some of the top museums during this time is absolutely free.
 2. Eat at the many food trucks in the city. They not only serve amazing food but are pocket-friendly as well. 
3. Use public transportation to get around Chicago.
4. Gain free entry to many tourist attractions by using the Chicago CityPASS or Go Chicago Card.
5. Try to visit the city during the off-season, or during the Shoulder season to get accommodation options at reasonable prices.
Also Read: 5 Packing Tips to Travel with Ease
Places to Visit in Chicago on a Budget
Being a world-class cosmopolitan city, the city has countless tourist spots that are crowded with visitors. You will be surprised by the number of places you can explore in Chicago on a budget. Some of them are mentioned below:
1) Lincoln Park
2) Millenium Park 
3) Chicago Beaches
4) Chicago Riverwalk
5) Buckingham Fountain 
6) Lakefront Trail
1)
Lincoln Park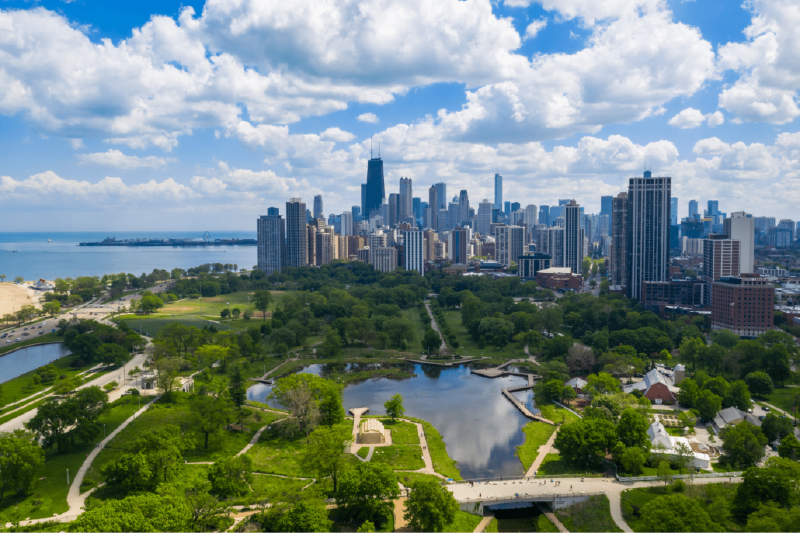 One of the largest public parks in the city, Lincoln Park is located next to a big lakefront and is an ideal spot for budget-free visitors. During your trip here, you can enjoy spectacular views of the city's skyline and click beautiful pictures to post on your social media accounts. 
A family trip to Chicago on a budget cannot end without visiting the Lincoln Park Zoo. Situated inside this lush park, this is the only zoo without any entry fee in the US. Another great attraction that can be visited for free is the Lincoln Park Conservatory.
2)
Millenium Park
You might have seen the mirrored sculpture in this park on many travel pages online. A sculpture made of stainless steel also known as 'Bean', referring to its dimension and shape is a major attraction in this park. It is also one of the prime spots to take selfies; you can click a few pictures and store them as a memory of your Chicago trip. 
Visiting other popular attractions like Crown Fountain Sculpture, Jay Pritzker Pavilion, and Lurie Garden located nearby are some of the top things to do in Chicago on a budget.  
3)
Chicago Beaches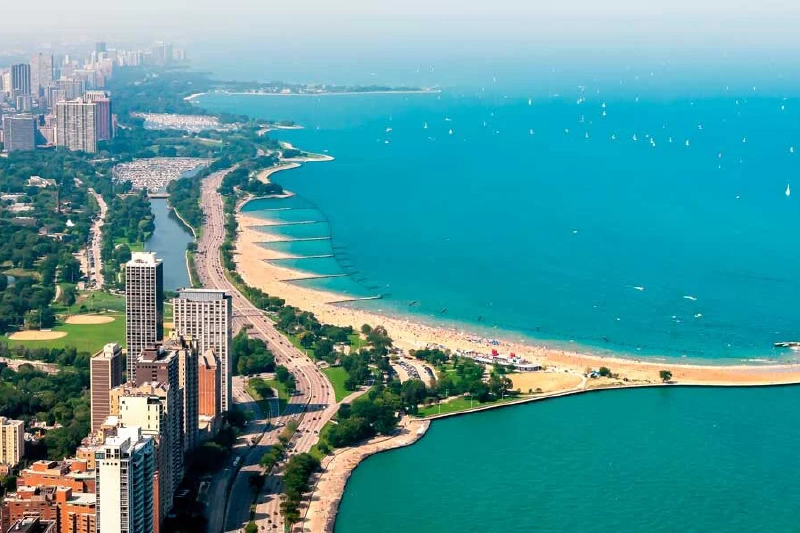 Very few people know that this city has good beaches too. Even though the city is not included in coastal tourism, there are many famous beaches where you can spend quality time with your family and friends.
Oak Street Beach and Ohio Street Beach are two popular beaches that you can visit in Chicago. These attract a considerable number of tourists mainly on weekends and public holidays.  
4)
Chicago Riverwalk
If you want to spend some peaceful moments walking along a waterbody, then you should visit the Chicago riverwalk. You can find a few bars, restaurants, and places like benches to sit on. 
The Art on the Mart is one of the popular attractions in the Chicago Riverwalk and is considered the largest permanent digital art projection in the world. 
Also Read: Chicago O'Hare International Airport: New Terminal Updates
5)
Buckingham Fountain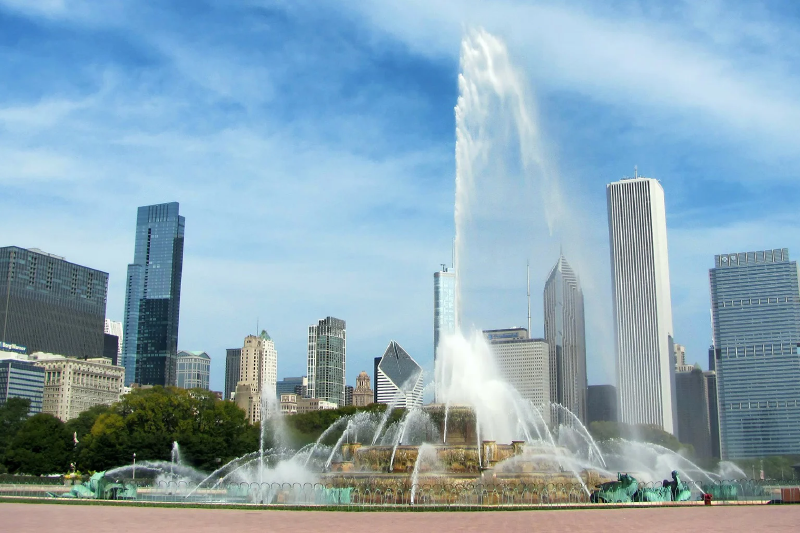 Buckingham Fountain is a famous landmark in Grant Park and is one of the biggest fountains in the world. You can admire the fountain show for 20 minutes and this is projected every hour. Watching this fountain show is one of the most popular free things to do in Chicago.
The water reaches nearly a height of 150 ft when the jet shoots while the lights and music accompany this brilliant sight. You will be amazed to see huge crowds gathered to see this wonderful show.
6)
Lakefront Trail
One of the top free places to go in Chicago is the Lakefront Trail. You might get a chance to see some mesmerizing views of the city from here. It is a long lakefront stretch that is nearly 18 miles long. You can see people walking, jogging, running, cycling, and biking at the Lakefront Trail on weekends.
There are places like the Adler Planetarium, Museum of Contemporary Art, Art Institute of Chicago, and Chicago History Museum which are accessible without any entry fee. Which of the places mentioned above would you like to explore when visiting Chicago on a budget?
If you are searching for flights to Chicago, check out Indian Eagle International flights and get huge discounts. You can also avail of assistance through the Indian Eagle 24 hour customer service and resolve all your queries.