TSA PreCheck and Global Entry are two programs you may be familiar with if you travel frequently. Although they are not the same, each program can help you avoid unnecessary delays and hassles at the airport. Both options come with prices, not to mention the time and effort needed to conduct the required interviews. The cost of TSA PreCheck vs Global Entry, however, may be covered by some credit cards or frequent flyer programs. Even if you only seldom fly, it might still be worthwhile to apply, especially if you can pay for it with a credit card.
The key distinctions between TSA PreCheck and Global Entry in this article are outlined to assist you in selecting the one that's right for you. Also, a dedicated team of Indian Eagle is there to help you with the question of how to find last-minute travel deals.
What is TSA PreCheck and how does it work?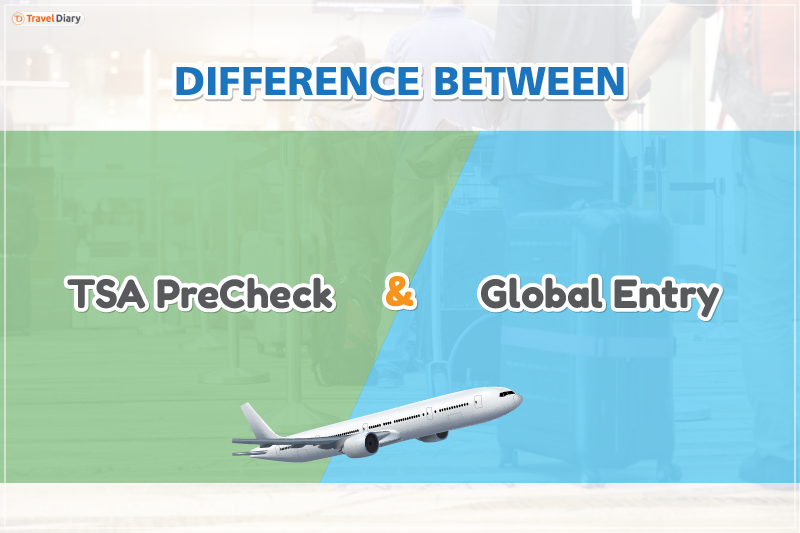 The Transportation Security Administration (TSA) is in charge of this program, which enables travelers to pass through a separate security screening line with often shorter lines and less rigorous security measures. With TSA precheck entry, you don't have to remove your laptop or liquids from your carry-on luggage and can keep your shoes, belt, and light jacket on.
You must apply online and make an appointment at an enrollment center in order to receive TSA PreCheck. You must submit some fundamental personal data and pay a $78 fee for five years and $70 to renew. When your application is accepted, you'll be given a Known Traveler Number (KTN), which you can use to book online cheap flights. 
You are extremely likely, but not guaranteed, to receive TSA PreCheck entry status for your flights when utilizing a KTN. Whether it is paper or electronic, your boarding pass will have a PreCheck indicator. Additionally, eligibility is included in the bar code of the boarding pass.
You have access to security lanes with less thorough screening if you have PreCheck status:
You can continue wearing your belt and shoes.

You can keep your laptop in its case.

Liquids and gels can remain in your carry-on bag.
That typically results in a shorter queue. According to the TSA, 89% of PreCheck travelers waited less than five minutes in the queue as of March 2023. 
If you also want to enjoy these hassle-free security check-ins during your trip from the US to India, do check out Indian Eagle which provides the best flight deals to travel to India.
What is Global Entry and how does it work?
The U.S. Customs and Border Protection (CBP) program offers pre-approved, low-risk travelers expedited clearance when they enter the country. With Global Entry, you can use an electronic kiosk to finish your entry procedure rather than the standard customs and immigration lines.
You must make an appointment at a Global Entry enrollment center and submit an online application to qualify for Global Entry. Compared to TSA PreCheck, you'll have to supply more in-depth personal information, including a background check and a face-to-face interview with a CBP officer. A $100 charge that is good for five years also needs to be paid. 
Your application fee may be refunded by some credit cards and premium frequent flyer programs. The Known Traveler Number is also known as PASSID in this program, although it serves the same purpose.
When traveling internationally, Global Entry allows you easier U.S. customs screening in addition to TSA PreCheck entry and its advantages. You can use an airport kiosk upon your return, which should be far quicker than standard customs inspection lines.
Additionally, Global Entry offers quick entry at land crossings with Canada and Mexico. 
TSA Precheck Vs Global Entry
For a better understanding of the difference, let's refer to the table below.
| | | |
| --- | --- | --- |
| Features | TSA Precheck | Global Entry |
| Eligibility | U.S. citizens, U.S. nationals, and lawful permanent residents | U.S. citizens, U.S. nationals, lawful permanent residents, and citizens of selected other countries |
| Speedy Security Checks At U.S. Airports | Yes | Yes |
| Expedited Immigration And Customs Processing At U.S. Airports | No | Yes |
| Validity Period  | 5 years | 5 years |
| Cost  | $78 fee for five years | $100 fee for five years |
| Application Procedure | Online application, fingerprinting, and in-person appointment at the TSA Precheck enrollment center | Online application, fingerprinting, and in-person interview at the Global Entry enrollment center with a CBP officer or during international travel |
| Includes Advantages of Tsa Precheck | Yes | Yes |
Which program should you therefore pick, precheck vs global entry? In the end, it depends on your travel preferences and requirements what program suits you the best. TSA PreCheck is the best option if you travel mostly within the United States and want to avoid long lines and other hassles at security checkpoints. Global Entry is the preferable choice if you frequently go abroad and want to speed up customs and immigration processing.
Indian Eagle flights are an affordable and trustworthy choice for travelers. TSA Precheck and Global Entry, on the other hand, are strongly advised to make your trip even smoother. Your trip will be more enjoyable and stress-free if you use these programs, which can save you a lot of time and trouble at security checkpoints. 
Don't forget to enroll in these programs before your upcoming flight from USA to India so that you can fly without a problem with Indian Eagle which is the best travel flight agency. 
FAQ's
Q1: Is a passport required for both programs?
A: Yes, for you to apply for global entry, your passport needs to be active. A passport has its own expenses and procedures. 
Q2: What is the procedure required in the case of children?
A: Children of 12 years and younger can go through the quicker airport security lines with an adult who has TSA PreCheck or Global Entry without needing their own PreCheck clearance. However, without their own membership in the program, Global Entry does not let youngsters pass through expedited customs processing.
Q3: Are both program processes refundable?
A: No, even if your application is rejected, you will not receive a reimbursement for the application expenses for either program.