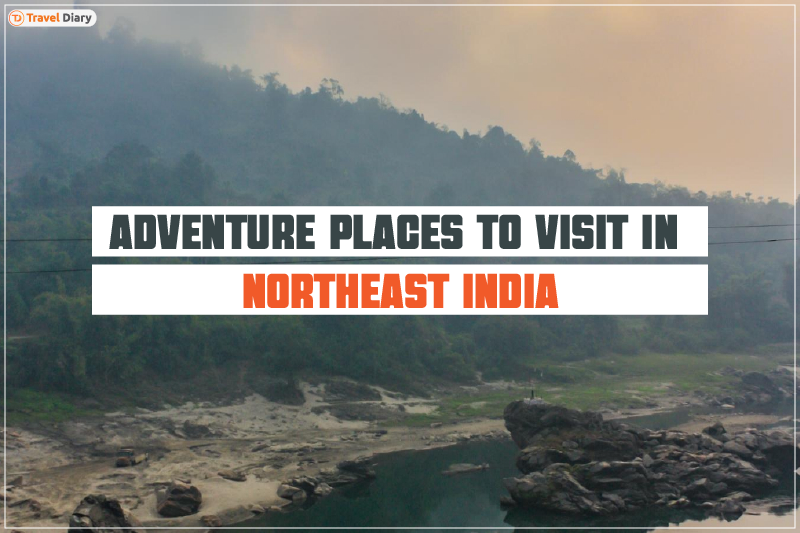 Northeast India is a travel enthusiast's dream. The region's diverse topography provides ample opportunities for tourists to interact with nature's magnificent creations. This is the place to go if you want to get off the beaten path. Northeast India will undoubtedly be one of the most amazing experiences of your life.
It is one of the most unique travel destinations and has many amazing places to visit in Northeast India, thanks to its jaw-dropping scenery, gracious hospitality of the locals, diverse traditions, rich history, and eco-friendly way of life.
Where is Northeast?
Arunachal Pradesh, Assam, Manipur, Meghalaya, Mizoram, Nagaland, Tripura, and Sikkim are the eight states that make up Northeast India. Previously, the northeast Indian states of Arunachal Pradesh, Assam, Manipur, Meghalaya, Mizoram, Nagaland, and Tripura were known as the Seven Sisters. Sikkim was admitted to the Northeast Council in 2002, becoming the eighth state of Northeast India and the only Brother of the Seven Sister States. The eight northeast states share borders with foreign countries such as Bangladesh, Myanmar, Bhutan, China, and Nepal.
Let's look at some of the best places in the northeast India. Adding these places to your itinerary will make your adventure wholesome.
List of 5 Best Northeast Tourist Places
Assam's Kaziranga National Park
Arunachal Pradesh's Tawang
Meghalaya's Cherrapunji and Mawsynram
Assam's Majuli
Meghalaya's Shillong
Assam's Kaziranga National Park
The Kaziranga National Park, located in the heart of Assam, is one of the last areas in this part of India that is not overcrowded. It is one of the world's most famous tourist places in northeast India, home to the world's largest population of one-horned rhinoceroses and many other mammals such as elephants, tigers, panthers, and thousands of birds.
Arunachal Pradesh's Tawang
Tawang's breathtaking views in Arunachal Pradesh are still relatively unknown. One of the reasons for this is that Indian visitors to Tawang must also obtain a special Inner Line Permit. But all of your efforts are worthwhile, and you can tell as you approach this lovely destination. Make sure to carefully plan your itinerary so that you don't miss out on an incredible and picturesque location.
Meghalaya's Cherrapunji and Mawsynram
Cherrapunji and Mawsynram, are one of the best places to visit in northeast India, which are about 80 kilometers apart, and are known for being the wettest places on the planet. According to records, both regions receive more than 450 inches of rain annually and are endowed with breathtaking natural beauty. In addition, the hills provide a variety of trekking routes.
Assam's Majuli
It's a lovely island on the Brahmaputra River that can be reached by ferry from Jorhat, Assam. However, due to excessive sediment discharge, this lovely island is constantly shrinking. So go to this location before it's too late. To explore this area, one can either hire a motorized private boat or take a ferry with the locals. Despite its natural beauty and otherworldly atmosphere, this region does not receive many tourists, so you can expect it to be less crowded most of the time.
Also Read: 10 Heavenly Peaceful Places in India to Visit for a Incredible Experience
Meghalaya's Shillong
Shillong is a beautiful city in North East India, especially for its tranquil surroundings. It is known as the "Scotland of the East" and is one of India's most popular northeast tourist places. So, if you're looking for a relaxing vacation and detox, this is the place for you. If you are in Guwahati, you can either hire a cab or take a bus to Shillong. You will always remember your ride from Guwahati to Shillong through serpentine roads and breathtaking scenery.
When is the best time to visit the Northeast Indian states?
If you're wondering when is the best time to visit tourist places in northeast India, there is no best month. North East India is beautiful all year. The best season to visit North East depends on the type of experience you seek. If you want to cool off in the summer, go during the summer, and if you want to see nature at its best, go during the monsoon. Overall, November to May is the best month to visit North East India because the weather is pleasant.
If you're planning a trip to the land of the Seven Sisters for your next vacation. Book low-cost international flight tickets with Indian Eagle today!
Disclaimer: 
Indian Eagle claims no credit for the images featured on its blog site. All the visual content is copyrighted to its respective owners only. We mention the source name of the image whenever possible and found. However, if we miss acknowledging the owner's source, please contact us. In case, owners don't want us to use their images, we will remove them promptly. We believe in providing proper attribution to the original author, artist, and photographer.