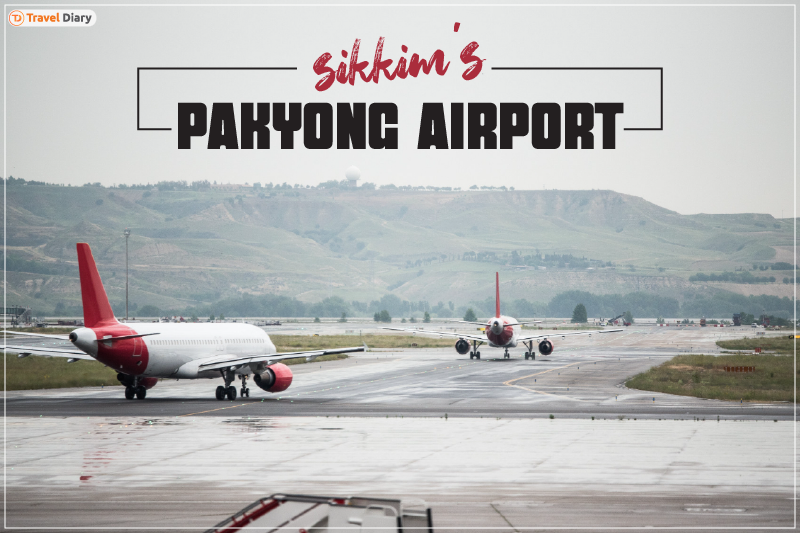 Pakyong Airport has several accolades attached to it. It is Sikkim's only airport. It is the first north-eastern airport in India under the Greenfield Project. It has to its credit the distinction of being India's 100th operational airport. It is also one of the highest airports in India (at 5th spot) at an altitude of 4646 ft. Due to its location, it is one of the most scenic airports in India. It is at a distance of some 31 km from the state's capital Gangtok.
Even though it is touted as 100th Operational Airport in India, its short history is rife with turbulence; both literally and figuratively.
Pakyong Airport History
Inaugurated as September 2018 was coming to a close, commercial operations at the Pakyong Airport began 10 days later on 4th October. But smooth operations eluded it. It wasn't able to handle high turbulence and bad weather conditions. Visibility issues continued at the airport and one SpiceJet commercial flight that operated from here suspended its services. It remained closed for almost 19 months before the airline
resumed its services. But not before the airport adopted Required Navigation Performance or RNP approaches instead of previous status of that of a Visual Flight Rules or VFR airport.
Significance of Pakyong Airport
Sikkim remained the sole state in India without a functional airport (and till 2018!). Anyone who wanted to visit Sikkim by air had to contend with flying to the nearest airport at Bagdogra in West Bengal. Then you had to travel by road to Sikkim; some 124 km or so. Even though there is minimal flight connectivity to Sikkim; at least now you can fly directly into the state without having to go via road after landing at Bagdogra. The first flight connectivity was between Kolkata to Gangtok and then for Guwahati to Gangtok. Now SpiceJet offers non-stop flights to Gangtok from other cities such as Delhi and Mumbai as well. It also offers connecting flights for some routes such as Hyderabad-Pakyong.
Its vicinity to the Indo-China border (some 60 km away) also makes it a very strategically significant airport.
Visiting Sikkim
If you are planning to visit the spectacularly beautiful state of Sikkim, you have the option to fly directly to Pakyong Airport. You can take flights to Kolkata, Delhi, or Mumbai and then fly to Gangtok in case your destination doesn't offer direct connectivity with Pakyong Airport. Flying to Bagdogra is still a good option as you will have more flight options.
If you are visiting from the US, you can book your flights to India via Indian Eagle. Once you land in the country, you have multiple options to travel to Sikkim.
Disclaimer: 
Indian Eagle claims no credit for the images featured on its blog site. All the visual content is copyrighted to its respective owners only. We mention the source name of the image whenever possible and found. However, if we miss acknowledging the owner's source, please contact us. In case, owners don't want us to use their images, we will remove them promptly. We believe in providing proper attribution to the original author, artist, and photographer.