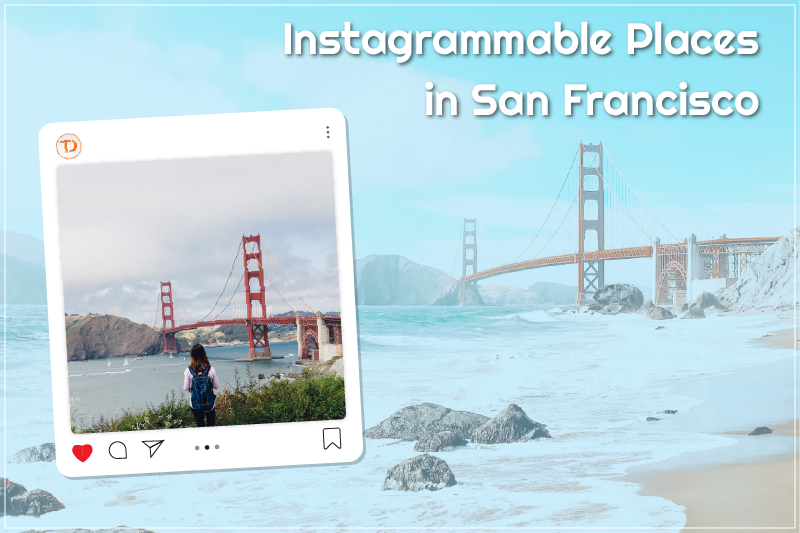 For photography enthusiasts, San Francisco is a city full of photo ops. An enchanting mix of tourist attractions that range from natural landscapes to historical buildings to cultural neighborhoods provides a beautiful backdrop to your travel memories in San Francisco. Even a foggy day in this infamous Fog City lends a sublime beauty to the cityscape, which you cannot help but admire and then, click a picture or two (or more). From the most photographed Golden Gate Bridge to hidden gems such as 16th Avenue Tiled Steps, here are five unmissable Instagrammable places in San Francisco.
Golden Gate Bridge
San Francisco is synonymous with Golden Gate Bridge. This famous landmark in California is one of the most photographed bridges in the world, and no wonder it claims the top spot in any list of Instagrammable places in San Francisco. Spanning the Golden Gate Strait, this 1.7-mile suspension bridge establishes a connection between the city and Marin County. Considered an incredible feat of modern engineering, the Golden Gate Bridge and its striking international orange coating attract as many as 10 million visitors yearly. Some of the best spots to photograph this bridge include Baker Beach, Golden Gate Overlook, Crissy Field Beach, the Land's End, Battery Spencer, and Marshall's Beach. 
Palace of Fine Arts
Constructed around a serene artificial lagoon back in 1915 solely for the Panama-Pacific International Exposition, the Palace of Fine Arts is another architectural masterpiece to be admired (and of course, photographed). It is among the last surviving structures from the Exposition times. The architectural highlights of this monument include its 162-ft high Greco-Roman style rotunda and beautiful colonnades. The sparkling waters of the lagoon and pretty green spaces add a touch of natural beauty to this man-made structure. Visit this place during the evening hours to capture its magnificence while the golden rays of the setting sun shine bright on the palace.
Also Read: Travel Guide to San Francisco
Painted Ladies at Alamo Square
Painted Ladies are a group of similarly looking Victorian and Edwardian houses coated in beautiful pastel colors. Built on an inclined hill across from the Alamo Square Park, this row of buildings is among the unmissable Instagrammable places in San Francisco. They line Steiner Street (from 710 to 720). You can get a perfect shot of these houses from the park itself, with the towering modern skyscrapers rising behind these classic buildings. These beautiful houses were also featured in several American movies and sitcoms.
Also Read: Indian Restaurants in the San Francisco 
Lombard Street
Reputed to be the most crooked street in the world, Lombard Street can take your breath away at first glance. The infamous zigzag part is an uphill stretch between Hyde Street and Leavenworth. The point where this road starts gives you a wide view of its dramatic hairpin turns. Pretty gardens snuggle in the U-shaped spaces created by the bends of the road. Residential homes lie on both sides of the stretch uphill and their private gardens, during the blooming season, add to the beauty of this street. And you can walk or drive all the way up for Instagram-worthy shots of the Bay Bridge and Coit Tower.
16th Avenue Tiled Steps
Both the tiled steps (also called Moraga Steps) on 16th Avenue and the views that you can catch of the gorgeous surroundings from the stairhead make this avenue one of the best Instagrammable places in San Francisco. Beautiful mosaic art adorns the vertical risers of about 163 steps at the crossroads of Moraga Street and 16th Avenue, best depicting San Francisco's love for art. A touch of artistic creativity beautifies seven other staircases throughout the city, but this is probably the most popular of them all. You will see lovely depictions of birds, fish, and other animals along the way, and the pattern, as a whole, looks breathtaking, especially when it glows in the dark reflecting off the moonlight. 
Other San Francisco icons such as its historic cable cars, Pier 39 and Fisherman's Wharf, Union Square, the San Francisco City Hall, Sutro Baths, Japanese Tea Garden, and the Ferry Building are Insta-worthy too. Do check out these picturesque spots in the city and capture every memory. 
Planning a trip to San Francisco? Search through Indian Eagle deals and book the best itinerary that suits your travel requirements. Save maximum on your flight bookings and earn reward points too!