The Newark Airport serves the cities of Newark and Elizabeth by connecting them to the rest of the world. So no matter if you want to fly from Newark to India or any other place, you will be using this world-class airport to board your flight.
It is one of the busiest airports in the world. After handling around 7,977,021 passengers in 2020, it saw an increase of almost 81.60% in 2021 with a passenger traffic of 14,486,182. The EWR Airport handled 1,778,593 flyers alone in December, 2021.
Facilities Available at the Newark Airport
Keeping in mind the needs of the passengers, numerous services and facilities apart from the lounges are available at the airport. Some of them are mentioned below.
Complimentary Wi-Fi
Charging ports
Family washrooms
Nursing rooms
Duty free outlets and bookstores
Cafes and eateries
ATMs and currency exchange kiosks
Information desk
Face recognition kiosk
Terminals
There are three terminals at this airport, which have a combined total of 121 gates. While Terminal A has around 29 gates, Terminal B and C have 24 and 68 gates respectively. Every terminal has a total of three concourses. For example, Terminal A is divided into concourses named A1, A2, and A3. While Terminal A serves domestic flights, Terminal B serves both international and domestic flights. Terminal C on the other hand is exclusively used by United Airlines as it handles the most passengers at the Newark Airport.
Lounges at the Airport
If you are tired of waiting at the Newark Airport departures, you can avail lounge services here. Art & Lounge, United Club, Delta Sky Club, American Airlines Admirals, Air Canada Maple Leaf Lounge, SAS Lounge, British Airways Galleries Club Lounge, and Lufthansa Senator Lounge are some of the lounges that are accessible by the passengers regardless of which class they are flying. You can enter these on a pay-per-use basis, through a lounge membership program or via a lounge pass. Apart from these, active members and families of the US military can get complimentary access to a 'military lounge'. 
Here are some of the lounges at the Newark Airport:
Terminal A: 
Air Canada Maple Leaf Lounge

American Airlines Admirals Club

Art & Lounge

United Club
Terminal B: 
British Airways Lounge

Delta Sky Club

Lufthansa Business Lounge

Lufthansa Senator Lounge

SAS Lounge

USO Center
Terminal C:
United Airlines Polaris Lounge

United Club (Gate C74)

United Club (Gate C93)

United Club (Gate C123)
Newark Airport Parking 
One of the most time consuming things when entering the airport is finding a parking spot. But at the Airport, you don't have a lot to worry as you get LIVE updates about parking availability. You can also pre-book your parking spot at least 48 hours in advance so you have no trouble even if you are running late. The bookings can be made online and the prices vary based on the duration of the parking space used, which is from $5.25 for 30 minutes to $70 for 24 hours. Contactless payment using Samsung Pay, Apple Pay, and Google Pay is accepted along with various credit and debit cards. Do keep in mind that payment by cash is not accepted for this airport's parking. 
Newark Airport Map
Check out the map below in case you need help with finding the terminals, lounges, parking etc.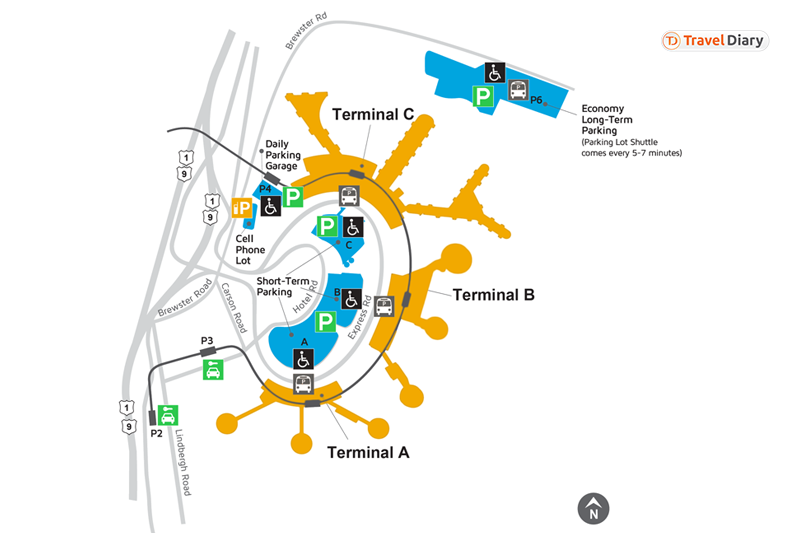 Frequently Asked Questions
Is Newark Airport in New York or New Jersey?
The Newark Airport is located in New Jersey. 
Is there a problem in Newark Airport today?
You can contact +1 973-961-6000 with all your queries.
Is Newark Airport Bigger than JFK?
No, JFK is much bigger than Newark Airport.
Is Newark and New York the same airport?
No, the Newark Airport is located in New Jersey. Manhattan is located at the same distance from EWR Airport as JFK. 
Is there any inter-terminal transport available at EWR Airport?
Yes, 'AirTrain Newark' is a free transportation service, which connects all three terminals at the airport. The trains here arrive every 3 minutes, so you do not have to worry about missing any train.
What are the transportation options available for Newark Airport arrivals?
You can use the Northeast Corridor Line and North Jersey Coast Line of the New Jersey Transit to get around the city. NJT buses also serve the passengers arriving at Newark. You can also opt to book a taxi or rent a car as per your convenience.
Is pre-booking of parking spaces available at Airport?
Yes, Newark International Airport parking can be pre-booked by passengers before their arrival.
What are the most popular routes from Newark (EWR) to India?
The most popular routes when flying from Newark (EWR) to India are EWR to Bangalore, EWR to Kolkata, EWR to Hyderabad, EWR to Kochi, etc.
What are some of the most recommended hotels near Airport?
Some of the highly recommended Newark Airport hotels are Hampton Inn, Wyndham Garden, Crowne Plaza, Country Inn & Suites by Radisson, Courtyard by Marriott etc.
Are there any Mumbai to Newark Air India flights available?
Yes, there are many Mumbai to Newark Air India flights available and you can book a ticket based on your travel schedule.
Is Newark a small airport?
Although Newark Liberty International Airport is small in size when compared to JFK airport, it still handles almost an equal number of flights. 
Is it safe to stay overnight in Newark airport?
Yes, staying overnight at the Newark airport is absolutely safe. Although passengers are not allowed in the secure zones overnight and they will be moved to the pre-security areas, security checkpoints open around 4 AM in the morning.
You can book Newark to India flights through Indian Eagle and experience the best-in-class facilities at the Newark Liberty International Airport. So, why wait? Plan your trip today!