Telangana features on every food lover's bucket list of places to visit in India, thanks to the irresistible food scene of its capital city, Hyderabad, which boasts of the world-famous dum biryani, GI-tagged haleem, creamy Irani chai, crunchy Karachi and Osmania biscuits, and a myriad of mouthwatering Hyderabadi sweets. When it comes to the famous food of Telangana, these Hyderabadi dishes generally hog the limelight, but there are many more interesting regional flavors to Telangana cuisine.
Telangana food is characterized by a slightly sour taste because of the extensive use of tamarind. Along with tamarind, other ingredients like sesame seeds, peanuts, dry coconut, red chilies, and asafoetida are commonly used in a variety of vegetarian and non-vegetarian dishes of Telangana. From the staple rotte (flatbread) to easy snacks and festive sweets, here are some of the famous local specialties you must try the next time you book flights to Hyderabad. We are sure you'd love the bold flavors of Telangana cuisine.
Jonna, Ragi, Sajja Rotte: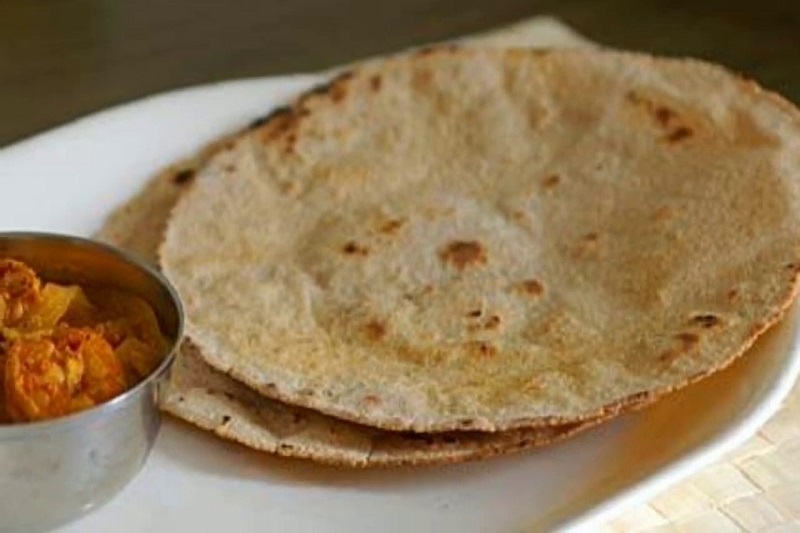 Millets-based food dominates Telangana cuisine. Although rice is commonly consumed in this South Indian state, millets are the staple food of Telangana. This semi-arid state that sits on the Deccan plateau grows millets like jonnalu (jowar), ragulu (finger millets), sajjalu (pearl millets) abundantly, and its cuisine mostly makes use of this local produce. The tasty and healthy rotte (flatbread) made with jowar flour, finger, or pearl millet flour forms an integral part of a traditional Telangana platter.
Pacchi Pulusu:
There's probably no other dish as simple as Pacchi Pulusu. Unique to the region, Pachi Pulusu is the signature dish of Telangana. Unlike rasam, Pacchi Pulusu is raw and uncooked. Except for tempering the juice extracted from the soaked tamarind, this dish doesn't ask for much. Sliced onions and salt also go into this Pacchi (raw) Pulusu before tempering. This famous food of Telangana is a summer favorite, usually enjoyed with hot rice and Pappu (dal).
Also Read: After Hyderabadi Biryani,here are the five must-eat dishes in Hyderabad.
Sarva Pindi: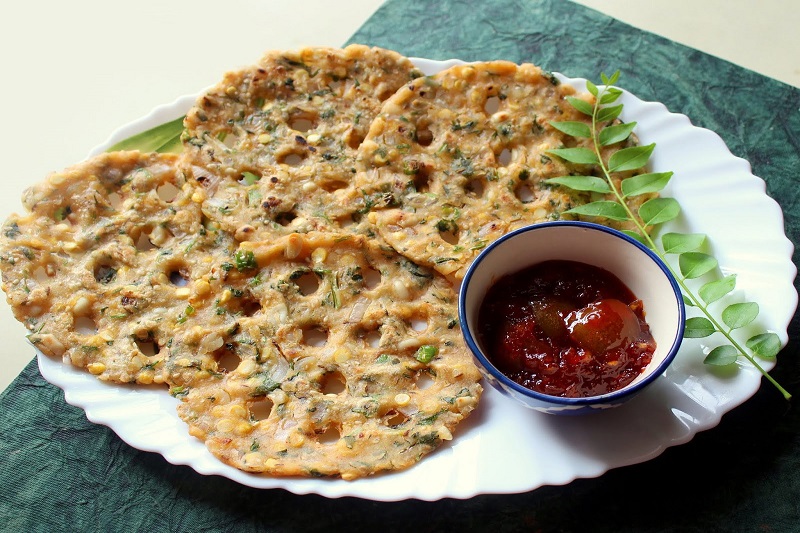 Telangana cooks food in a rustic style. Sarva Pindi, a savory pancake, is one such ethnic food of Telangana that exemplifies the culinary traditions of the state. Also known by other names like Tapala Chekka or Ginne Appa, this humble dish is made with rice flour. A mix of pulses, grains, spices, and other condiments (typically chana dal, peanuts, sesame seeds, chopped onions, garlic, ginger, green chilies, curry leaves, coriander leaves) are added to the flour and kneaded to a smooth dough, which is then spread evenly on a deep, round-shaped copper utensil smeared with oil. Random holes are made in Sarva Pindi, and then this is cooked on low flame until crisp.
Sakinalu:
Sakinalu is a tasty snack similar to Murukulu. The simplicity of this dish lies not only in the ingredients used (mainly rice flour, sesame seeds, and carom seeds) but also in the painstaking manner in which Sakinalu are prepared by hand. Small balls of dough are stretched to a certain length, spiraled concentrically and deep-fried in the oil. Sakinalu is traditionally prepared during Indian festivals like Sankranthi and Dussehra or other special occasions like marriages.
Chekodilu/ Chegodilu: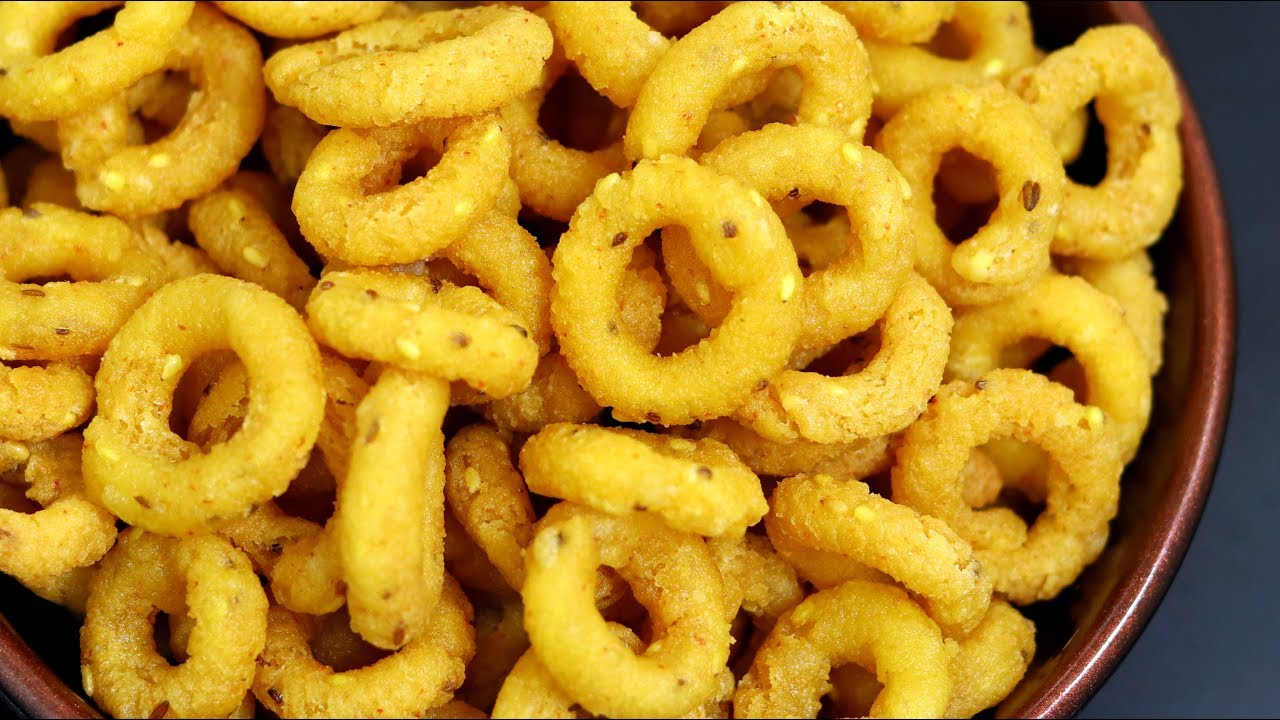 Indians love to munch on crunchy snacks. Each region has its own special snack, and it is Chekodilu in Telangana. Dainty ring-shaped snacks crunchy to the core, Chekodilu look like a smaller version of Sakinalu. These delectable delights come in different varieties – some speckled with sesame seeds and some others with pulses.
Recommended Read: 11 Delicious and Famous Sweets of Hyderabad You Must Try
Garijalu: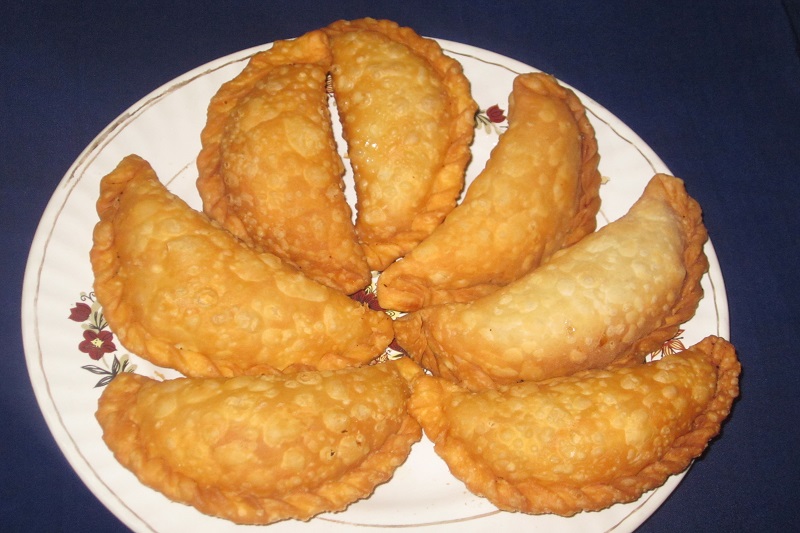 Garijalu is another popular festive food of Telangana that resembles Gujia of North India. Dig your teeth into the crispy crust of this half-moon-shaped dumpling and let the scrumptious filling satisfy your sweet tooth. Garijalu are traditionally stuffed with a generous mixture of grated dry coconut and sugar, and a pinch of cardamom powder is an optional addition.
Malidalu: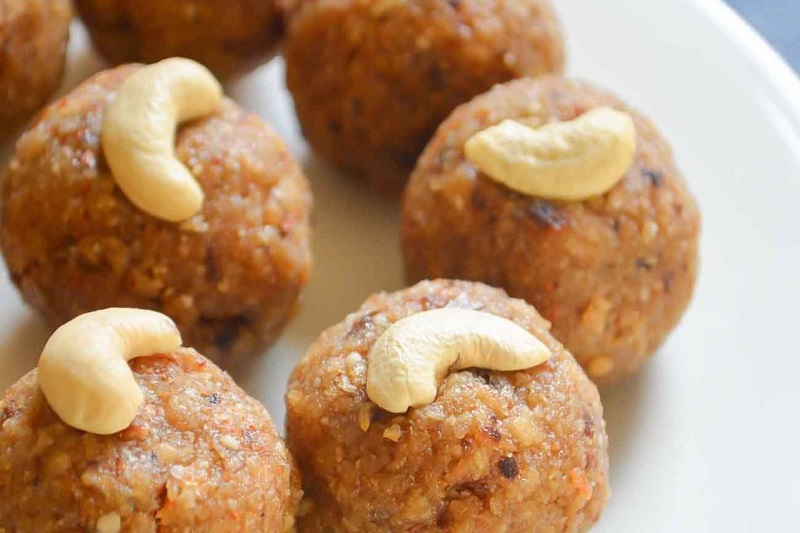 The thing about the traditional food of Telangana is that the dishes that follow simple procedure outnumber the ones that require elaborate preparation. This particular dish reflects the resourcefulness of Telanganites. Who knew a yummy laddu could be made from left-over chapati or rotte! The people of Telangana make this delicious dessert called Malidalu, and you could too try it yourself at home. All you need to do is tear chapatis into pieces and grind them coarsely. Add jaggery and ghee and ball the mixture into laddus. Make it healthier and tastier by adding dry fruits.