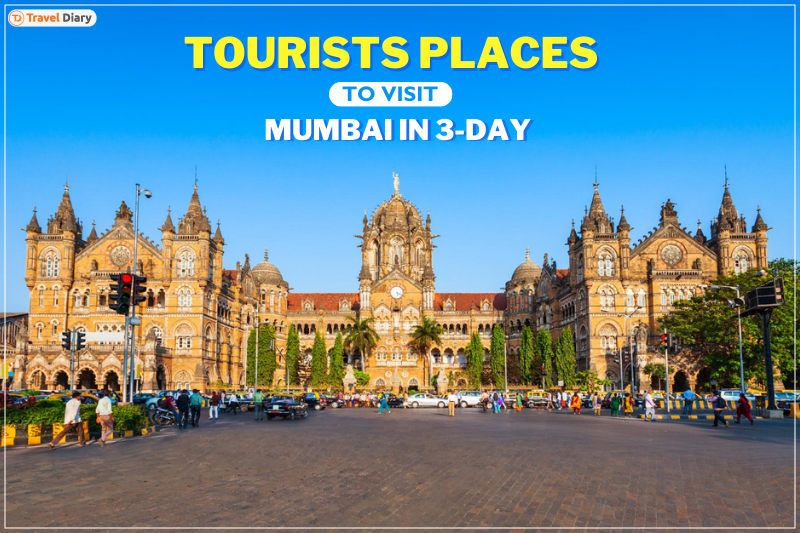 Are you planning a trip to Mumbai and wondering how to make the most of your time in this vibrant city? Look no further! Here is a curated list of the ultimate 3-day itinerary that will allow you to experience the best of Mumbai's culture, history, and attractions. Whether you're a first-time visitor or a seasoned traveler, this Mumbai 3-day itinerary guide will ensure you have an unforgettable time in the City of Dreams.
Day 1: Discovering the Iconic Landmarks
Morning: Gateway of India and Elephanta Caves
Start your first day in Mumbai by visiting the iconic Gateway of India. This grand arch monument is not only a symbol of the city but also a portal to Mumbai's rich history. Take a stroll along the waterfront promenade and soak in the breathtaking views of the Arabian Sea. Afterward, catch a ferry from the Gateway of India to the Caves. Marvel at the detailed rock-cut temples dedicated to Lord Shiva and explore the mystical caves adorned with ancient sculptures. So plan your trip, book Indian Eagle flight deals, and enjoy affordable travel.
Afternoon: Colaba Causeway and Marine Drive
Indulge in some retail therapy here, a bustling street market comprehended for its lively environment and diverse mix of shops. Hunt for unique souvenirs, handicrafts, and traditional clothing while immersing yourself in the local culture. As the sun begins to set, make your way to Marine Drive, famously referred to as the "Queen's Necklace." Take a leisurely stroll along the promenade, admire the Art Deco buildings, and witness the mesmerizing view of the city skyline against the Arabian Sea.
Evening: Bollywood Extravaganza
No visit to Mumbai travel is complete without experiencing the magic of Bollywood, the Indian film industry. Treat yourself to a Bollywood dance show or catch a movie at one of the iconic theaters in the city. Immerse yourself in the glitz, glamor, and vibrant energy that Bollywood is renowned for. So plan your trip, look for online cheap flight deals, and have a memorable travel experience.
Day 2: Immerse in Culture and Heritage
Morning: Chhatrapati Shivaji Maharaj Terminus and Dharavi Slum Tour
Begin your second day by exploring the architectural marvel of Chhatrapati Shivaji Maharaj Terminus. This is one of the best places to visit in Mumbai and is a fine example of Victorian Gothic Revival architecture and a testament to Mumbai's colonial past. After this, embark on a guided tour of Dharavi, one of the largest slums in Asia. Gain a deeper understanding of the resilient spirit and entrepreneurial drive of its residents. Witness the vibrant small-scale industries and community initiatives that thrive within this bustling neighborhood.
Afternoon: Mani Bhavan and Haji Ali Dargah
Pay homage to Mahatma Gandhi at Mani Bhavan, the house where he stayed during his visits to Mumbai. This museum showcases a remarkable collection of photographs, books, and artifacts that offer insights into Gandhi's life and teachings. Continue your cultural journey by visiting Dargah, an esteemed Islamic shrine situated in the Arabian Sea. Marvel at the stunning Indo-Islamic architecture and soak in the spiritual ambiance as you take a walk along the causeway leading to the shrine. So plan for Indian Eagle travel and have a budget-friendly trip.
Evening: Bandra Worli Sea Link and Bandstand Promenade
Witness the engineering marvel of the Bandra Worli Sea Link, an iconic cable-stayed bridge that connects the suburbs of Bandra and Worli. Enjoy a scenic drive along this architectural wonder, taking in panoramic views of the Arabian Sea and the cityscape. Conclude your day at Bandstand Promenade, a popular waterfront destination known for its sea-facing promenade and the statue of Bollywood legend Amitabh Bachchan. Take a leisurely stroll, breathe in the sea breeze, and enjoy the bustling atmosphere.
Also Read: Things to Do in Mumbai at Night
Day 3: Immersion in Local Life and Cuisine
Morning: Chor Bazaar and Crawford Market
Embark on a treasure hunt at Chor Bazaar, Mumbai's famous flea market. Unearth unique antiques, vintage items, and quirky collectibles while exploring the chaotic yet charming lanes of this bustling marketplace. Next, visit Crawford Market, a Victorian-era market known for its vibrant atmosphere and wide range of goods, including fresh produce, spices, and household items. Immerse yourself in the sights, sounds, and aromas of this bustling marketplace.
Afternoon: Siddhivinayak Temple and Street Food Delights
Pursue prayers at Siddhivinayak Temple, one of Mumbai's most esteemed Hindu temples devoted to Lord Ganesha. Admire the beautiful architecture and experience the spiritual fervor as you offer prayers at this holy place. Indulge in the flavors of Mumbai by exploring its street food scene. From lip-smacking pav bhaji to tantalizing vada pav and delectable bhel puri, let your taste buds savor the diverse culinary delights that the city has to offer.
Evening: Sunset at Juhu Beach and Shopping Spree
Spend a relaxing evening at Juhu Beach, one of Mumbai's most popular seaside destinations. Take a leisurely walk on the sandy shores, savor local street snacks, and witness a mesmerizing sunset over the Arabian Sea. Wrap up your Mumbai adventure with a shopping spree at Linking Road or Fashion Street, renowned shopping hubs that offer a wide range of trendy clothing, accessories, and footwear at affordable prices.
These are some of the Mumbai 3-day itinerary for tourists. Whether you're a history enthusiast, a food lover, or an adventure seeker, Mumbai has something to offer you. Let the City of Dreams cast its spell on you as you immerse yourself in its vibrant ambiance, friendly locals, and unforgettable experiences with this Mumbai 3-day itinerary. So, pack your bags, and book your international flights with Indian Eagle, one of the top travel sites online that offer cheap flight tickets. Follow the meticulously crafted itinerary, and get ready for an extraordinary journey through the captivating streets of Mumbai.
Disclaimer:
Indian Eagle claims no credit for the images featured on its blog site. All the visual content is copyrighted to its respective owners only. We mention the source name of the image whenever possible and found. However, if we miss acknowledging the owner's source, please contact us. In case, owners don't want us to use their images, we will remove them promptly. We believe in providing proper attribution to the original author, artist, and photographer.