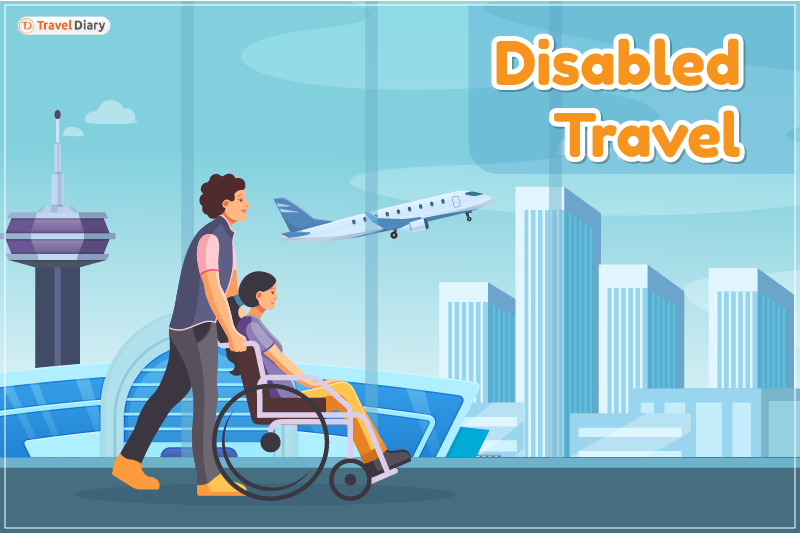 Accessible travel is on the rise and has only become easier as time has passed. The travel industry is now aware and, as a result, provides extra help and care to differently-abled travelers.
What is Accessible Travel?
Individuals with disabilities who require special assistance, accommodations, or equipment to enjoy their journey are referred to as disabled travelers. These people usually face challenges such as inaccessible transportation, lodgings, and more while traveling. Disabled travel gives persons with special abilities equal opportunities to travel the world and experience different cultures. It is also about encouraging diversity and accessibility in the travel sector so that everyone, regardless of disability, may enjoy the benefits of travel. 
Traveling with disabilities has become easy as these specially-abled people travel confidently, safely, and comfortably with the correct help, expanding their horizons and creating great memories.
Disabled travelers confront numerous problems, ranging from inadequate accommodations to a lack of transit choices. However, careful planning and a little bit of information can help in executing enjoyable vacations for people with disabilities. This post will review a few helpful tips for people who want to explore the world, travel while being disabled, and not let their weaknesses come between their dreams. This article also includes information regarding accessible lodgings, travel alternatives, and popular vacation spots for people with disabilities. You will get important information regarding booking queries here such as the Best Time to Book Cheapest Flights and more. 
Many airlines and ticketing booking agencies offer special discounts and deals to people with special abilities too. There is much more to know about flight booking ranging from where to buy a few tips to Book cheap flights to how to buy. Everything is covered here.
Vacations Tips For People With Disabilities
Plan Ahead: 
Research and plan your vacation ahead of time to ensure that all of your accessibility requirements are met. Before making a reservation, double-check the accessibility of transportation, lodging, etc.
Inform Service Provider:
Informing airlines, hotels, and other service providers like Indian Eagle, the best travel agency about your physical limitations. This will help them in planning and making essential arrangements for your itinerary. 
Pack Smart: 
Bring medicines, mobility aids, or other equipment you may require. Bring additional supplies in case of an emergency.
Avoid Connecting Flights:
It is preferable to book flights with the fewest connecting options. It can sometimes be difficult to navigate between terminals. Avoiding connecting flights can reduce the amount of time spent in uncomfortable airports and on long layovers. Mention this requirement of yours while Booking Indian Eagle Flight tickets.
Stay Connected:
Carry a cell phone with emergency contacts along with important information such as your medical history, doctor's contact information, and insurance information.
Purchase Medical Insurance:
It is essential to travel with proper travel insurance. To save yourself from charging twice or thrice the usual price, it is advisable to buy medical insurance. This can cover your major claims as well.
Take Breaks:
Don't go overboard. To avoid tiredness, take frequent breaks and pace yourself.
Be Patient:
Be understanding and patient if things don't go as planned. Remember that unanticipated issues may arise, but most importantly, have fun and enjoy your holiday.
Also Read: Tips for Flying with a Baby 
Seek Assistance:
Don't be hesitant to ask for help when you need it. Most service providers have workers who are trained to assist people with disabilities.
Popular Vacation Destinations for Traveling While Being Disabled
People with disabilities enjoy traveling to many different locations. The accommodations, modes of transportation, and tourist attractions available in these locations are all accessible to people with limitations. Here are a few popular places to go for those with disabilities:
Orlando in Florida: 
Walt Disney World and Universal Studios are the only two theme parks in Orlando that provide accessible amenities and attractions for individuals with disabilities.
Hawaii: 
Hawaii is a well-liked vacation spot for individuals with disabilities because of its lovely beaches and accessible lodging. Accessible amenities like roll-in showers and accessible pathways to the beach are available at a lot of hotels and resorts.
Las Vegas, Nevada:
Accessible performances and casinos are just a couple of the things that Las Vegas has to offer. Additionally, a lot of resorts and hotels have accessible lodging.
New York City, New York: 
There are accessible transportation choices, such as buses and trains, as well as accessible attractions, such as the Statue of Liberty and the Empire State Building, in New York City.
As the tourism sector strives to offer accessible and inclusive travel experiences for everyone, disabled travel has become easier. The accessibility of transportation, accommodation, and attractions for disabled visitors has significantly improved during the past few years. To remove the remaining obstacles that limit their mobility and independence, further work must be done.
Choosing airlines that place disabled passengers' needs first is one way to help them. For their efforts in providing inclusive services to all customers, including those with disabilities, Indian Eagle flights have received recognition. 
Additionally, when organizing a vacation for a disabled person, it is crucial to take the accessibility of international flight tickets into account. People should plan their trips carefully and reserve flights that meet their individual requirements.