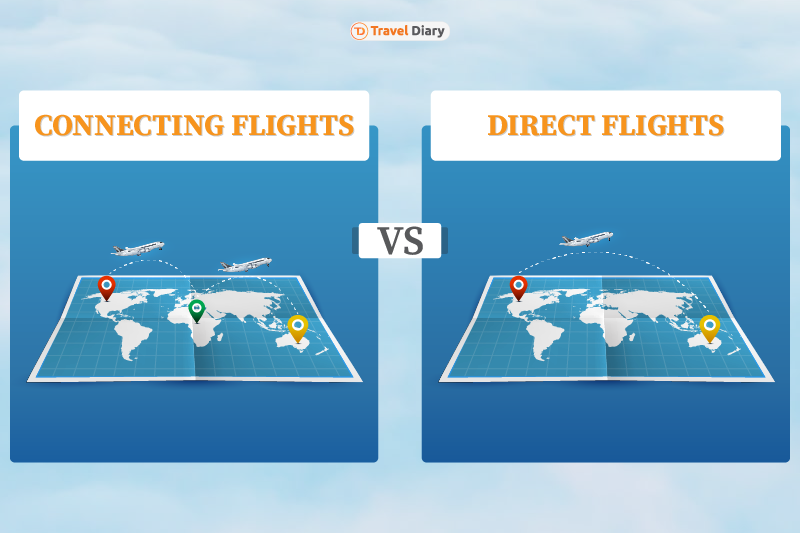 In recent years, air travel has become one of the most preferred modes of transportation worldwide. As per the collected data, daily, approximately 100,000 flights take off and land across the globe. There are around 1126 commercial airlines across the world that carry millions of people to their respective destinations. 
You need to make an informed decision while booking a flight. A flight that suits all your needs whether it is a business or leisure trip. Here are the three types of flights you can opt for:
Direct Flight

Non-Stop Flight

Connecting Flight
While booking an itinerary, you will encounter three terms, including direct, connecting, and non-stop flights. You must be sure about the type of flight you want to book for your trip. Let us learn about the three types of flights.
What is a non-stop flight
?
In simple terms, these flights take you directly from one point to another without any stops or layovers. Non-stop flights are the fastest option for travelers because there are no intermediate stops to delay your arrival time.
Suitable for business travelers. 

Price Range: Most expensive.
What is a direct flight?
A direct flight is one that can take at least one stop along the way. Travelers do not need to change planes during a direct flight. This is a more suitable option than a connecting flight. You can book hassle-free direct flights from USA to India with Indian Eagle at affordable prices.
Suitable for travelers who do not have any time limit. 

Price Range: Moderate to high.
What is a connecting flight?
Connecting flight is also known as a transit flight. It requires travelers to change planes at an intermediate airport. This flight takes a longer time to arrive at its destination than a non-stop or direct flight. Passengers need enough time while transferring between planes and going through security again.
Suitable for international travelers or those individuals who prefer budget-friendly flights.

Price Range: Lowest among all.
We have gone through the basic definitions of non-stop flight, direct flight, and connecting flight. Let us explore the differences between direct, connecting flights. With these details, you can make an informed decision when booking a flight for your trip.
Also Read: Difference Between a Direct Flight and Nonstop Flight
Connecting Flight vs Direct Flight
When making travel plans, you come across two different types of flights: connecting flights and direct flights. Both have specific benefits and drawbacks. There are some differences in terms of convenience, expense, and travel time.
A direct flight does not stop between two locations, yet it could land at a stopover along the way to pick up or drop off people or refuel. It eliminates the need to switch flights or go through security again; hence, a direct flight is a time-effective and convenient mode of travel.  These are also more expensive for travelers when compared to connecting flights.
A connecting flight requires its passengers to deboard the plane at an intermediate airport before proceeding to their final destination. In the process, travelers must get off the first flight, go through security again, and board a second flight.
When compared to direct flights, connecting flights can be less expensive. But they can also take longer and might be less convenient, especially if there is a long layover included. Connecting flights offer you extra time during which you can explore the airport area. You can spend it in the lounge while enjoying food and drinks.
Travelers must choose the type of flight as per their budget, schedule, and personal preferences. If you want to reach your destination early, then take a direct flight. If you do not have a time limit and want to save money, then take a connecting flight.
You have to be clear about your preferences without thinking about the debate of connecting flights vs. direct flights. Choose in accordance with your plan and budget. You can book your flight tickets with Indian Eagle air travel agency to travel without worrying about your budget.