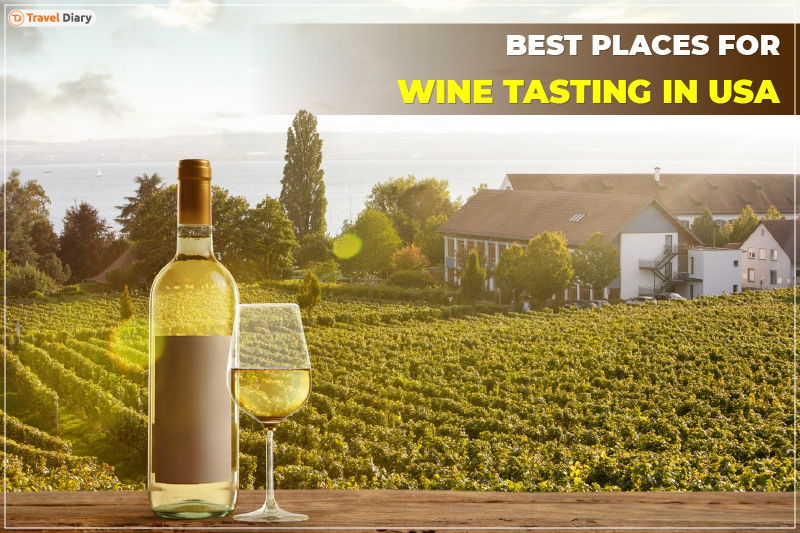 When it comes to indulging in the exquisite world of wines, the United States offers a plethora of remarkable destinations. From sprawling vineyards to captivating wine tours, the country boasts a rich tapestry of wine-tasting experiences that cater to all enthusiasts. In this article, we will explore the best wine tasting in USA, wine vineyards, and wine tours, and delve into which state truly reigns supreme in wineries. Additionally, we'll provide valuable tips on how to get miles for flights in India and snag cheap international flight deals through trusted booking platforms such as Indian Eagle.
Unraveling the Best Wine Vineyards in USA
The United States is blessed with exceptional wine vineyards, each offering a unique ambiance and a splendid array of wines. Napa Valley, California, takes center stage as one of the most renowned wine regions in the country. Napa Valley is home to countless award-winning wineries and enchants visitors with its picturesque landscapes and exceptional Cabernet Sauvignon. Other notable wine vineyards include Willamette Valley in Oregon, known for its exceptional Pinot Noir, and Finger Lakes in New York, famous for its crisp Rieslings. These destinations serve as ideal havens for wine enthusiasts seeking unforgettable tasting experiences.
Also Read: Largest Airlines in USA
Embarking on the Best Wine Tours In USA
For those seeking an immersive wine-tasting adventure, wine tours are an excellent choice. Sonoma Valley, situated in California, boasts a myriad of wine tours that provide an in-depth look into the winemaking process. Traverse through the rolling vineyards, indulge in tastings led by knowledgeable sommeliers, and savor the delectable flavors that characterize the region's wines. In Oregon's Willamette Valley, wine tours take enthusiasts on a journey through its diverse terroir, offering a unique perspective on the art of winemaking. These tours provide an opportunity to not only taste exceptional wines but also gain insights into the intricate nuances of the winemaking craft.
Also Read: North India Itinerary
Unveiling Which State Has The Best Wineries
While several states across the USA are renowned for their wineries, California undoubtedly claims the spotlight. Boasting a vast number of wineries, California's wine regions, such as Napa Valley, Sonoma Valley, and Paso Robles, captivate visitors with their diverse offerings. Oregon, with its Willamette Valley, emerges as another prominent contender, recognized for its outstanding Pinot Noir and Pinot Gris. Washington State's Columbia Valley, famous for its Bordeaux-style blends, is also highly regarded. Each state presents a unique wine landscape, offering a delightful exploration of flavors and varietals.
Unlocking the Secret to Earning Miles for Flights in India
For those planning international travel from India, it's crucial to find ways to earn miles that can be used toward flights. Numerous airlines offer frequent flyer programs that reward passengers with miles for their loyalty. By signing up for these programs and consistently flying with the same airline, travelers can accumulate miles that can later be redeemed for flights to various destinations, including the USA. Additionally, utilizing credit cards that provide airline miles as a reward can significantly boost one's mileage balance.
Snagging Cheap International Flight Deals through Indian Eagle
Indian Eagle, a trusted international flight booking websites, offers a seamless platform for travelers to secure affordable flight deals. By leveraging the website's user-friendly interface and advanced search options, users can quickly find the best deals on flights to the USA. Indian Eagle provides an extensive range of options, allowing travelers to choose from various airlines and departure cities. With competitive prices and a commitment to customer satisfaction, Indian Eagle cheap flights stands as an ideal choice for those seeking economical and convenient flight bookings.
Conclusion
In the vast expanse of the United States, the best wine-tasting experiences await wine enthusiasts, offering a delightful journey through stunning vineyards, captivating wine tours, and unique wineries. Napa Valley, Sonoma Valley, and Willamette Valley stand out as exceptional destinations, each with its distinct charm and exquisite wines. As you embark on your best wine tasting in USA adventure, remember to explore the frequent flyer programs to earn miles for your flights from India. And when the time comes to book your international flight, Indian Eagle flight deals will ensure smooth and affordable journey flights to USA. Cheers to the joy of wine tasting and the exploration of new horizons!
Disclaimer:
Indian Eagle claims no credit for the images featured on its blog site. All the visual content is copyrighted to its respective owners only. We mention the source name of the image whenever possible and found. However, if we miss acknowledging the owner's source, please contact us. In case, owners don't want us to use their images, we will remove them promptly. We believe in providing proper attribution to the original author, artist, and photographer.