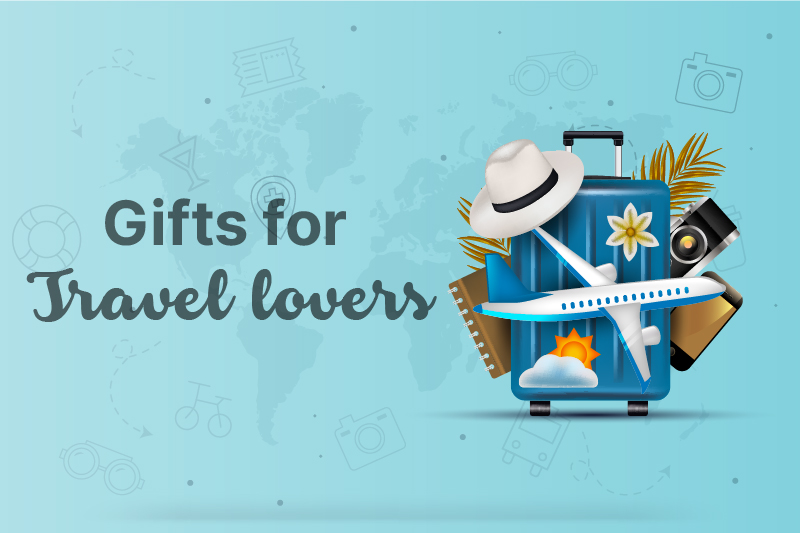 Exchanging gifts is a major part of most celebrations, be it festivals or birthdays or any other special occasions. This is Valentine's week and you might be racking your brain for ideas to surprise your partner with a unique present. We have one piece of advice for you – gifts don't have to be costly to be precious. Since it has more to do with emotions, you can choose something that is close to your companion's heart (yet practical enough) and we are sure your gesture will be appreciated. If your partner loves traveling, you are all sorted here. We have carefully curated a list of the eight best gifts for travel lovers. Hopefully, they'll make your partner feel special.
Book a Romantic Trip
What better gift for a travel lover than this? Although not an out-of-the-box idea to surprise your special someone, you simply can never go wrong with a romantic escape. You can plan a short getaway to any serene location nearby or book flight tickets to any of the popular romantic destinations around the world. The special Valentine's Day packages offered by some hotels leave no stone unturned to make your trip even more memorable.
Also Read: Best places to visit in India in February
Customized Travel Accessories
Travel accessories like backpacks, luggage tags, keychains, passport covers, wallets/ pouches, mugs, pillows, etc., are the most practical gifts for travel lovers. Customizing them with your partner's name or a special message is the sweetest thing you could do. If the other person is into fashion, personalized chains, armbands, travel charm bracelets are great gifting options too.
Travel-Themed Couple Tees
Couple tees are the coolest Valentine's Day gifts. You can declare your love for travel as a couple with travel-themed couple tees styled exclusively for wandering couples like you. Slip on these tees and wander around the world like it is made for you both! You will be setting some serious couple travel goals, won't you?
Headphone Splitters
A headphone splitter is quite a romantic gift to give your life companion who is also your travel buddy. They do convey your desire to share every moment with your favorite person. Imagine soulful music playing in your ears during your flight journey to a romantic destination like Udaipur. You'll hardly realize the duration of your long-haul flight from USA to India!
Travel Journal
Yes, this is a digital age, but not everyone has segued from penning down their thoughts and travel experiences on the actual pages of a journal to chronicling them in digital diaries. If your partner is old school in matters like these, then a vintage travel journal is the perfect gift for her/ him. If she/ he is someone who stores travel tickets, entry passes, etc., you can buy a journal with pockets and envelopes. Little things like these emphasize how much the other person means to you. For traveling buddies, there are couples travel journals available that are personalized with their names.
Polaroid Camera
A camera is among the best gifts for travel lovers as most of them enjoy collecting memories in the form of pictures. If your travel-loving partner likes to keep physical records of travel experiences, then get her/ him a polaroid. This way, they can capture the beautiful landscapes, people, and moments during the journeys they take.
Photo Book
There's something that feels more personal, special, and romantic when you present your beloved with a hand-made gift. Craft a photo book with your favorite clicks from all of your past adventures together and your special Valentine's Day gift is ready. Relive all your best memories on this special day and make more together!
Scratch-Off Travel Poster
Isn't love about understanding and inspiring each other? If you believe so, express your love by encouraging your travel-loving partner to follow her/ his heart. One way to go about it is by hanging up the '100 Things To Do Bucket List' Scratch-Off Poster. It is one of the best gifts for travel lovers. Featuring 100 to-do activities (from things as simple as watchingthe sunrise to as adventurous as skydiving), this bucket list scratch-off poster is a source of ideas for adventurous hearts. There is an immense sense of satisfaction in scratching off an activity and looking forward to another.
Disclaimer:
Indian Eagle claims no credit for the images featured on its blog site. All the visual content is copyrighted to its respective owners only. We mention the source name of the image whenever possible and found. However, if we miss acknowledging the owner's source, please contact us. In case, owners don't want us to use their images, we will remove them promptly. We believe in providing proper attribution to the original author, artist, and photographer.