Monsoon beckons tourist to the picturesque landscape of the Valley of Flowers National Park, Uttarakhand. This magnificent valley bordered by Nepal and Tibet, is dressed in its finest glory during the monsoon.
The high-altitude Himalayan valley is suitable for the germination of around 300 different varieties of alpine flowers. The snowcapped mountains, dewdrops on leaves, flowing brooks, flowers dancing to the breeze resembles a painting in motion.
The park at an expanse of 87.5 square kilometers (55 miles) was declared a national park in 1982. Tagged as a UNESCO World Heritage Site, its glacial corridor measures five kilometers (3.1 miles) long and two kilometers (1.2 miles) wide. The trekking ascent is around 4 kms long, but the sleepy pristine beauty makes one forget the trails of reaching the lush meadows.
Orchids, poppys, marigold, daisies and anemone and many medicinal plants cover the valley.Legend has it that Lor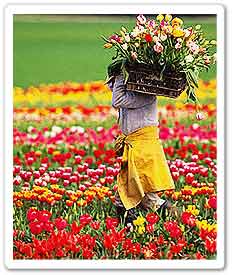 d Hanuman came in search of the Sanjivani herb to cure Laxman after he was injured in a war with Meghnad.
Besides Flora, the Fauna are Snow Leopard, Musk Deer, Red Fox, Langur, Himalayan Black Bear and Brown Bear. 100 types of Butterflies fluttering in the air leaves tourist in total awe. Snow Partridge, Himalayan Monal, Himalayan Golden Eagle, Snow Pigeon, Griffin Vulture, Sparrow Hawk have made their abode in the valley.
Indian Eagle suggests you pack clothing suitable for the monsoon and book your tickets before October to The Valley of Flowers National Park.
Sightseeing is permitted from April to October. Rest of the year it is blanketed with snow. The valley was christened in 1931 by mountaineer Mr. Frank S. Smithe when he lost his way during an expedition. He chanced upon this haven of flowers and authored a book titled "The Valley of Flowers".
Besides tourists, mountaineers, bird watchers, backpackers, novice photographers and botanists have frequented the meadows for their own reasons. Exotic flowers and foliage along the route make the hike up the rugged mountain an unforgettable chapter to treasure. Just Search, book and Fly with Indian Eagle.