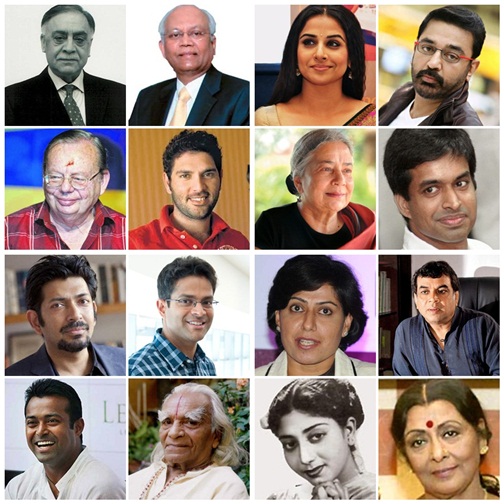 India celebrated the 65th Republic Day this Jan 26. The celebration of this historic national day is accompanied by the much-awaited announcement of the names of the Padma Shri, Padma Bhushan and PadmaVibhushan awardees. Indian Eagle takes a glimpse into the list of Padma awardees 2014.
The list of Padma awardees 2014 in India is full of stars from the galaxy of glitterati. Kamal Hassan, Anita Desai, Ruskin Bond, Leander Peas, Vidya Balan, Pullela Gopichand, Anjum Chopra, Yuvraj Singh, V.N. Kaul, and R.A. Mashelkar are among the who's who from different walks of life.
The Padma Vibhushan is awarded to 2 celebrities; the Padma Bhushan is given to 24 personalities, and the Padma Shri is conferred upon 101 eminent persons this year, in various niches including art, culture, cinema, education, science, technology, literature, and sports.
The Padma Awards are a national recognition of illustrious personalities' noble efforts and distinguished services in their respective fields. The civilian awards – Padma Shri, Padma Bhushan and Padma Vibhushan – are the stars of excellence to adorn the achievers. The names of the winners are declared on the Republic Day every year, and they are awarded by the President of India.
Among the winners of India's civilian awards in 2014 are three Indian Americans – Dr. Siddharth Mukherjee, Dr. Vamsi Mootha and Ashok Kumar Mago – from the United States of America. Ashok Kumar Mago from Dallas, Texas is awarded the Padma Shri for his contribution to the improvement of trade and business relations between India and USA. Besides, he was instrumental in the civil nuclear deal between these two countries.
Dr. Siddharth Mukherjee is an Indian American physician cum scientist. He is popularly known as author of "The Emperor of All Maladies: A Biography of Cancer". He bagged the Pulitzer Prize in 2011. An assistant professor at Columbia University in New York City, he is awarded the Padma Shri for his achievements in medicine.
Dr. Vamsi Mootha is a professor of biology and medicine at Harvard Medical School. His distinguished services have been recognized with a number of prestigious honors. The Judson Daland Prize of the American Philosophical Society and the MacArthur Foundation Fellowship are the most prominent ones. His contribution in biological science has been recognized with the Padma Shri this year.
Moreover, two Americans made it to the list of the Padma Bhushan awardees this year. They are Susanne Hoeber Rudolph and Lloyd I. Rudolph. Both the recipients of this Indian civilian award are professors off political science at the University of Chicago. The husband and wife together own the authorship of eight books. Professor Anizuzzaman from Bangladesh is one of the Padma Bhushan awardees.
Indian Eagle, a premier travel agency in the US-India travel market, congratulates the winners of the Padma Awards 2014.