Diwali and Firecrackers go hand in hand. The 'Festival of Lights' is celebrated by burning crackers that bedazzle the Sky, in a riot of colors. The Sparkly atmosphere around Diwali is a special treat for children every year. Loud and noisy, the fun begins when crackers go off in every street. The endless clatter of crackers bursting and blowing up series of sparklers, ring in the festivities around Diwali.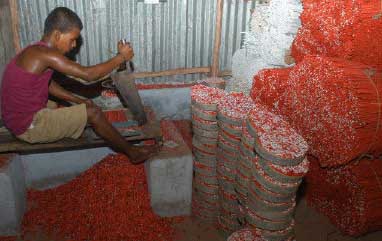 Sivakasi in Virudhunagar District, Tamil Nadu is known for manufacturing Quality Crackers. Known as the capital of India's firecracker industry with 8,000 factories, 90 percent of fireworks output is churned out from this tiny town. Nearly 400 manufacturers cater to the growing demand of Firecrackers across India. The turnover is mammoth in terms of business worth between Rs 800-1000 crore.
Besides Diwali, crackers are burnt to add that zing to weddings, birthdays and cricket matches won or any achievement that calls for loud celebrations.
The History of Fireworks in India can be traced back to the early 19th century. `Bhakthapu' or Bengal Lights, the small mudpot, emitting bright yellow lights, became the first ever firework manufactured in India.The first Fireworks factory was set up in Calcutta which produced color matches, sparkly fountains and large size crackers and star matches.The industry was shifted to Sivakasi from Kolkatta, subsequently.The Indian Explosives Act introduced in 1940 enforced a system of licensing for manufacture, possession and sale of fireworks.
With an estimated annual turnover of more than $365m, Sivakasi is the second biggest producer of fireworks, after China. The domestic consumption alone is estimated at 90% of fireworks produced in Sivakasi. Sivakasi experiences hot and dry weather throughout the year, which is suitable for crackers to remain dry and crackling.
Indian Eagle has cheapest tickets to Tamil Nadu, at Lowest Airfare Guaranteed. Visit the fireworks Hub of India that supplies Fireworks to different parts of the country. Firecrackers for various events like Sports Events, Film Festivals both in India and abroad are manufactured and custom made at Sivakasi.
Book with Indian Eagle at Lowest Airfares to India and see how crackers are made right from scratch.Any time of the year, shops stocking fireworks sprout along the streets of Sivakasi.Customers come from faraway places to buy crackers in bulk. You too can make a trip to Tamil Nadu with Indian Eagle with Cheap Flight tickets at our website www.indianeagle.com