Saina Nehwal, the golden girl from Hyderabad has become the torch-bearer for India. Storming into the badminton semi-finals at the London Olympics, Saina set the tone for victory by defeating Tine Baun 21-15, 22-20 at the Wembley Arena. The World No.5 took just 39 minutes to pack off her opponent Baun, a tw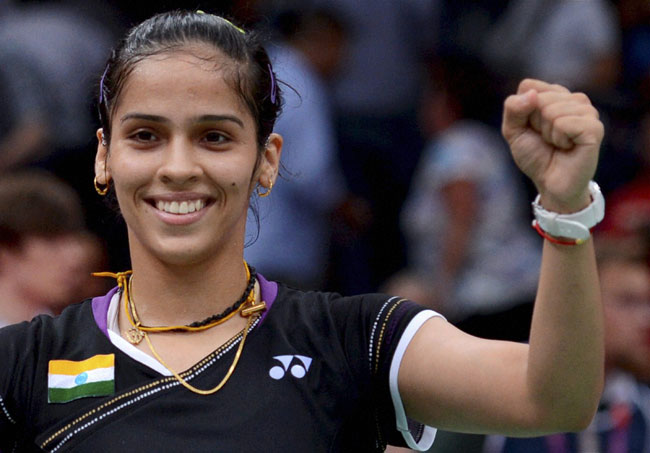 o-time winner of the All England championship. This win has catapulted her to become the first Indian badminton player ever, to reach the Olympic semis.
On the other hand, Tennis doubles pair, Leander Paes and Sania Mirza and boxer Vijender Singh have reached the quarter-finals. However the hope of another medal rests on Saina's slender shoulder.Saina's swift advancement has raised the bar for the rest of the players, while raising expectations from Saina to win another medal for India.
The Tennis doubles pair, Leander-Sania blazed past the Serbian pair of Nenad Zimonjic- Ana Ivanovic, 6-2, 6-4 at the iconic Wimbledon Grass Court.
Another reason to cheer is Star boxer Vijender Singh. He is just a bout away from a medal winning performance. Vijender pipped US rival Terrel Gausha 16-15 to earn a berth in the quarterfinal of the men`s 75 kg boxing category. Vijender will take on Uzbek Abbos Atoev for a place in the semifinals. If Vijender emerges a victory over Atoev, it assures Vijender a medal, as both losing semifinalists are awarded bronze in the competition.
Saina's is all set to face the world No. 1 Yihan Wang of China for the semi-finals. The task ahead is challenging, as Saina hasn't defeated Wang, in all the five matches they have played so far. She has to figure out a way, to unravel Yihan Wang.
Saina has paved the way for hope, a promise that all is not lost. The winning stroke has just begun for India.