26 January, India honors the Constitution that came into effect, as Republic Day.Every Indian witnessing the parade is filled with Pride at the colorful display and unfurling of the National Flag. The parade takes place at the national capital, New Delhi at Rajpath, in the presence of the President of India.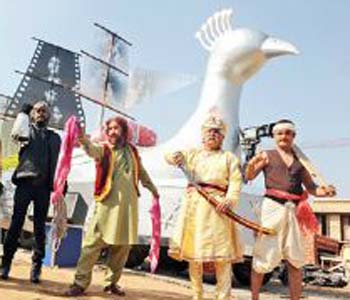 The three-day celebration, culminate with the beating retreat ceremony on the evening of 29th January. India's military might in all its glory is showcased with March past.
The cultural diversity of India is presented with a tableau at Republic Day Parade. All the states within India participate to introduce the ethos that constitutes their state. A particular monument or landmark is chosen as a theme and highlighted with  people dressed in traditional attires. The tableau has various themes like festivals, technology, monuments, mode of transport, earth warming, save the planet etc.
This year the ministry of information and broadcasting will portray the journey of the Indian film industry over the last 100 years. The tableau will be the reinterpretation of the quintessential Indian motif as a mythological flying bird boat, the 'Mayur Pankhi'.Silver in color (representing the silver screen) names of various films, both regional and Hindi, are engraved on it.
Bollywood star Irrfan Khan who has made his presence felt in international cinema provides voice-over for the Tableau. This is the first time a theme with films is participating in the parade. Junior artistes will be seen waving dressed as iconic characters from Bollywood movies. The tableau will incorporate popular characters from Bollywood films including Sholay, Coolie, Awara, Dilwale Dulhaniya Le Jayenge and Ganga Jamuna.
Two sections reflecting Indian cinema's eternal fascination "Utopian love" and "hope amidst strife will be depicted. Prominence will be given to both popular cinema and parallel cinema.Iconic scenes from Mother India, photos of seasoned actors like Naseeruddin Shah and mannequins of Shah Rukh Khan will pay homage to 100 years of Indian Cinema.