The UP Tourism Board is leaving no stone unturned to handle the avalanche of devotees for the upcoming Mahakumbh,2013.Nearly 2,000 tourist guides are undergoing a crash course to handle the influx of tourist pouring into Allahabad, Uttar Pradesh for the auspicious occasion. A confluence of the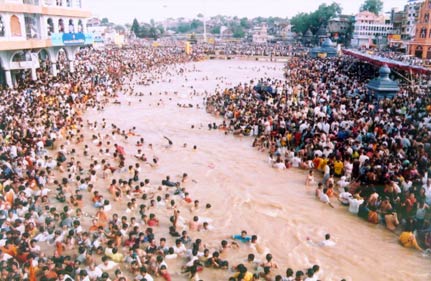 two rivers, Ganges and Yamuna, the mythical underground Saraswati merges with each other, to form a unique sangam.The city will be chock-a-block with devotees and NRI's thronging Allahabad for the Purna Kumbh Mela, which is celebrated after every 12 years.
Beginning 27th January to 25th February, 2013 the Purna Kumbh Mela will be the largest congregation of tourist and devotees,all at the same place. The Uttar Pradesh (UP) Tourism Department is also preparing 2,000 tourist facilitators to leave a lasting impression on the hospitality front.
An official at the Directorate of Tourism has confirmed that tourist guides and facilitators are being trained by the Manyawar Kanshiram Institute of Tourism Management (MKITM) . The skill development exercise undertaken by the state government of Uttar Pradesh is called Hunar se Rozgar.
A whopping seven crore piligrims are expected to inundate Allahabad. The Prayag Kumbh Mela is the largest and holiest of all melas. Lakhs of pilgrims, irrespective of age and religion, take a holy dip at the banks of the holy Sangam "Triveni' in Kumbhnagar. The main bathing days are known as 'Shahi Snans' or 'Royal Bathing Days'. The philosophy behind the belief is that one can attain 'moksha' or freedom from earthly relationships and die in peace.
Devotees and NRI's travel half way across the globe from foreign shores. Famous Chinese traveler Hiuen-Tsang chronicled his visit as a first person account in his travel journal.This could have triggered the curiosity of a tourists, nomadic travelers and genuine devotees.
During the 8th century, the great Indian saint Shankara popularized Kumbh Mela. With each passing year, the fair has since gained momentum in attendance.The UP Tourism Department has also started a global helpline to  facilitate the queries of travelers who are planning to attend the auspicious occasion, which fall after every 12 years.