Flying mid-air while staying connected with the world below is not a marvel, anymore. Thanks to In-Flight Wi-Fi, the gap has been bridged between take-off and landing. Equal accessibility to the internet from any corner of the aircraft has been Boeing concern.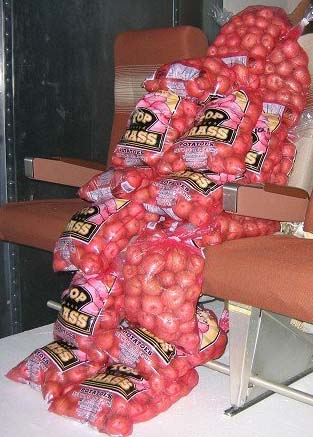 The engineers at Boeing conducted an experiment at 35,000 feet from the ground at 500 mph. People were required to remain seated which shapes the way Wi-Fi pings work within the plane's cabin.
Boeing, determined to ensure even distribution of Wi-Fi substituted people with cheaper alternative. Sack of Potatoes!
20,000 pounds of potatoes were turned into ideal stand-ins for 300 passengers in 150 seats. Otherwise, people would have to sit motionless for days on end, while data was gathered.
The vegetables' interactions with radio-wave signals mimic those of the human body. The potatoes made a 2 weeks job a days work.
Labeling the test as SPUDS (Synthetic Personnel Using Dielectric Substitution) state-of-the art facilities were used for the statistical calculations. The signal strength varies based on location and number of people seated.
The success of the testing has brought the browsing experience to the passenger's fingertips. Meanwhile, Boeing has donated the edible passengers to a food bank.