The US-returned Parthiv 'Burger wala' is in the spotlight of social media fame these days. He is not a Gujarati billionaire but a survivor of the pandemic. Once a professional performer living a luxurious life in the United States and now a burger seller living with his family in Ahmedabad, Parthiv Thakkar has an interesting story to tell, which does not rouse pity for him, rather evoke respect for him.
A favorite of the students of IIM-Ahmedabad, Parthiv 'Burger wala' was a professional singer and drummer earning handsomely from shows at pubs and private gatherings in the US until his fate connived with the pandemic to change his destination. He returned to Ahmedabad early in 2020 when his wife was diagnosed with breast cancer. The suspension of international air travel, which took effect on March 23, 2020 in the wake of the pandemic, extended his stay with the family in India.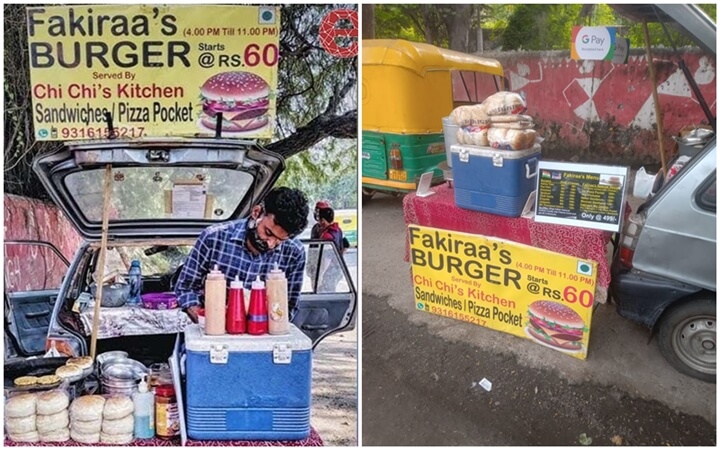 The travel ban got him stuck in India and the pandemic rendered him unemployed like many other US visa holders. His wife's medical bills and his joblessness were eating into his savings. People like Parthiv were struggling with limited means in the shadow of the then colossal issues, such as the falling economy, the exodus of migrant laborers, life in lockdown, etc. which crammed newspaper front pages every other day.
After 45 days of the complete travel suspension, Air India and United Airlines started special flights for repatriation of the stranded. Even after the increasing demand for repatriation flights led to the formation of an air bubble travel corridor between the US and India, Parthiv had to stay back in Ahmedabad though his savings were depleting. As social life was locked indoors due to the shutdown of public and private places, he found the purpose of traveling back to the US futile given the nature of his profession there.
As they say "A rolling stone does not gather moss", he latched on to his daughter's idea of catering to the city's gastronomic cravings for survival against the unprecedented times. Ahmedabad being a city of foodies helped him reinvent himself as 'Fakiraa Burger wala'. He discovered the latent space for American fast food in the crowd of food stalls selling paratha, chhole bhature, samosa, chaat, pav bhaji and other Indian snacks like hot cakes around the IIM-Ahmedabad campus.
The gradual unlocking of life and economy in India encouraged him to satiate the taste buds of IIM-Ahmedabad students with American and Mexican fast food. He rolled up his sleeves, put on an apron, and put to a test his tryst with the art of making burgers, tacos, burritos, hotdogs and sandwiches during events and shows in the US. He got his Maruti 800 customized as a mobile kitchen for Rs. 18,000 instead of taking a brick-and-mortar outlet on rent.
Parthiv's Mexican-American merchandise did hardly sell in the first two months. He set up the stall in the morning and packed it up in the evening without seeing visitors. His hopes for a better tomorrow did no die despite the depletion of his personal savings in view of no revenue from the fledgling business. As it is never too late for good things to happen, students and the locals started lining up for Fakiraa's Burger in September 2020. Some students spread the word on social media through videos of his stall. Today he effortlessly sells more than 100 burgers a day.
He says uninhibitedly that he is happy with his family and the business in India though his life is unlike the life full of modern trappings in the US. He always puts quality over quantity. The daily proceeds from Fakiraa's Burger are enough for 47-year-old Parthiv and his family to live a life of contentment.