Cherrapunji in Meghalaya has the unique distinction of being the second wettest place on Earth. Also known as Sohra, this town in the East Khasi hills records the most rainfall in India.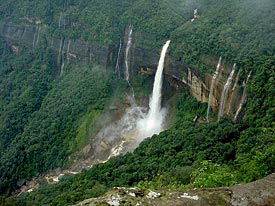 Considered to be the second wettest place on Earth, Cherrapunji is also the traditional capital of the Khasi tribe, where it is referred to as Churra by the British.The name evoloved into Cherrapunji meaning the 'land of oranges'.
The explanation as to why Cherrapunji records maximum rainfall in India is the rainwater comes from the Bay of Bengal. Travelling unhindered over the plains of Bangladesh for a distance of 400 Kms, the rainfall  hits the Khasi Hills to a height of 1370 m above sea level. The extreme rainfall is the best-known feature of orographic rain in northeast India.
The strategic location of the falls with Cherrapunji placed perpendicular to the clouds funneled throught the gorgeous valleys, rainfall is most received in the early mornings.
The special feature of Cherrapunji is the Nohkalikai Falls.One of the tallest and certainly the most beautiful falls in India, has water drop in a single plunge from approximately 335 m high. The Upper part of the falls flows along vertically from the cliff.Two thirds of the falls are free falling which forms a giant grottoe behind the falls.
Indian Eagle offers Lowest Airfare to the wettest place in India. Check our Airfare to Cherrapunji and experience the lovely Nohkalikai Falls that can cast a spell with the foaming water falling from the Top.