The month of August 2017 is full of musical events and cultural festivals for the Indian community in New York. The best of New York Indian events in August 2017 includes the most-awaited Asha Bhosle Farewell concert, a religious mela, a picnic, a comedy play, a Gujarati play, a dance festival and Indian Independence Day celebrations. We at Indian Eagle handpicked seven best Indian events in New York for New York Indians to attend in August 2017.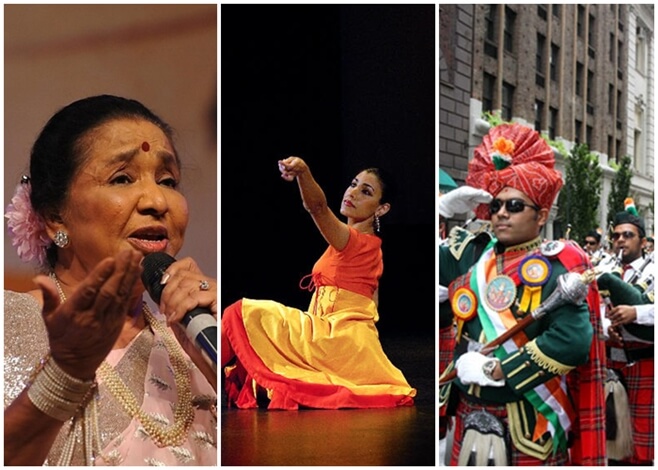 India Day Parade NYC 2017
The Indian Independence Day celebration is one of the biggest Indian Events in New York in August 2017. All Indians in and around New York commemorate India's Independence with the India Day Parade. Started in the year 1981, it has become a festival for New York Indians. This year, the India Day Parade is scheduled on August 20. Organized by Federations of Indian Associations, India Day Parade NYC 2017 will start at Madison Avenue's 40th street and end at the 23rd street. You can also check our list of Indian Independence Day Celebrations in USA.
Asha Bhosle Farewell Concert in New York 
Legendary singer Asha Bhosle, fondly referred to as Ashaji, is currently on her farewell tour across USA. She will have her last show for Indians in New York and New Jersey at NJ PAC, featuring special guest Javed Ali. In a career spanning over six decades, Asha Bhosle has been one of the most distinguished voices in Indian Cinema. By public demand, this Live In Concert is being conducted for the last time by Star Dust. This is undoubtedly one of the best Indian events in New York in August 2017. Don't miss the last glimpse of the legendary singer this August 19.
Gujarati Play Rang Rangeela Gujjubhai 
Good news for the Gujrati community in New York! You can watch the Gujarati play 'Rang Rangeela Gujjubhai' as it will be staged at Hindu Temple Auditorium, Flushing, New York. Among the not-to-be-missed New York Indian community events in August 2017, this laugh riot is enacted by famous Gujarati artiste Siddharth Randeria. The rest of the cast include Sejal Vyas, Jitendra Sumara, Margi Kulkarni, Jay Desai and Jaydeep Shah. This event is presented by RAJSUN MEGASTAR ENT and scheduled on August 26.
Amit Tandon LIVE in New York
Amit Tandon is a name to reckon with in the stand-up comedy arena. He is fondly known as "The Married Guy" for the reason that he realized after one marriage and two kids that it could not get any more worse and took up comedy. With over 1000 shows across the world, it is his maiden tour to America. His comedy videos go viral on social media with over 40 million views. With an impeccable track record, the Amit Tandon LIVE in NYC is one of the most awaited Indian events in New York in August 2017. It will take place in Broadway, NY on August 31. Block your date to witness the epic comedy show.
Eid Mela 2017
Specially designed for all the Muslim brethren, Eid Mela is scheduled on August 31 at The E Hotel, Edison, NJ. This event is presented by Musik Waves and will have Shopping activities, a concert, Inaam Ghar, Mehndi, Kids Time and Food. Of all the Indian events in New York in August 2017, this is considered as one of the best for the traditional values of the Muslim community. Why miss this opportunity where you can get to cherish some mouth-watering Biriyani and Kebabs! 
Erasing Borders – Festival of Indian Dance
Among the upcoming Indian events in New York in August 2017, the Annual Festival of Indian Dance – "Erasing Borders", presented by The Indo American Arts Council (IAAC) is back with a bang. This year's event highlights many ways in which Indian dancers reveal potential inventiveness embedded in Indian dance traditions. It is one of the top August 2017 events for Indians in New York because internationally acclaimed Kathak dancer and choreographer, Parul Shah is one of the performers in this event. Parul Shah's choreography focuses on social activism, giving voice to those who have been muted. Getting dressed in Indian ethnic style for this event is not a bad idea. The event will be held on August 14 at Michael Schimmel Center for the Arts at Pace University in New York City.
India Foundation of Metropolitan Princeton Picnic
The New York Indian Community will kick off the month of August with a picnic event on August 6. Among the top Indian events in New York in August 2017, this picnic is one of the activities conducted by the India Foundation of Metropolitan Princeton in West Windsor, NJ. The IFMP Picnic has already made it to the list of best events for New York Indians in 2017 as it gets Indian families together to have fun over lunch. The event schedule includes fun activities like kite flying, antakshari, henna, live music, dance, talent Show, food and games like volleyball and cricket. The Mercer County Park EAST in Edinburg Ro, West Windsor is the venue for this event.
Travel Beats, a leading Indian American community magazine by Indian Eagle, publishes the latest travel, tourism, visa, immigration and community news apart from listing upcoming Indian events in US cities. Indian Eagle is a trusted travel partner of Indians in the US for booking their cheap air tickets to India from New York and other US cities.