Be it a pandemic, cross-border political conflict, or international travel restriction, lives at grass-roots level take a hit, in addition to economy. Some Indian families that started building a second home on the foundation of their 'American Dreams' are not an exception to the impact of the restricted entry into the United States. Some of the families including H1B and H4 visa holders have come to a tragic split-up over the USA's current restriction on travel from India. One such family is that of Kiran and Jitendra Shukla, who suffered a breakup forever early this month.
Kiran Shukla, who is currently stuck in India, could not attend the funeral of her husband Jitendra Shukla in Edison, New Jersey due to the infinite ban on non-immigrant residents' entry into the US.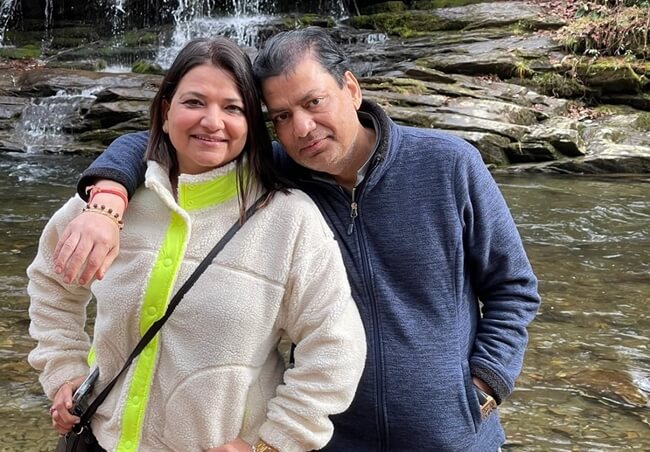 Jitendra who called Edison home away from India died due to severe liver damage on May 10, while his wife on H4 was in Mumbai looking after COVID patients in her immediate family. The moment Kiran got the news about his untimely demise in solitude; the world came to an end for her. She struggled to travel back so that she could see him for the last time, but the US government's proclamation restricting travel from India held her back in Mumbai and added to her dismay.
Kiran, an H4 EAD holder, was working in a bank in New Jersey prior to traveling to India in February when Indian government relaxed quarantine norms for international arrivals due to the decreasing caseload. Family emergency – taking care of her ailing father – was her reason for traveling to India. After her father passed away in April, her 35-year-old brother-in-law contracted the virus. He lost the battle, too.
While she was trying to deal with her personal grief, the second wave of the pandemic engulfed the country resulting in the India to USA travel restriction. The fate had some more bereavement for her.
Since Jitendra Shukla was hospitalized with abdominal complications immediately after the India-US travel ban took effect on May 4, Kiran had been trying to return to New Jersey. Initially she thought she would be able to fly back as a parent of an unmarried US citizen under the age of 21 years, but she could not make it without the visa stamping on her passport. The shutdown of the US Consulate, Mumbai made it a lot more difficult for her.
Jitendra and Kiran were likely to get their green cards in the next few months. As Jitendra, an H1B visa holder, passed away suddenly, she fears deportation from where she has had home for 20 years and separation from her US-born child. Her H4 status may be rendered invalid, and her life in USA may be jeopardized. Naturally, she can't help but apprehend what awaits a law-abiding, tax-paying US resident like her next.
"Kiran Shukla could have applied for a National Interest Exception (NIE) on grounds of family emergency in the US. Perhaps, she was aware of this only way out of the impasse that the United States' partial travel ban has created for certain non-US residents who are physically present in India," said the editor of Travel Beats, a leading community portal for Indians in America by Indian Eagle.