"A rolling stone does not gather moss." Qatar Airways not only knows this proverb but also applies it to retain customers. The airline has revised and updated its inflight entertainment content for international flights. In a bid to engage passengers with refreshing entertainment on board, Qatar Airways has increased the number of programs and the volume of the IFE content. Currently the inflight entertainment system airs 3000 programs on international Qatar Airways flights.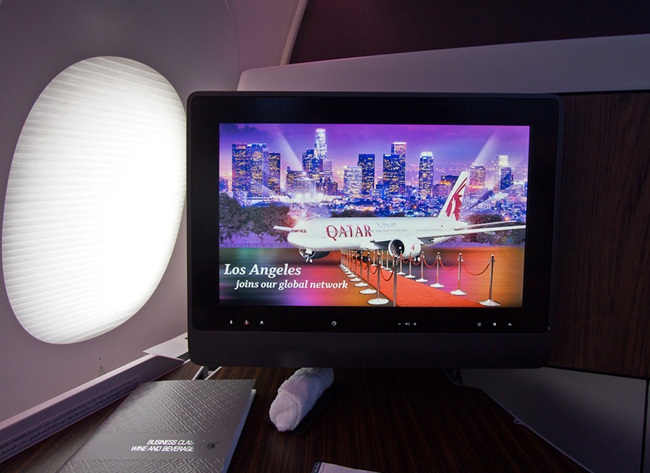 The national carrier of Qatar in the Middle East, the airline has added new 1000 programs to the bouquet of 2000 entertainment choices. The newly added programs include movies, music, TV shows, news and games. The updated edition of the inflight entertainment content comprises 550 movies, 1000 audio albums, 1400 TV series and 50 games for Qatar Airways flights on international routes.
A Force Awakens, the recently released Star Wars movie, is one of the movies among the new programs added to the content of Qatar Airways' inflight entertainment system. Passengers can choose to watch all Harry Potter films, 10 James Bond films including the latest one Spectre and a complete set of Marvel movies from the updated version on international Qatar Airways flights.
One of the best Middle East airlines, Qatar Airways had updated its inflight entertainment content last in the beginning of 2015. Some of the most popular films from the previous editions like A Walk Among the Tombstones, The Good Lie, Very Bad Day, Horrible, No Good, The Search for Happiness, The Book of Life, and Alexander and the Terrible are still aired on the airline's Oryx Entertainment Screen.
Passengers can choose to watch the episodes of "New Girl", one of the popular American television series, which were added to the 2015 version of the inflight entertainment content for Qatar Airways flights. I am Ali and Now: In the Wings of a World Stage, two of the documentaries from the 2015 edition are still available among the programs in the new version. I am Ali is a biopic on Muhammad Ali, a legendary boxer.
We strive to offer something new to make passengers feel relaxed over fresh entertainment content on board. The updated and increased content does not let them get bored whenever they travel on Qatar Airways flights. Be it a business trip or leisure tour, our flights are entertaining and relaxing. – Qatar Airways' CEO Akbar Al Baker.
Book cheap Qatar Airways flights from USA to India and save big! Do sign up at IndianEagle to receive free email alerts on the lowest airfares or cheapest air tickets.