Indian films are synonymous with their song and dance sequences across the world. Picturesque locales in natural setting are most sought after for shooting important scenes. Mount Abu in Rajasthan proved lucky for Bollywood Superstar Aamir Khan. His debut film QSQT (Qayamat se Qayamat Tak) set in Mount Abu left a lasting i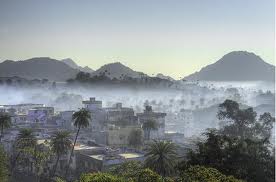 mpression on the audience.
This beautiful hill station of Rajasthan is known as  the "Oasis of Rajasthan", has tourists lining up for the Mount Abu Summer Festival .The  three day festival in the last week of May  has adventure sports and Skating Race, Skater's Show,  Boat Race, Horse Race, Tug of War, Panihari Matka Race with hospitality and culture.
Rajasthani folk ballad, Poetry and Qawwali, the grand finale ends with brilliant fireworks. Mount Abu is strategically located with connectivity to Jaipur, Jodhpur and Udaipur.
Experience our connectivity to Rajasthan at Lowest Airfare. Book Online to Rajasthan with Indian Eagle, enjoy the natural sand dunes with a Mountain View.