India is a land of celebrations and festivals. The importance of the occasion may be a little in magnitude but the celebrations are always on a grander scale.The Mewar festival ushers in the arrival of spring season in India. One of the main festivals of Rajasthan, it also coincides with the festival of Gangaur.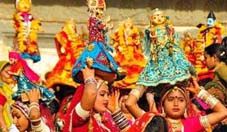 Udaipur takes center stage during the Mewar festival. The festivities begin with the procession of the idols of Isar (Lord Shiva) and Gangaur (Goddess Parvati)  carried through different parts of the city.
The city of Udaipur attracts tourists during this festival for exhibiting Rajasthani culture at its best. People flock to see the idols that are transferred into special boats at the Gangaur ghat of Lake Pichhola.The idols are then immersed into the Lake with great fanfare.The procession culminates into the beginning of the cultural festival of Mewar. The atmosphere is lit with colorful and bright fireworks . The festival is celebrated with Rajasthani songs, dances, processions and devotional music.
While in Udaipur make sure to visit these spots. The City Palace Complex, belonging to the Mewar royal family. An impressive collection of vintage cars and Jag Mandir, it is the largest palace complex in Rajasthan.
Another architectural splendor is the Bagore Ki Haveli, built in the late 18th century. 100 rooms, courtyards, terraces, beautiful frescoes, fine mirror work,royal paintings, costumes of the royal kings, traditional Rajasthani arts and crafts give a glimpse into the bygone era.
Fateh Sagar Lake, with its tranquil mountain backdrop, lies to the north of Lake Pichola.
The Monsoon Palace perched high on a hill above the city of Lakes, is favored by the royal family during the monsoon season.
Make a trip to the city of Lakes,Udaipur at Lowest Airfares with Indian Eagle this spring. Replenish yourselves amidst the color and festivities of the Mewar festival.