Stumbled upon accidentally by the travel and tourism journal "Discover India Magazine", Mawlynnong was practically unknown. Declared "The Cleanest Village in Asia" in 2003, the cleanest in India in 2005, the National Geographic and UNESCO have also conferred the same recognition.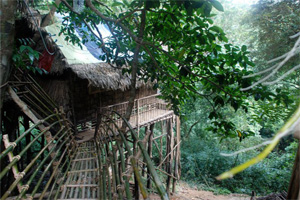 Tucked away in the pristine East Khasi Hills of Meghalaya, this picturesque village nestles along the Indo-Bangla border. Far from the maddening crowd and in perfect harmony with Mother Nature, Mawlynnong is accorded the status as "The Cleanest Village in Asia".
The long drive, 90 km from Shillong is dotted with scenic beauty, unveiling nature in all its glory. The village has zig-zag paths, with front-yards and sidewalks for houses made of bamboo stilts.
Adhering with the rules of nature, dustbins are made of bamboo and composite pits are dug, segregating organic from inorganic wastes. Polythene and Smoking are completely banned, cutting out all traces of toxin wastes.
The tiny hamlet has 80 houses that take turns to discharge voluntary duties like sweeping roads and lanes, watering plants in public area, cleaning drains, weeding,sweeping and cleaning.
Farming and cultivating broomsticks made from locally grown soft grass, bay leaves, pepper, honey, betel nut, oranges and pineapples is a major occupation and important source of living. Often inundated with heavy rainfall, the natural vegetation flourishes with abundant foliage.
Kwai – the local delicacy ade of betel leaf with lime and areca nut has an authentic taste that is exquisite to Mawlynnong alone. Natural stone basins with depressions are a common sight. Rain water is collected and harvested.Every house has a conical cane basket to gather litter.
The Local Khasis' are known as worshippers of Nature.The Ki law Adong has a cluster of 70 odd "sacred forests" with a tradition dating back to centuries.No one is permitted to plick or cut from the branches.The person who breaks this law has to clean the entire village as an atonement to his sins.The hamlet boasts of 100% literacy.
For that rush of Adrenaline, the Sky Tower built with bamboo sticks tied together forming a wooden bridge along five or six trees, has no nails.
Indian Eagle has amazing offers for tourists desiring to visit North India. Check Airfares at www.indianeagle.com, visit  Mawlynnong – "The Cleanest Village in Asia".