India is placed on the Map and this time for a tasty reason. The Masala Dosa has made a cut above all the Indian dishes. The Masala Dosa ha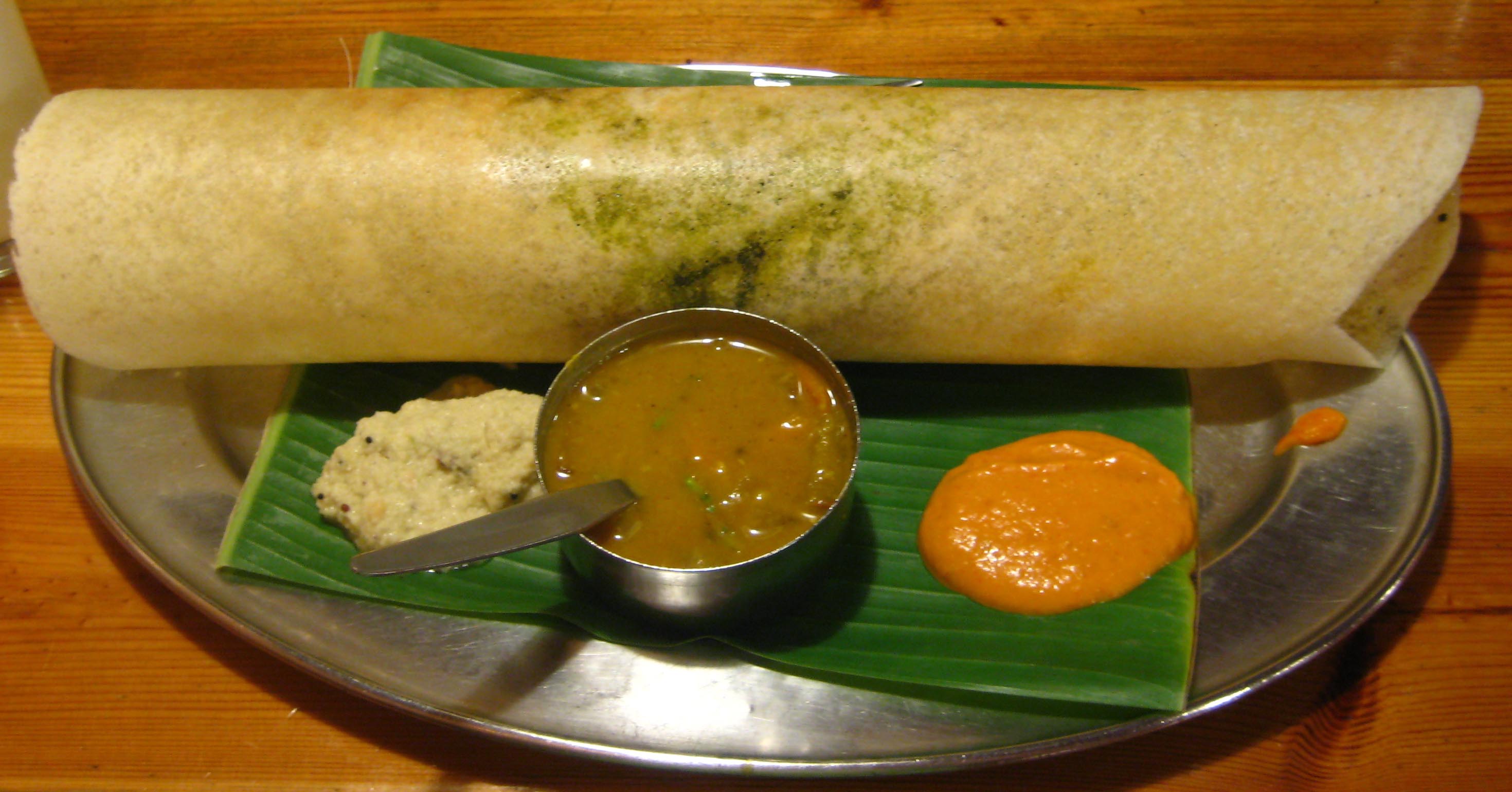 s been ranked 4th among the Top 10 Foods to try, before one dies. It had Foodies literally, eating out of their hands.
The south Indian favorite has featured in the bucket list along with the China's Peking chicken, Malaysia's sea food curry, Thailand's green papaya salad and BBQ Ribs of USA.
Wafer thin pancake, cooked to lacy perfection, the Masala Dosa has come a long way. Mashed potato with fried onions, the Masala concoction served with garlic chutney has foodies across the world giving their nod for the Indian dish. Ideal for breakfast or lunch, the Masala dosa has roadside stalls mushroom overnight at every nook and corner. Served steaming hot, the Masala Dosa is best relished in Uduppi hotels.
Here is a countdown of the Top 10 Must have's
10  BBQ ribs or 'holy grail of smoked pork ribs'.Kansas City, Memphis and St. Louis are US BBQ capitals, while Texas, the Carolinas  garnish their own variation  adding to the local flavor.
9  Pavlova, named after ballet dancer Anna Pavlova,  this appeasing dish is made of meringue and cream.It is the national dish of both Australia and New Zealand.
8  Som tam or the Green Papaya Salad: This delicacy from Thailand has all the four basic flavours — sour, salt, sweet and chilli. Shredded papaya and carrots, cherry tomatoes, chopped garlic, chillies, fried tofu and roasted peanuts are tossed together, earning it a place among the Top 10 dishes.
 7  'Malaysia's Seafood curry laksa, the king of soups- spicy, tangy, coconut creamy! Sounds Yum. Noodles, seafood, fish sticks, puffed tofu, vegetables,  hard-boiled egg, coriander and chilli sambal'. Best relished at a Road Side Stall.
6  Japanese cuisine, Teppanyaki has shrimp, beef, lobster, scallops, chicken and assorted vegetables cooked on an iron girdle. Derived from teppan meaning iron plate, yaki refers to the grilling and the pan-frying process.
5   Zucchini flowers, are flower really edible? Italy's exotic  dish has tender yellow flowers stuffed with filling made of herbed ricotta or mozzarella, dipped into a simple tempura-like batter and sizzled in olive oil. A must try in one's lifetime.
4 Masala dosa, paper-thin pancake made from rice and lentils. Potato curry rolled in as a stuffing, served with chutney and sambhar. Try it to believe it!
3  Melting concoction of Moussaka, the Grecian cuisine. It is the Greek answer to the Italian lasagne, made by smothering layers of delicious ingredients in cheese bechamel sauce, and baked until it is creamily melted and golden.
2  Escargot, What you ask? An appealing appetizer in French restaurants,  it is the French word for snail.You heard it right. Often served in the shell itself,cooked in delicious melange of garlicky parsley butter, chances are you might not even fell snails slurp down your throat.
1  Chinese Peking duck, specially bred the thick crisp skin has been a delicacy from the imperial era. They are specially bred after 65 days before roasting in an oven.
Indian Eagle has some Tempting offers to Southern India. Book at Lowest Airfares with Indian Eagle, Taste the Masala Dosa in its original Uduppi setting.