Evergreen forests, smoky mountains and ridges. Mahabaleshwar in satara district, Maharashtra is a hill station located in the Western Ghats range. Having served as the summer capital of Bombay province during the British Raj, Mahabaleshwar is among the most popular getaways in India.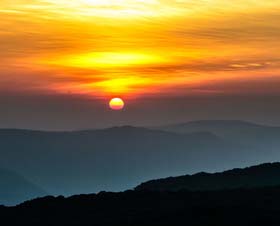 Mahabaleshwar is very famous for honey, strawberries, mulberries and blue berries, as the climate is suitable for the crop. The strawberry farms spread across acres of land are a delight. Do get a taste of "Strawberries with Cream" by picking fresh strawberries and dip it in cream.
The trip will be interesting as Mahabaleshwar has many attractions to offer. Trekking along the mountain range, bungee jumping and rock climbing.
The Venna Lake is a major draw with tourists taking a ride on the boat when it is foggy. Surrounded by trees on all sides, brisk walkers can be seen crowding the place in early mornings.The horse ride along the lakeside is perfect for a family vacation with children.
Mahabaleshwar is known for its "points" which give a panaromic view of the entire scenery.More than 14 such points make up for the boost given to tourists.
Arthur's Seat:  At an elevation of 1340 mts, it is named after Sir Arthur Mallet who gazed at the Savitri River in melancholy. He lost his wife and children in a tragic ferry mishap.
Kate's Point :View the two reservoirs, Balakwadi and Dhom at 1280 mts high. Named after Sir James Malcom's daughter Kate, who developed a liking for the scenic place.
Needle Hole Point: Natural rock formation with a hole in between,justifying its name, Needle-hole.Also see the Deccan traps, which resemble an elephant's trunk.
Wilson Point: The highest point at 1439 mts, sunset and sunrise can be viewed panoramically.Named after Sir Leslie Wilson, the Governor of Bombay from 1923–26, Mahabaleshwar  can be viewed in all directions.
Monkey point: Natural sculpture of the stones resembling three monkeys in sitting position, the point is very popular for its rock formations.
Indian Eagle offers cheap flight tickets to Maharashtra. Visit www.indianeagle.com