The London Underground is officially 150 years old. On January 10, 1863 the Tube began it journey between Paddington and Farringdon stations. Ever since, the Tube has grown from seven stops on one line to a massive rail network of over 11 lines and 270 stations.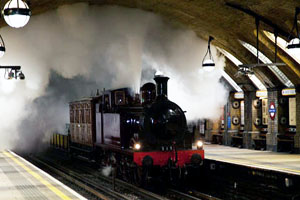 Setting a consistent record of 150 years the Tube has redefined the definition of time-saving and quick travel.
January 10, 1863,  is recorded in history as London's Tube became the first mass transit underground railway in the world. At 50 kms per hour,a whopping 4 million  commute today by Tube on a daily basis.
The network that covers the expanse of London is easily the most recognizable. Designed by Harry Beck, its simplicity was favored to geographical accuracy. A landmark template for underground maps, it's design reflects meticulous planning.
The length of the track is 250 miles long, the second longest metro system in the world after Shanghai. The tube train covers approximately 43,000,000 miles in 12 months.The London Underground has come to be known as the Tube since 1890 due to the shape of the tunnels. In 1908 it got the name London Underground.
London mayor Boris Johnson said "London Underground was the first transport system of its kind, embodying the engineering ingenuity of our Victorian forefathers and providing a template for similar schemes around the world."
To recapitulate the intial experience on the first steam train, the Tube journey was  recreated for ticket holders who got to travel along part of the original Metropolitan Line – now the Hammersmith & City Line. The 1892's Metropolitan Steam Locomotive Number 1 was refurbished  to pull a restored original Victorian first-class carriage.
The restored steam engine travelled from its sheds near Earl's Court, west London, to start a journey from Kensington Olympia to Moorgate. Stamps and posters were released to commemorate the Tube.Onlookers waited at stations  to see the train with steam coming through the windows.As it chugged emitting huge thick clouds of white steam and bits of soot from the engine, the London Underground brought the bygone era into existence.