The most-awaited book of the year, "The Life of I: On the Sadhana Trail" was recently released in the United States. Authored by Swami Ishwarananda and Nimmi Raghunathan based in Los Angeles, the book is an out and out spiritual guide for the errant souls. The book advocates the spiritual lessons and philosophical teachings from the greatest sages and seers in the most comprehensible manner.
"The Life of I: On the Sadhana Trail" capsules the age-old wisdom of the Vedanta School of Philosophy in the form of a simple fictional tale. It is a micro version of the macro mission and message of Swami Chinmayananda Saraswati, a leading Hindu spiritual leader who had left his mortal body in San Diego, California, in 1993.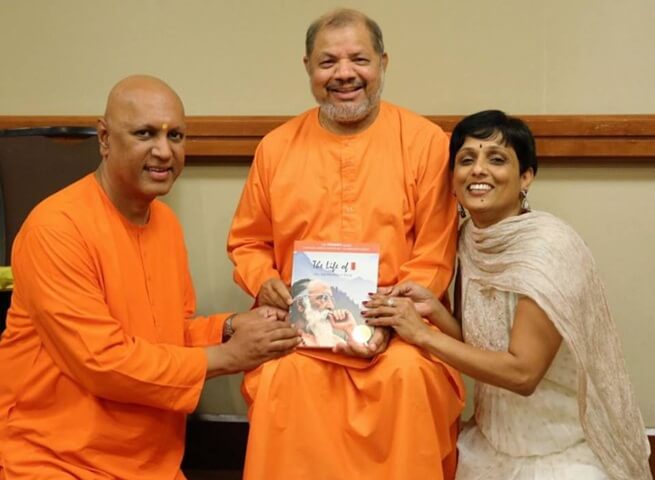 Swami Tejomayananda, the present head of the worldwide Chinmaya Mission, graced the release of the book with his holy presence during the ceremony in Dallas, Texas. The story of the book is that of an agnostic and his journey from skepticism to spirituality in California where Swami Chinmayananda taught such holy scriptures as the Bhagavad Gita and the Upanishads.
"The Life of I: On the Sadhana Trail" packs in age-old truths, teachings and values, irrespective of faith, culture, time and place. It is a simple take on the complex sermons and teachings of seers in different eras. It conveys the value of dissolving the ego in a very intelligible way to today's people. The narrative is interspersed with relevant questions on the purpose and significance of love, wealth, work and god in human life.
The book narrates the story in the Upanishadic style of teaching through dialogues free of jargon. Swami Ishwarananda, the abbot of Chinmaya Mission in Los Angeles and co-author of the book, says, "The book will spread the message of eternal happiness through the Vedanta philosophy and the teachings of Swami Chinmayananda Saraswati." Swami Ishwarananda is a popular spiritual speaker in the United States.
Nimmi Raghunathan, another co-author of "The Life of I: On the Sadhana Trail," is a teacher at Chinmaya Mission in Los Angeles. A student of world history, she is fond of yoga and travel. She is a journalist as well.
Travel Beats is a digital news portal for Indian Diaspora by IndianEagle, a leading travel organization for Indians in USA. Subscribe to Travel Beats' free newsletter for latest news, exclusive stories and upcoming events in America.