Finally, India made its entry to the Academy Awards 2015 in the Best Foreign Film category. The national Award winning Hindi film Liar's Dice is the selection made by a 12-member jury in the Film Federation of India. Headed by renowned filmmaker T. Hariharan, the jury picked Liar's Dice out of 30 entries for Oscars. The movie, an interface between a road movie and a survival drama, has already won the National Award in two different categories – Best Film and Best Cinematography.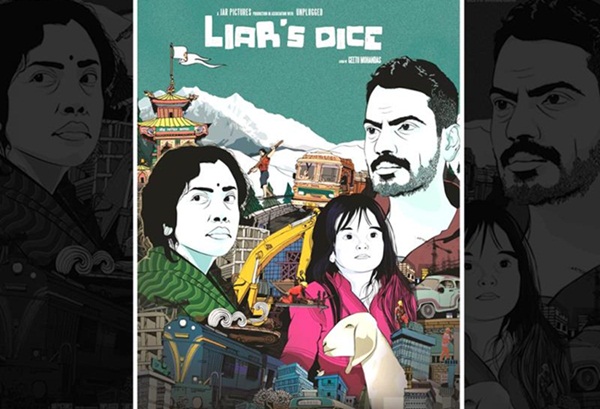 A directorial debut by Geethu Mohandas, a Malayalam actor, Liar's Dice stars Nawazuddin Siddiqui and Geetanjali Thapa who are among the critically acclaimed actors in Indian Cinema. The movie is a sensitive story about the adventures of a woman and her daughter in search of her missing husband from the Himalayan region of the Indo-Tibet border to Delhi. They come across a mysterious man with brooding nature, during their travels. The man is no one but Nawazuddin Siddiqui's character.
Siddiqui's character is an army deserter who is kind inside but rigid outside. He accompanies the mother and daughter during their journey out of his assumption that the road ahead may be perilous for them. The different aspects of this offbeat character which is sometimes brooding and sometimes benevolent coherently rhyme with different terrains of the journey. Liar's Dice beat other 29 movies including Mary Kom, Shahid, 2 States, Apur Pachali and Jatishwar, on strength of naturalistic performance and striking visual.
Lair's Dice was premiered at Mumbai Film Festival first. It earned kudos at International Film Festival Rotterdam and Sundance Film Festival. Though a low-budget independent film, Liar's Dice beautifully captures the wonder of travel from the sparsely populated Himalayan region to the madding crowd of Delhi in India. The 87th Academy Awards will be held on February 22, 2015. 
IndianEagle.com represents India to the NRIs in the USA and Canada. We at Indian Eagle have our fingers crossed for support of Liar's Dice at Oscars.