An illustrious career in playback singing, spanning across six and a half decades, in thirty-six regional languages, it's no wonder she is referred to as the Nightingale of India.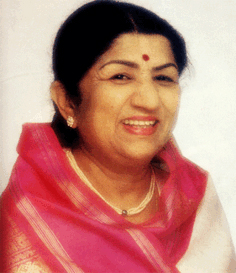 Lata Mangeshkar, the melodious voice that dominated Indian cinema with an unparalleled claim in signing, turns 83. Guinness Records holder for singing 25,000 solo, duets and chorus backed songs in 20 Indian languages between 1974- 1991, is no mean feat. She is the only second vocalist to have been conferred with India's highest civilian honor, the Bharat Ratna.
Eldest of five siblings – Lata, Asha, Usha, Meena and Hridaynath, the onus of taking care of her family was upon her. At the tender age of 13, she sang her first onscreen song for the Marathi film Kiti Hasaal (1942).
She moved to Mumbai from Nagpur at the age of 16 and took further training in Hindustani classical music from Ustad Amanat Ali Khan.Since then there has been no looking back.She has sung with Mukesh and Manna Dey, but her pairing with Mohammed Rafi resulted in many timeless classics.
Lata Mangeshkar was awarded  the Padma Bhushan (1969), Padma Vibhushan (1999), Dada Saheb Phalke Award (1989), Maharashtra Bhushan Award (1997), NTR National Award (1999), Bharat Ratna (2001), ANR National Award (2009), three National Film Awards, and 12 Bengal Film Journalists Association Awards and Four Filmfare Best Female Playback Awards.
Music director Ghulam Haider mentored her and gave Lata her first break with the song "Dil Mera Toda". She started off by imitating singer Noor Jehan, criticism led her to take up  Urdu lessons to ease out her Maharastrian accent, thereby evolving a signature style of her own.
In 1969, she displayed her altruistic spirit by giving up the Filmfare Best Female Playback Award, to encourage fresh talent. It bagged the Filmfare Lifetime Achievement Award  in 1993.An award was instituted in honor of Lata Mangeshkar by the State Government of Madhya Pradesh in 1984 and 1992 by the state of Maharashtra.
Her magical voice has been used across decades from actresses Madhubala to Kareena Kapoor for the latest film "Heroine". Dignity personified, age has not deterred the timeless voice. Every song has a touch of freshness to it, wrapped in grace.
Her rendition of "Aye Mere Watan Ke Logoan, Zara Aankh Me Bhar Lo Pani" moved Pandit Jawaharlal Nehru to tears.
Described as a legend, with undeniable talent, Lata has molded her voice according to any Genre of Music. Classical singer Ustad Bade Ghulam Ali Khan remarked she has never sung out of tune.
Always placing confidence in budding Music directors , Lata  experimented with new talent.  'Aayega aanewala' from the movie 'Mahal' shot madhubala to stardom 50 years ago. This was followed by several hits over the next few decades, including 'Baiju Bawra', 'Madhumita', 'Hum Dono', 'Aandhi','Silsila'and the recent 'Dil To Pagal Hai', to name a few. She has sung in virtually all Indian languages with elan. The title of Nightingale of India is a befitting description to the melody Queen of India.